Join the Top Language Companies…
Getting more done with ProZ.com Business Membership
These are just a few ProZ.com Business members:
ProZ.com Business membership can help you:
Grow your translation business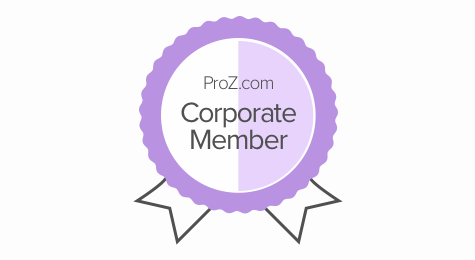 Stand out from the competition.
Your Business member badge will differentiate you from other companies, and is an added mark of trust that works to your benefit when dealing with potential clients or when recruiting new service providers.
Rise to the top.
The ProZ.com company directory is the industry's busiest directory for finding translation companies. Business membership puts your company in the first layer of directory results, increasing your visibility to potential clients. Long-time Business members will tell you this benefit alone is more than worth the membership fee.
Tools to find the right talent
Because your success is all about who you work with.
1.
Search for talent in the largest directory in the translation industry with over 750,000 language services providers worldwide.
2.
Save 50% in recruitment time with a ProZ.com recruitment management application, giving you access to 34 different search filters to find the right candidate in minutes.
3.
Check potential service providers with the Scam Prevention Tool.
4.
Manage your vendors in a dynamic platform that includes up-to-date data on the availability of service providers.
5.
9 APIs available to integrate your system with ProZ.com.
Ongoing education
Stay on top of what's new
Included in Business Membership is access to the Plus Video Library – a growing collection of over 900 hours of training content about translation, business, technical topics, and more.
In addition, enjoy up to $600 in discounts on a wide variety of ProZ.com training sessions.
Manage your operations
Your own customizable translation management system in the cloud. ProZ.com's Translation Center allows you to create workflows, manage clients, recruit, assign jobs, and keep all communication and data in a single platform.
Save time: your job and recruitment posts are published immediately, without delay.

Be first priority in the ProZ.com support queue, including phone support.

Easily create, send, and track invoices online at ProZ.com.
Get Started with Business Membership Today
1 Year Membership
€280 / $300
Join now!
Even more tools and opportunities for your company starting in 2017:
Starting in 2017, ProZ.com Business membership will have more options, more services, and more benefits for translation companies serious about their business. Stay tuned.
Subscribe now to lock in a discounted yearly rate.
Questions?
Don't hesitate to reach out to us. We're happy to help!