Off topic: Misteriosa Buenos Aires (la ciudad por sus autores más amados)
Thread poster: Aurora Humarán
Aurora Humarán

Argentina
Local time:

14:06


English to Spanish
+ ...

FUNDACIÓN MÍTICA DE BUENOS AIRES

¿Y fue por este río de sueñera y de barro
que las proas vinieron a fundarme la patria?




Irían a los tumbos los barquitos pintados
entre los camalotes de la corriente zaina.

Pensando bien la cosa, supondremos que el río
era azulejo entonces como oriundo del cielo
con su estrellita roja para marcar el sitio
en que ayunó Juan Díaz y los indios comieron.

Lo cierto es que mil hombres y otros mil arribaron
por un mar que tenía cinco lunas de anchura
y aún estaba poblado de sirenas y endriagos
y de piedras imanes que enloquecen la brújula.

Prendieron unos ranchos trémulos en la costa,
durmieron extrañados. Dicen que en el Riachuelo,
pero son embelecos fraguados en la Boca.
Fue una manzana entera y en mi barrio: en Palermo.

Una manzana entera pero en mitá del campo
expuesta a las auroras y lluvias y suestadas.
La manzana pareja que persiste en mi barrio:
Guatemala, Serrano, Paraguay, Gurruchaga.

Un almacén rosado como revés de naipe
brilló y en la trastienda conversaron un truco;
el almacén rosado floreció en un compadre,
ya patrón de la esquina, ya resentido y duro.

El primer organito salvaba el horizonte
con su achacoso porte, su habanera y su gringo.
El corralón seguro ya opinaba Yrigoyen,
algún piano mandaba tangos de Saborido.

Una cigarrería sahumó como una rosa
el desierto. La tarde se había ahondado en ayeres,
los hombres compartieron un pasado ilusorio.
Sólo faltó una cosa: la vereda de enfrente.

A mí se me hace cuento que empezó Buenos Aires:
La juzgo tan eterna como el agua y el aire.

Jorge Luis Borges



[Editado a las 2006-07-10 12:13]
| | | |
| --- | --- | --- |
| | | |
Aurora Humarán

Argentina
Local time:

14:06


English to Spanish
+ ...


TOPIC STARTER
| | |
| --- | --- |
| Los barcitos de Buenos Aires tienen ese no sé qué... | Jul 10, 2006 |
Al Bar Británico (Defensa y Brasil)




"Melancólicamente lo imaginaba en aquel viejo parque, con la luz crepuscular demorándose sobre las modestas estatuas, sobre los pensativos leones de bronce, sobre los senderos cubiertos de hojas blandamente muertas.
A esa hora en que comienzan a oírse los pequeños murmullos, en que los grandes ruidos se van retirando, como se apagan las conversaciones demasiado fuertes en la habitación de un moribundo; y entonces el rumor de la fuente, los pasos de un hombre que se aleja, el gorjeo de los pájaros que no terminan de acomodarse en sus nidos, el lejano grito de un niño, comienzan a notarse con extraña gravedad. Un misterioso acontecimiento se produce en esos momentos: anochece. Y todo es diferente: los árboles, los bancos, los jubilados que encienden alguna fogata con hojas secas, la sirena de un barco en la Dársena Sur, el distante eco de la ciudad. Esa hora en que todo entra en una existencia más profunda y enigmática. Y también más temible, para los seres solitarios que a esa hora permanecen callados y pensativos en los bancos de las Plazas y Parques de Buenos Aires".

Ernesto Sábato


| | | |
| --- | --- | --- |
| | | |
Aurora Humarán

Argentina
Local time:

14:06


English to Spanish
+ ...


TOPIC STARTER
| | |
| --- | --- |
| De ese libro necesario, el Adán Buenosayres | Jul 10, 2006 |
[...] Adán se detiene, bajo la lluvia, en la esquina de Gurruchaga y Triunvirato. Desde allí, todavía indeciso, contempla el ámbito fantasmal de la calle Gurruchaga, un túnel abierto en la misma pulpa de la noche y alargado entre dos filas de paraísos tiritantes que, con sus argollas de metal a los pies, fingen dos hileras de galeotes en marcha rumbo al invierno. Fosforescente como el ojo de un gato, el reloj de San Bernardo atisba desde su torre: no queda ya en el aire ni una vibración de la última campanada, y el silencio fluye ahora de lo alto, sangre de campanas muertas. Inesperadamente, una ráfaga traidora sacude los árboles, que se ponen a lloriquear como niño: Adán recibe un puñado de lluvia en la cara y se tambalea entre un diluvio de hojas que caen y se arrastran con un rumor de papeles viejos, mientras que los faroles colgantes ejecutan arriba un loco bailoteo de ahorcados. Pasó la ráfaga: el silencio y la quietud se reconstruyen bajo el canturreo de la lluvia. Soledad y vacío, Adán entra en la calle Gurruchaga.[...]

Adán Buenosayres
Leopoldo Marechal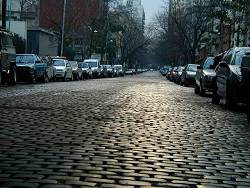 | | | |
| --- | --- | --- |
| | | |
MikeGarcia

Spain
Local time:

19:06


English to Spanish
+ ...

| | |
| --- | --- |
| Gracias, Auh..... | Jul 10, 2006 |
Gracias Auh, por hacerme recordar, con lágrimas en los ojos, a mi amada ciudad, ahora tan lejana, y a mi amado Borges, siempre tan cercano, y a esos dos grandes, Sábato y Marechal y su Adán Buenosayres (o "Megafón o la Guerra", el "autodidacta de Villa Crespo").

Faltaría agregar algo de Manucho Mujica Laínez, a quien este vejete supo conocer bien y que "inventó" eso de "Misteriosa Buenos Aires", y de Fito Bioy Casares, el alter ego de Borges y humorista genial, mordaz e irónico como su gran amigo y partenaire. Lamentablemente acá en Málaga no tengo nada de ellos, casi todos mis libros se quedaron en Buenos Aires hasta nuevo aviso...salvo los de Borges y de Esteban Peicovich.

De paso te cuento que en enero del 2007 estaré por Santiago de Chile, ya que mi hija Paula vive allí y va a ser madre de...mellizos!!!

El "Nono Michele" (por partida doble).-

[Edited at 2006-07-10 11:39]

[Edited at 2006-07-10 15:37]
To report site rules violations or get help, contact a site moderator:
You can also contact site staff by
submitting a support request »
Misteriosa Buenos Aires (la ciudad por sus autores más amados)
TM-Town
Manage your TMs and Terms ... and boost your translation business

Are you ready for something fresh in the industry? TM-Town is a unique new site for you -- the freelance translator -- to store, manage and share translation memories (TMs) and glossaries...and potentially meet new clients on the basis of your prior work.

More info »
WordFinder
The words you want Anywhere, Anytime

WordFinder is the market's fastest and easiest way of finding the right word, term, translation or synonym in one or more dictionaries. In our assortment you can choose among more than 120 dictionaries in 15 languages from leading publishers.

More info »