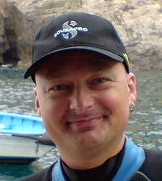 Working languages:
English to Russian
Russian to English
Mark Vadim Bukat
BLDG/CONSTR MACHINERY, U/WATER EXPERT



Guangzhou, Guangdong, China

Local time:

22:36 CST (GMT+8)




Native in

: Russian

Feedback from
clients and colleagues
on Willingness to Work Again

1

positive review
Expert in underwater-related issues, building/construction machinery & tools (from cranes to concrete vibrators), different aspects of life in the Orient, have strong sense of style, punctual and accurate. Good at both pro-tech & fiction texts trnsltn.
Freelance translator and/or interpreter,

Verified site user
This person has a SecurePRO™ card. Because this person is not a ProZ.com Plus subscriber, to view his or her SecurePRO™ card you must be a ProZ.com Business member or Plus subscriber.

This person is not affiliated with any business or Blue Board record at ProZ.com.
Translation, Editing/proofreading, Website localization, MT post-editing, Training
Specializes in:

Construction / Civil Engineering

Government / Politics

Environment & Ecology

Automotive / Cars & Trucks

General / Conversation / Greetings / Letters

Textiles / Clothing / Fashion

Photography/Imaging (& Graphic Arts)

Journalism

Human Resources

Other
More
English to Russian - Rates: 0.08 - 0.15 USD per word / 30 - 50 USD per hour
Russian to English - Rates: 0.08 - 0.15 USD per word / 30 - 50 USD per hour

USD
PRO-level points: 185, Questions answered: 87, Questions asked: 1
Visa
Sample translations submitted: 2
English to Russian: Africa is giving nothing to anyone -- apart from AIDS
Source text - English
Africa is giving nothing to anyone -- apart from AIDS

By Kevin Myers

Thursday July 10 2008

No. It will not do. Even as we see African states refusing to take action to restore something resembling civilisation in Zimbabwe, the begging bowl for Ethiopia is being passed around to us, yet again. It is nearly 25 years since Ethiopia's (and Bob Geldof's) famous Feed The World campaign, and in that time Ethiopia's population has grown from 33.5 million to 78 million today.

So why on earth should I do anything to encourage further catastrophic demographic growth in that country? Where is the logic? There is none. To be sure, there are two things saying that logic doesn't count.

One is my conscience, and the other is the picture, yet again, of another wide-eyed child, yet again, gazing, yet again, at the camera, which yet again, captures the tragedy of . . .

Sorry. My conscience has toured this territory on foot and financially. Unlike most of you, I have been to Ethiopia; like most of you, I have stumped up the loot to charities to stop starvation there. The wide-eyed boy-child we saved, 20 years or so ago, is now a priapic, Kalashnikov-bearing hearty, siring children whenever the whim takes him.

There is, no doubt a good argument why we should prolong this predatory and dysfunctional economic, social and sexual system; but I do not know what it is. There is, on the other hand, every reason not to write a column like this.

It will win no friends, and will provoke the self-righteous wrath of, well, the self-righteous, letter-writing wrathful, a species which never fails to contaminate almost every debate in Irish life with its sneers and its moral superiority. It will also probably enrage some of the finest men in Irish life, like John O'Shea, of Goal; and the Finucane brothers, men whom I admire enormously. So be it.

But, please, please, you self-righteously wrathful, spare me mention of our own Famine, with this or that lazy analogy. There is no comparison. Within 20 years of the Famine, the Irish population was down by 30pc. Over the equivalent period, thanks to western food, the Mercedes 10-wheel truck and the Lockheed Hercules, Ethiopia's has more than doubled.

Alas, that wretched country is not alone in its madness. Somewhere, over the rainbow, lies Somalia, another fine land of violent, Kalashnikov-toting, khat-chewing, girl-circumcising, permanently tumescent layabouts.

Indeed, we now have almost an entire continent of sexually hyperactive indigents, with tens of millions of people who only survive because of help from the outside world.

This dependency has not stimulated political prudence or commonsense. Indeed, voodoo idiocy seems to be in the ascendant, with the next president of South Africa being a firm believer in the efficacy of a little tap water on the post-coital penis as a sure preventative against infection. Needless to say, poverty, hunger and societal meltdown have not prevented idiotic wars involving Uganda, Congo, Sudan, Somalia, Eritrea etcetera.

Broad brush-strokes, to be sure. But broad brush-strokes are often the way that history paints its gaudier, if more decisive, chapters. Japan, China, Russia, Korea, Poland, Germany, Vietnam, Laos and Cambodia in the 20th century have endured worse broad brush-strokes than almost any part of Africa.

They are now -- one way or another -- virtually all giving aid to or investing in Africa, whereas Africa, with its vast savannahs and its lush pastures, is giving almost nothing to anyone, apart from AIDS.

Meanwhile, Africa's peoples are outstripping their resources, and causing catastrophic ecological degradation. By 2050, the population of Ethiopia will be 177 million: The equivalent of France, Germany and Benelux today, but located on the parched and increasingly protein-free wastelands of the Great Rift Valley.

So, how much sense does it make for us actively to increase the adult population of what is already a vastly over-populated, environmentally devastated and economically dependent country?

How much morality is there in saving an Ethiopian child from starvation today, for it to survive to a life of brutal circumcision, poverty, hunger, violence and sexual abuse, resulting in another half-dozen such wide-eyed children, with comparably jolly little lives ahead of them? Of course, it might make you feel better, which is a prime reason for so much charity. But that is not good enough.

For self-serving generosity has been one of the curses of Africa. It has sustained political systems which would otherwise have collapsed.

It prolonged the Eritrean-Ethiopian war by nearly a decade. It is inspiring Bill Gates' programme to rid the continent of malaria, when, in the almost complete absence of personal self-discipline, that disease is one of the most efficacious forms of population-control now operating.

If his programme is successful, tens of millions of children who would otherwise have died in infancy will survive to adulthood, he boasts. Oh good: then what?I know. Let them all come here. Yes, that's an idea.
Translation - Russian
Кроме СПИДа, от Африки никому никакого проку

Кевин Майерс

Четверг, 10 июля 2008

Не дождётесь. При том, что у нас на виду африканские государства отказываются восстановить хотя бы что-то напоминающее цивилизацию в Зимбабве, по кругу снова и снова запускается всё та же шапка за милостыней для Эфиопии. Знаменитой эфиопской кампании «Накормим мир!» (в которой участвовал и Боб Гелдоф) — уже 25 лет, и за это время население Эфиопии выросло с 33.5 миллионов человек до 78.

Чего же ради я должен чем-то способствовать дальнейшему катастрофическому росту населения этой страны? Где логика? Нет её. Вот два соображения, подтверждающих, что о логике тут нет и речи.

Первое — это моя совесть, а второе — это картинка, ещё и ещё одна, ещё и ещё одного большеглазого ребёнка, таращащегося в ещё и ещё одну камеру, которая снимает летопись ещё и ещё одной трагедии...

Нет уж. Моя совесть побывала в тех местах — как физически, так и в виде посланных туда денег. В отличие от многих читателей, я был в Эфиопии; подобно многим читателям, я немало раскошеливался на благотворительность ради прекращения там голода. Глазастенький мальчик, которого мы спасли от голода что-то около двадцати лет назад, вырос в елдастого богатыря с калашниковым, осеменяющего всё, что попадается ему на пути.

Наверняка есть веская причина, по которой мы должны продлевать жизнь этому хищническому и увечному экономическому, общественному и половому строю, но мне она неизвестна. С другой же стороны, есть куча причин, по которым эту колонку мне писать не следовало бы.

Она не добавит мне друзей и спровоцирует праведный гнев у праведных ханжей со склонностью к эпистолярию «дорогая редакция», тех самых, которые вечно изгадят любой разговор в Ирландии своими высокомерными замечаниями и моральным превосходством. Вполне вероятно, она рассердит кого-то из лучших граждан Ирландии, благотворителей и гуманистов, беспредельно мною уважаемых — ну что ж, так тому и быть.

Но я умоляю носителей праведного гнева дать мне хоть одну аналогию того, что происходит в Эфиопии, с нашим собственным Голодомором. Нет таких аналогий. За 20 лет Голодомора население Ирландии сократилось на 30 процентов. За такое же время, благодаря продуктам из западного мира, валящимся из пятиосных мерседесовских фур и транспортных самолётов Геркулес, население Эфиопии более чем удвоилось.

Увы, эта несчастная страна не одинока в своём сумасшествии. Где-то там рядом находится Сомали, ещё одна родина одержимых насилием бездельников с перманентной эрекцией и калашниковыми на плечах, жующих дурь и предпочитающих женщин с изувеченными обрезанием гениталиями.

В самом деле, то, что мы сейчас имеем — это практически целый континент сексуально гиперактивных дикарей, с десятками миллионов тех, кто выживает исключительно благодаря помощи извне.

Эта зависимость не породила ни политическую чистоплотность, ни хотя бы здравый смысл. Отнюдь: мракобесный идиотизм вовсю идёт на подъём в лице грядущего президента Южной Африки, который твёрдо уверен, что плеснуть после секса немножко воды из-под крана на усталый конец — верный способ избежать инфекции. Ясно без слов, что нищета, голод и слом общественных устоев вовсе не сработали на предотвращение глупейших войн в Уганде, Конго, Судане, Сомали, Эритрее, далее везде.

Достаточно беспощадные удары судьбы, это точно. Но беспощадными ударами история творит свои самые яркие произведения. Япония, Китай, Россия, Корея, Польша, Германия, Вьетнам, Лаос и Камбоджа в 20-м веке пережили куда более беспощадные удары, чем практически любая часть Африки.

Теперь же все эти страны — в той или иной форме — являются для Африки донорами помощи или инвесторами, в то же время сама Африка с её неохватными саваннами и роскошными изобильными пастбищами, не принесла в мир почти ничего, кроме СПИДа.

Между делом, африканские народы выедают свои ресурсы и создают катастрофические проблемы с экологией. К 2050-му году население Эфиопии достигнет 177 миллионов — эквивалент сегодняшних Франции, Германии и стран Бенилюкса, вместе взятых — и всё это на выжженных солнцем и стремительно теряющих белковый потенциал пустырях Восточной Африки.

Насколько целесообразно для нас активно множить население этой уже сегодня чрезвычайно перенаселённой, экологически гиблой и экономически несостоятельной страны?

Насколько морально спасать эфиопского ребёнка от голодной смерти сегодня, если завтра его ожидает жизнь в нищете, голоде и насилии, а женщин ещё и с дикарским обрезанием и кошмаром половой эксплуатации, что в свою очередь приведёт к появлению полудюжины новых глазастых детей с примерно столь же радужными жизненными перспективами? Это, конечно, даёт вам возможность почувствовать себя благодетелем, что и есть главная причина подобной щедрости. Но не так уж это и хорошо.

Наша самодовольная щедрость стала проклятием Африки. Только из-за неё и выживают политические режимы, которые давно бы пали, если бы помощи не было.

Она на десятилетие продлила войну между Эфиопией и Эритреей. Она вдохновила Билла Гейтса на его программу по искоренению малярии на чёрном континенте — хотя в ситуации почти тотального отсутствия самоорганизации эта болезнь является одним из самых эффективных средств регулирования населения в природе.

Если его программа пойдёт успешно, то десятки миллионое детей, которые могли бы умереть в детстве, выживут и станут взрослыми — ораторствует Билл Гейтс. Ах как это прекрасно — а дальше что? А я вам скажу: мы пустим их в свой дом. А что такого?
English to Russian: гарантия
Source text - English
XXXXX warrants, for your benefit alone, for a period of sixty (60) days after receipt by you, that the Software will conform in all material respects to the user documentation furnished to you by XXXXX. The sole responsibility of XXXXX under this warranty will be, at its option, (1) to use reasonable efforts to correct documented errors in the Software that are reported to it within the foregoing warranty period or (2) to refund the License fee paid. XXXXX and its suppliers do not warrant that the Software will be error free, nor that all program errors will be corrected. This limited warranty does not apply insofar as: (a) the Software is subjected to misuse, neglect, accident or exposure to environmental conditions beyond those specified by XXXXX and its suppliers; (b) claims resulting from acts or omissions caused by persons other than XXXXX or its suppliers or from products, material or software not provided by XXXXX or its suppliers; or (c) you use Software that does not include all updates available from XXXXX or its suppliers.
Translation - Russian
ХХХХХ гарантирует единолично вам, что в течение 60 (шестидесяти) дней с момента получения вами программа во всех существенных аспектах будет соответствовать пользовательской документации, предоставленной вам ХХХХХ. В рамках этой гарантии ХХХХХ обязуется (по его выбору):
1 – приложить разумные усилия к исправлению документально подтверждённых ошибок в программе, о которых ему сообщено в течение вышеупомянутого гарантийного периода, либо
2 – возместить стоимость лицензии.
ХХХХХ, как и его поставщики, не гарантируют безошибочную работу программы и исправления всех программных ошибок. Данная ограниченная гарантия не покрывает случаи, когда:
а – программа использовалась не по назначению, небрежно либо подверглась случайному разрушительному воздействию либо воздействию внешних факторов вне пределов, указанных ХХХХХ и его поставщиками;
б – неполадки были вызваны действиями или бездействием лиц, не относящихся к ХХХХХ или его поставщикам, либо изделиями, материалами или программами, разработанными не ХХХХХ или его поставщиками;
в – программа использовалась без полного набора обновлений, предоставляемых ХХХХХ или его поставщиками.

More
Years of experience: 33. Registered at ProZ.com: Nov 2008.
N/A
N/A
N/A
Adobe Acrobat, Adobe Photoshop, Dreamweaver, Microsoft Excel, Microsoft Word, Powerpoint, SDL TRADOS
Mark Vadim Bukat endorses ProZ.com's Professional Guidelines (v1.0).
Bio
Native fluency in English and Russian, functional Chinese (will NOT translate to/from Chinese but will definitely manage texts with Chinese inclusions)

6 years in the UK, nearly 15 years of using English as first language

Strong background in journalism, editing, speechwriting

Highest sense of responsibility and accuracy

Expert knowledge of building/construction machinery and tools

Experience in different kinds of business - catering, property, manufacturing, factory management, business representation services

Teaching experience at different academic levels and in different language environments

Substantial international exposure - over 20 years of extensive international travel, 13 years of working/business/living experience in different parts of China

Self-employed for the last 10 years

Available practically any time incl public holidays, weekends, etc., unless clearly stated otherwise for a particular day

my local time = GMT + 8 hrs

English -> Russian: 2,000 words a day for a comfortable easy pace; 6-8,000 a day in an emergency (depending on texts)

Russian -> English: depends on the text; normally cr 2,000 words a day; selected fields only

Will only work with real original texts or proof-read human-translated materials, not fix robotranslation bugs

Rates:

0.08 -> 0.15 USD

per word

Accept any major currency remitted to my private account in China (preferably) or Russia (USD only); Western Union will do as well

Test translations: strictly limited to 100 words

(I trust people, I don't trust the devil inside them)

This user has earned KudoZ points by helping other translators with PRO-level terms. Click point total(s) to see term translations provided.


Keywords: editing, proofreading, marine, underwater, diving, scuba, china, business, car, truck, lorry, tipper, trailer, building, construction, machinery, equipment, tools, crane, crawler crane, bulldozer, loader, roller, hoister, excavator, forklift, scrapper, hoist, boom lift, scissor lift, concrete mixer, concrete pump, pile driver, vibrator, rammer, grader, manual, spare parts, translation, english-russian, news, fiction, journalism, politics, travel, places, tourism
Profile last updated
Aug 5, 2015