Shifting Focus to Translation - a Logical Step
Dutch nationality, Master's degree BA at
RSM Erasmus University Rotterdam.
My international career was eased by an
innate talent and passion for languages, during which I obtained relevant
translation experience and cultural insights.
After a start in advertising in
Amsterdam, I continued my advertising career in New York and lived in various
countries. Some three decades of varied business experiences
across a broad international spectrum enabled me to refine linguistic
abilities and get to know different cultures. It basically also was an ongoing translation experience.
Moving mid '84 to NY as Account
Director at Grey Advertising, followed by Brussels at Grey's
multilingual operation (P&G Benelux) and Grey Europe (European
Brand Coordination P&G).
Since Jan '91 independent operator. Invited
to participate in preparing the restructuring of a Philips manufacturing
site in Italy. After Trade Union agreement Feb '93, I started in Italy
as Project Manager. Successful project closure was followed by
assignments for clients such as Philips, Siemens, Danone and more. Operated
in Italy, France, Austria, Romania, Germany, USA and Russia in various
roles and industries in SME and Multinational context.
Apart from my international advertising experience in which I learned  about transcreation in addition to normal translation, below I mention some professional "business" situations
in which I was involved to underline the challenges from a linguistic
and cultural perspective, as indicators for my translation experience:
Managing reconversion projects in
Italy for foreign multinational clients like Philips (Netherlands)
or Gambro (Biomedical - Sweden), certainly requires outspoken translation
skills as well as cultural understanding to ensure transparency.
Representing an Italian SME to
establish collaboration with a French multinational, when attention
shifts to a US multinational. Apart from language diversity
which required high quality translations, there were also some culture
gaps to be bridged.
Creating a JV between an Italian
land owner and a Dutch hotel developer required an ongoing
translation effort. With the subsequent involvement of a US hotel
brand as operating partner, language and cultural
diversity became a real challenge.
Acting on behalf of a Dutch Debt
Services Operation, to solve disputed debts with Italian parties nationwide,
where the creditor was a Dutch bankrupt company. Effective operations in Italy
required language dexterity and ability to handle local cultural
differences.
Whilst industrial restructuring projects becoming
scarce in Italy, my language skills continued improving. I would
never have been able to handle the kind of projects in which I have been
involved in my career without my language dexterity and cultural
understanding.
It all facilitates smooth transition towards TRANSLATION.
Fascinated by the ability of translation
to connect between cultures, I see translating as an intriguing
intellectual challenge.
A challenge I have decided to take on.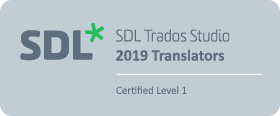 Therefore, I recently acquired the licence
for SDL Trados Studio 2019 software and, after losing some time due
to COVID-19, I passed SDL 2019 level 1 Certification.
I will welcome translations from English
and Italian to my mother tongue Dutch
I am open for a test transation