Hi CafeTran,

GT4T doesn't offer such a logging feature and I don't have experience with Across yet. Maybe someday I will download and try it.

Dallas



CafeTran Training wrote:

Across is a rather closed ecosystem. It comes in two flavours: in a web browser and as a desktop app. Both have the table presentation in common: source at the left, target at the right. You can download a free version of the desktop app. To test the browser version, you'll need someone to set up a project for you.

It seems to me that GT4T could supply the long awaited solution to free Across from its self chosen cage. Dallas could you please have a look at this?

Download:

http://www.my-across.net/en/download/

On second thought: I'm getting doubts about what the UI of crossWeb looks like. It's been some months ago that I was invited to use it. Perhaps one of the regular users can post a screenshot?

This is what I found: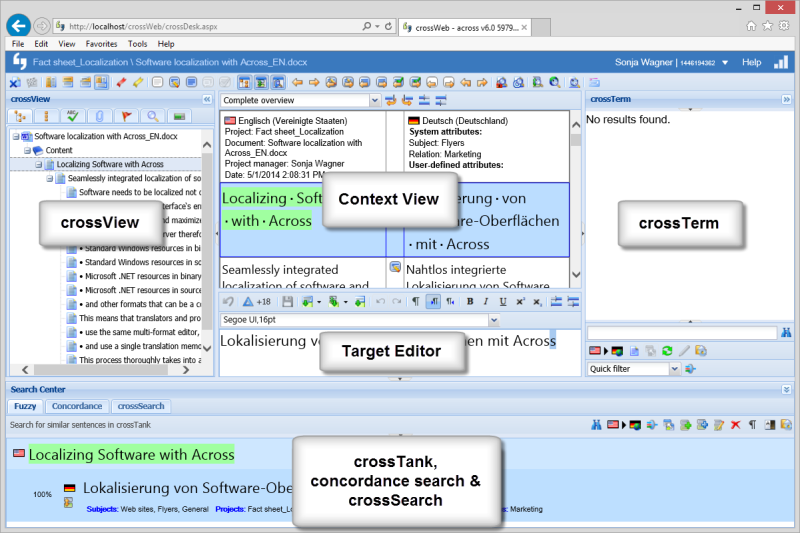 I'm afraid that this is a rather old image.
One of the biggest objections that many translators have against Across is the fact that we don't have full control over what we've produced. Dallas, does GT4T offer a kind of 'logging feature' that will allow creating a TMX file containing the bare text of all source and target segments translated via GT4T? (I think that RTF formatting is less relevant here.)
Can Across be configured to populate empty segments with the source language first? GT4T could pick this up. But how to handle segments where a fuzzy match is inserted? How can GT4T get the source text then? (Store FM, copy S > T, get S, restore FM?)
[Edited at 2017-10-21 09:27 GMT]