Polish font shortcuts from Mac not working in some Windows apps
Thread poster: Joanna Wachowiak-Finlaison
Joanna Wachowiak-Finlaison
United States
Local time:

12:15


English to Polish
+ ...

Hi guys,

I have a following setup: MacBook Pro OSX + Parallels 6 + Windows XP
I use Polish PRO keyboard and it works perfectly with all Mac apps AND Microsoft Office Word on Windows. My Polish font shortcut keys are option+letter (eg. option+a for ą). This seems, however, to interfere with shortcut keys in both Microsoft Office Excell and in Wordfast. I've tried changing regional settings in Windows, but to no avail. Ideas? Help?
| | |
| --- | --- |
| Try assigning other shortucts in Word | Sep 26, 2010 |
Change the shortcuts in the corresponding application - for example if your "aogon" letter shortcut conflicts with the shorctut for a function A in Wordfast, change this one.
In Word it is very easy - click the small arrow pointing down at any toolbar, chose modify and chage to keyboard. Check to what your desired shortcut is asigned and remove everything you do not need.
You can find a good description of such modification in Word excellent help.
| | |
| --- | --- |
| According to WF online help you can modify the shorcuts there | Sep 26, 2010 |
Modifying shortcut keys
To modify a shortcut keys:
1.
Follow step 1 and 3 from Modifying shortcut key schemes.
The Keys option appears.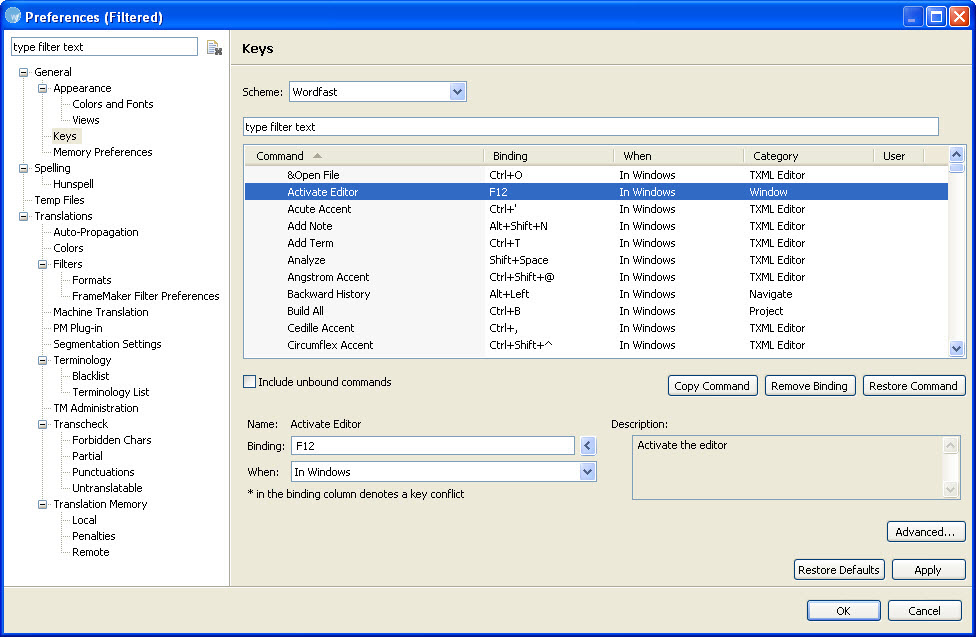 2.

Left-click and select a Command.

3.

Remove the existing Binding and press a new sequence of keys.

The shortcut key is modified.



Here is the help.


[Edited at 2010-09-26 17:36 GMT]
| | |
| --- | --- |
| Well, Windows will always treat that key as alt | Sep 27, 2010 |
Or with other words, when you connect a "normal" keyboard to a Mac, the alt key is the option key for the machine.
I am afraid only an additional shortcut program for Windows could solve your program.
If you would look here in the fora it was listed quite often.
To report site rules violations or get help, contact a site moderator:
You can also contact site staff by
submitting a support request »
Polish font shortcuts from Mac not working in some Windows apps
Déjà Vu X3
Try it, Love it

Find out why Déjà Vu is today the most flexible, customizable and user-friendly tool on the market. See the brand new features in action: *Completely redesigned user interface *Live Preview *Inline spell checking *Inline

More info »
SDL Trados Studio 2019 Freelance
The leading translation software used by over 250,000 translators.

SDL Trados Studio 2019 has evolved to bring translators a brand new experience. Designed with user experience at its core, Studio 2019 transforms how new users get up and running, helps experienced users make the most of the powerful features, ensures new

More info »