Script for QA Translation consistency
Thread poster: CafeTran Training (X)
Tools like Verifika offer more advanced QA checks for translation consistency: you can instruct them to ignore numbers etc. and they can also check in the reverse direction (same target, different source).

For OS X I've created an AppleScript. (For Windows an AHK script for Notepad++ should be possible.)

Purpose: Check your translation project both on identical source segments with different translations and on identical translations with different source segments, while ignoring differences in tags, numbers, punctuation marks and spaces.

Usage:

Export your current project as a TMX file.

Open it in TextWrangler.

Open the script in the Script Editor and run it.

Check the two files "Identical sources" and "Identical targets".

Make any necessary modifications to your project while navigating to the relevant segments via the Find dialogue box.


Have fun with this script!

You can download the script here: https://cafetran.freshdesk.com/helpdesk/attachments/6035267797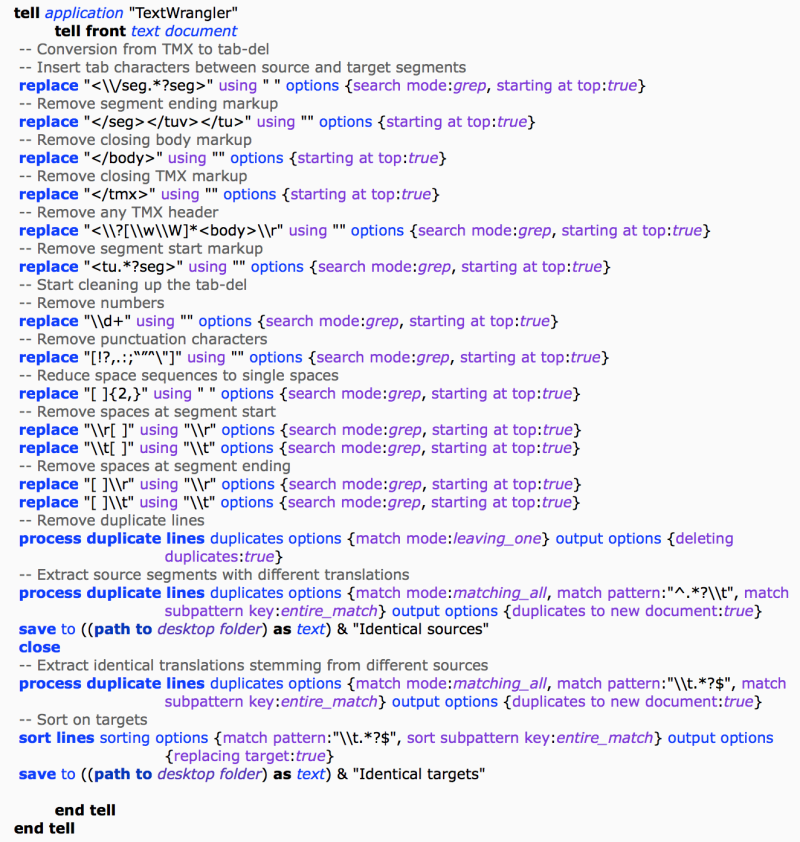 To report site rules violations or get help, contact a site moderator:
You can also contact site staff by
submitting a support request »
Script for QA Translation consistency
Protemos translation business management system
Create your account in minutes, and start working! 3-month trial for agencies, and free for freelancers!

The system lets you keep client/vendor database, with contacts and rates, manage projects and assign jobs to vendors, issue invoices, track payments, store and manage project files, generate business reports on turnover profit per client/manager etc.

More info »
TM-Town
Manage your TMs and Terms ... and boost your translation business

Are you ready for something fresh in the industry? TM-Town is a unique new site for you -- the freelance translator -- to store, manage and share translation memories (TMs) and glossaries...and potentially meet new clients on the basis of your prior work.

More info »