CafeTran doesn't transalate .XFL file
Thread poster: Hector Echaniz
Hector Echaniz

Brazil
Local time:

02:25


English to Portuguese
+ ...

CafeTran Training


Netherlands
Local time:

06:25



| | |
| --- | --- |
| More details please | Aug 26 |
Is this the first time that you use CafeTran?

Can you provide more information please?

What is the file format of the source file(s)?

Which steps did you take exactly?

Did you make sure that the name of the project that you have created is not identical to the name of the source file?

Can you e-mail me a screenshot or alternatively post it here: https://cafetran.freshdesk.com/support/discussions/forums/6000132966 ?

[Edited at 2017-08-26 06:44 GMT]
Hector Echaniz

Brazil
Local time:

02:25


English to Portuguese
+ ...


TOPIC STARTER
| | |
| --- | --- |
| Problem with .XFL file | Aug 26 |
No, I have used CafeTran with Word files only previously.
Program opens .XFL file but doesn't provide segment translation.
I went Project > Project Configuration. Source Language is dimmed within a gray box, and Target Language is dimmed in a gray box.
I checked the names of source document and project, they are different.
What is your e-mail address?
Thank you.
CafeTran Training


Netherlands
Local time:

06:25



| | |
| --- | --- |
| XLF not segmented? | Aug 26 |
Any chance that we are talking about a Studio XLF (SDLXLIFF) file that hasn't been pre-segmented by the creator?

Anyway, you can send me your screenshot and perhaps also your source document to: cafetran.training@gmail.com
Hector Echaniz

Brazil
Local time:

02:25


English to Portuguese
+ ...


TOPIC STARTER
CafeTran Training


Netherlands
Local time:

06:25



| | |
| --- | --- |
| Please use the correct button to open an already existing XLIFF project | Aug 26 |
Please use the correct button to open an already existing XLIFF project (extension: .XLF).

Click on the selector at the lefthand side of the Open project button:





Navigate down in the list to Open project...: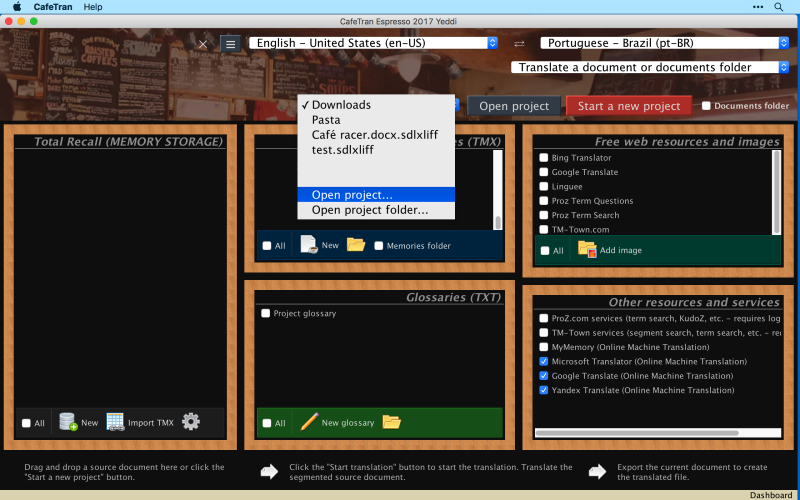 Navigate in your file structure to your XLF file and open it.

Enjoy translating with CafeTran!

[Edited at 2017-08-26 13:54 GMT]
To report site rules violations or get help, contact a site moderator:
You can also contact site staff by
submitting a support request »
CafeTran doesn't transalate .XFL file
BaccS – Business Accounting Software
Modern desktop project management for freelance translators

BaccS makes it easy for translators to manage their projects, schedule tasks, create invoices, and view highly customizable reports. User-friendly, ProZ.com integration, community-driven development – a few reasons BaccS is trusted by translators!

More info »
Wordfast Pro
Translation Memory Software for Any Platform

Exclusive discount for ProZ.com users! Save over 13% when purchasing Wordfast Pro through ProZ.com. Wordfast is the world's #1 provider of platform-independent Translation Memory software. Consistently ranked the most user-friendly and highest value

More info »