Adding macro palettes to CafeTran Espresso 2018
Thread poster: Hans Lenting
Hans Lenting

Netherlands

Member (2006)


German to Dutch
+ ...

When you are a heavy user of macros, chances are that you run out of available keyboard shortcuts or that you forget which keyboard shortcut you have assigned to a certain macro.

With Keyboard Maestro (https://www.keyboardmaestro.com/main/ for Mac) or AutoHotkey (https://autohotkey.com for Windows) you can add palettes that are opened when a specific dialogue box is displayed: https://wiki.keyboardmaestro.com/manual/Palettes

Here is a palette to easily toggle the case of both the source and the target of a term pair that you want to add.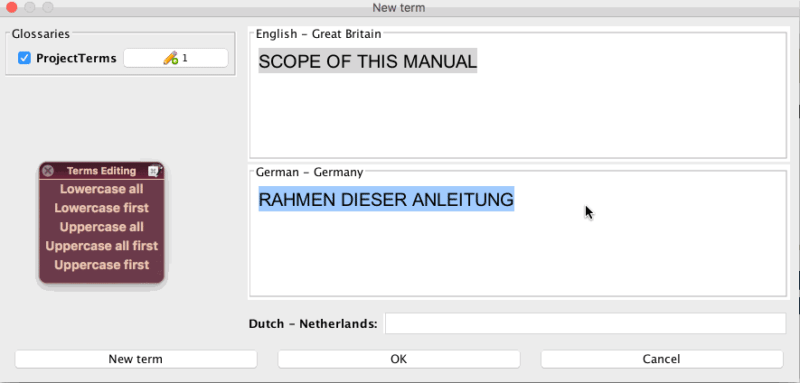 [Edited at 2018-01-21 09:18 GMT]
To report site rules violations or get help, contact a site moderator:
You can also contact site staff by
submitting a support request »
Adding macro palettes to CafeTran Espresso 2018
TM-Town
Manage your TMs and Terms ... and boost your translation business

Are you ready for something fresh in the industry? TM-Town is a unique new site for you -- the freelance translator -- to store, manage and share translation memories (TMs) and glossaries...and potentially meet new clients on the basis of your prior work.

More info »
PerfectIt consistency checker
Faster Checking, Greater Accuracy

PerfectIt helps deliver error-free documents. It improves consistency, ensures quality and helps to enforce style guides. It's a powerful tool for pro users, and comes with the assurance of a 30-day money back guarantee.

More info »