CafeTran .tmx cleaning/maintenance tips & tools (useful for cleaning Studio-generated TMs)
Thread poster: Michael Beijer
Michael Beijer

United Kingdom
Local time:

13:56




Member (2009)


Dutch to English
+ ...

I just posted the following on the Déjà Vu mailing list (" https://groups.yahoo.com/neo/groups/dejavu-l/conversations/messages/138447 ), and thought it might be useful so am re-posting it here.

A lot of TMX cleaning/maintenance can be done right in CafeTran, in TMX editing mode.

In the CafeTran Dashboard, from the Project options and settings (the "hamburger") icon, select

Project type > Edit translation memory




​
Click: New
Select the relevant TMX on yr computer, which will call up the TMX memory settings dialogue
Click: "Filter"
In the "Memory Filter" dialogue, select any TMX cleaning options you might need: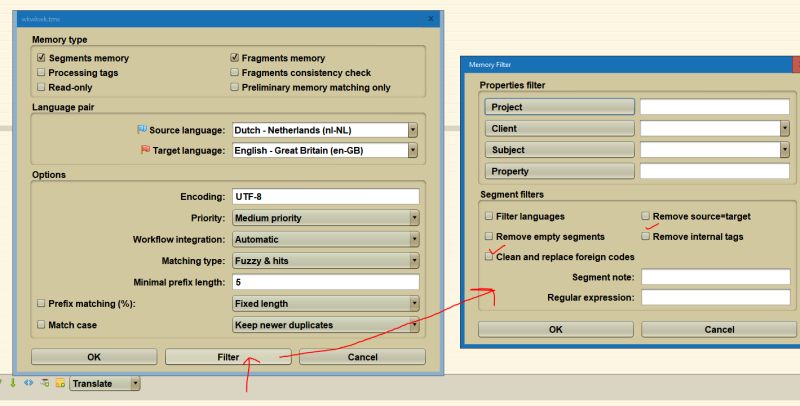 ​
(x) Clean and replace foreign codes
(x) remove internal tags

Et voilà!

CafeTran also allows you to perform all kinds of other useful stuff. For example, do you ever receive Studio-generated TMs full of garbage properties,



x-LastUsedBy: Mr Ed
x-Origin: TM
x-OriginalFormat: TradosTranslatorsWorkbench
etc.



...which make the files way bigger than they need to be? In CafeTran you can selectively remove properties from TMXs!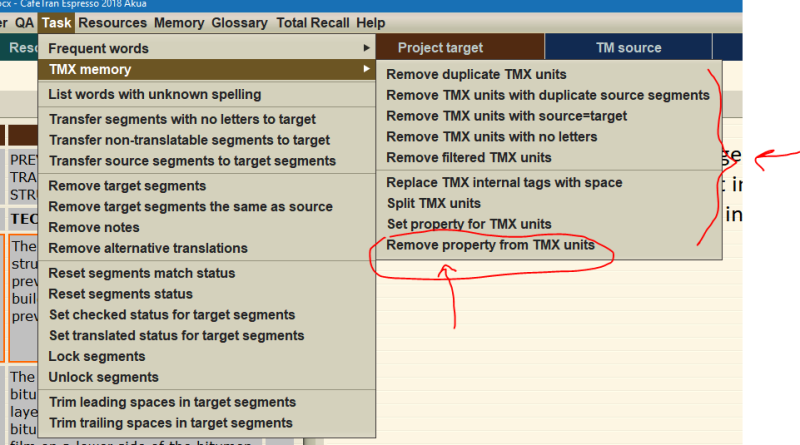 ​

Michael

[Edited at 2018-02-01 11:44 GMT]
Andriy Yasharov

Ukraine
Local time:

15:56




Member (2008)


English to Russian
+ ...

Michael Beijer

United Kingdom
Local time:

13:56




Member (2009)


Dutch to English
+ ...


TOPIC STARTER
| | |
| --- | --- |
| I'll let Igor explain (as I am not 100% sure)... | Feb 1 |
Andriy Yasharov wrote:

What are the foreign codes in TMX files? What are they replaced with?

Thank you.



Igor explained it like this @ https://groups.google.com/forum/#!topic/cafetranslators/CGzt58gDahU

Igor Kmitowski

5/26/14

Hello Michael,

> When you open a TMX, and click on 'Filter', what exactly do these do:
>
> (1) 'Clean and replace foreign codes'

Some TMX files from third party tools have unusual codes in the segments
such as codes inside the curly brackets or emdash, endash, tab code.
CafeTran clears or replaces them with equivalent unicode characters.
****************************

I also know that this can help you clean/fix a broken TMX that won't open in e.g. the Heartsome TMX editor, or other TMX editors because of "illegal characters". Just clean the file in CT and it will open fine.

Michael
Igor Kmitowski

Poland
Local time:

14:56




Member (2016)


English to Polish
+ ...

To report site rules violations or get help, contact a site moderator:
You can also contact site staff by
submitting a support request »
CafeTran .tmx cleaning/maintenance tips & tools (useful for cleaning Studio-generated TMs)
BaccS – Business Accounting Software
Modern desktop project management for freelance translators

BaccS makes it easy for translators to manage their projects, schedule tasks, create invoices, and view highly customizable reports. User-friendly, ProZ.com integration, community-driven development – a few reasons BaccS is trusted by translators!

More info »
Anycount & Translation Office 3000
Translation Office 3000

Translation Office 3000 is an advanced accounting tool for freelance translators and small agencies. TO3000 easily and seamlessly integrates with the business life of professional freelance translators.

More info »