Updated Java today, now Cafetran crashes
Thread poster: Gerhard Wiesinger

Gerhard Wiesinger


United States
Local time:

05:21




Member (2009)


English to German
+ ...

Hi, I updated Java today to version 8 update 161 (build 1.8.0-161-b12) and CafeTran crashed several times since then. The the message "Java(TM) Platform SE binary has stopped working. A problem caused the program to stop working correctly. Windows will close the problem ..." pops up.
My CafeTran version is 2017122602-Forerunner 2018
I am a translator, not a tech guy and hope someone can offer a solution that does not require digging into the guts of my computer.

Hans Lenting


Netherlands


Member (2006)


German to Dutch

| | |
| --- | --- |
| Install a fresh Java and a fresh CafeTran Espresso 2018 | Feb 18, 2018 |
Visit the Oracle page Java SE Runtime Environment 9 Downloads, currently located at:

http://www.oracle.com/technetwork/java/javase/downloads/jre9-downloads-3848532.html

Download the file jre-9.0.4_windows-x64_bin.exe and install it, to get Java 9 on your Windows 64 computer. (At least, I hope that you have Windows 64 running ...)

Download the newest version of CafeTran Espresso 2018 at:

https://www.cafetran.com/download-for-windows-pc/

Make sure to install the new CafeTran Espresso 2018 in a separate folder, to isolate it from your old one. Also, make sure to click the correct icon to launch the new version, instead of the old one.

Note that you will need to update your license, because of the new installation path.

Do some tests with CafeTran Espresso 2018. If the new installation is stable, I could give you some instructions to copy the user files from your old installation to the new one. But that's the part where it starts to get geeky.

Update: I just tested the procedure above on a HP Pavilion with Windows 10 Home. I made sure to add '2018' to the suggested installation path, to separate it from the older version of CafeTran Espresso.

During the set up of Java 9, you are being asked whether you want to remove any older versions of Java. If you are absolutely sure that no other Java software is running on your computer, that requires any older version of Java, it looks like a good advice to remove all older versions of Java. (This won't touch your old CafeTran Espresso.)

Good luck!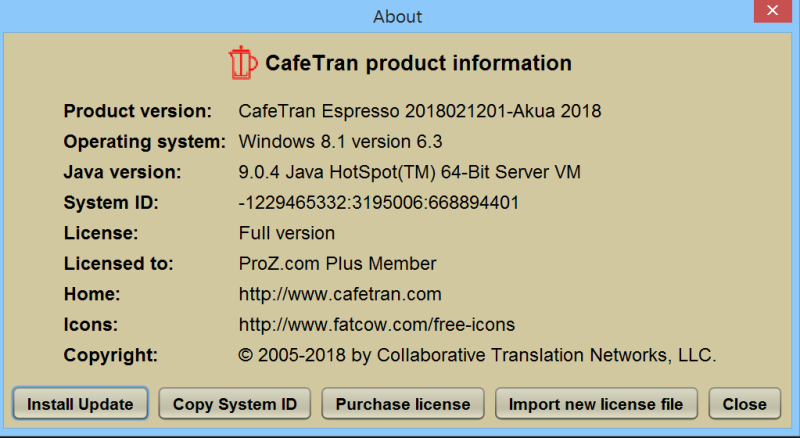 [Edited at 2018-02-18 18:02 GMT]

Peggy Briggs


United Kingdom
Local time:

13:21


English to Swedish
+ ...


Hans Lenting


Netherlands


Member (2006)


German to Dutch

To report site rules violations or get help, contact a site moderator:
You can also contact site staff by
submitting a support request »
Updated Java today, now Cafetran crashes
SDL Trados Studio 2019 Freelance
The leading translation software used by over 250,000 translators.

SDL Trados Studio 2019 has evolved to bring translators a brand new experience. Designed with user experience at its core, Studio 2019 transforms how new users get up and running and helps experienced users make the most of the powerful features.

More info »
WordFinder Unlimited
For clarity and excellence

WordFinder is the leading dictionary service that gives you the words you want anywhere, anytime. Access 260+ dictionaries from the world's leading dictionary publishers in virtually any device. Find the right word anywhere, anytime - online or offline.

More info »