Working on a .doc or a .sdlppx file with Cafetran
Thread poster: BabelOn-line

BabelOn-line
United Kingdom
Local time:

09:55


English to French
+ ...

Newbie question!

I received a project from an agency, a couple of Word files and the corresponding .sdlppx file.

I am just starting with CafeTran (after a very irritating try out with Trados, which I still have but do not use – for many reasons).

What is the simplest route for a newbie? Work on the Word files in CafeTran - and then export the result as a sdlppx or some other format the agency can reuse?

Or is it simpler to work on a sdlppx file directly in CafeTran - which apparently supports this format? If you work with and sdlppx, can you save the project under the same format?

Thank you!

Jean Dimitriadis


France
Local time:

10:55




Member


English to French
+ ...

| | |
| --- | --- |
| Probably SDLPPX, unless a TMX TM is accepted | Feb 23, 2018 |
Hello!

Disclaimer: I wouldn't recommend learning a new CAT tool while working with tight deadlines or with external projects in general. You should take the time to learn the ropes first!

- If you have to send back a Trados package (.sdlppx) or a return package (.sdlrpx), you will need to use the sdlppx. CafeTran can import it, and export to either format; it cannot create a Trados package from a Word document, only Trados can. Since you have Trados, I suggest that you translate the sdlppx in CafeTran, finalize and export it, then open the package in Trados to verify that everything is fine, export the target file and create the package once again. This is not required, but since you have Trados, you should at least run a check. This is what I do.

You may wish to review the Notes on bilingual external files and the notes on Trados files and packages which follow that section in the reference files I have created. And of course, the official Solutions: https://cafetran.freshdesk.com/support/solutions and Forum: https://cafetran.freshdesk.com/support/discussions

- Otherwise, you can import the Word files directly and then send the exported Word files, along with the resulting project TM in TMX format. Trados can directly import TMX files. If the agency is OK with that, it is preferable to translate the native file. In the long run, you may need to check that your segmentation rules are close to those of Trados, but this can wait and is optional, just a suggestion.

- You mention the .DOC format: Microsoft Office 1997–2003 files (.doc, .xls, .ppt) are not directly supported in CafeTran. You need to convert these files to DOCX, XLSX, PPTX before translating them in CafeTran, or use a round trip solution.

General link to the reference files.

[Modifié le 2018-02-23 17:39 GMT]

Hans Lenting


Netherlands


Member (2006)


German to Dutch

BabelOn-line wrote:

Or is it simpler to work on a sdlppx file directly in CafeTran - which apparently supports this format?



You can directly open the SDLPPX in CafeTran Espresso 2018 and translate it. When you're ready, click on:





and then on: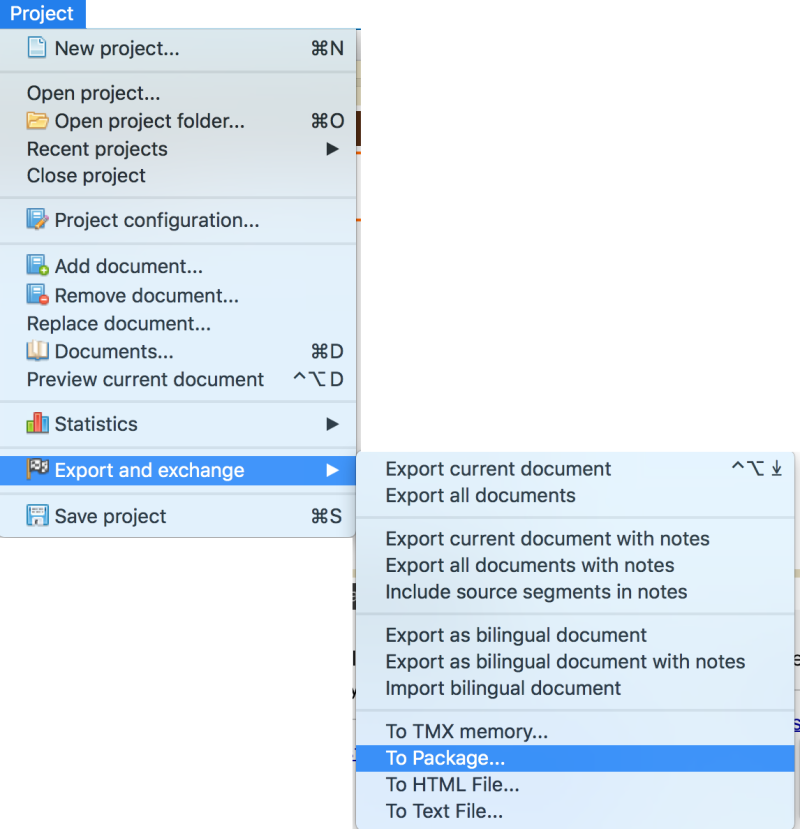 Select the SDLRPX format to create a Studio return package.

[Edited at 2018-02-23 18:00 GMT]

BabelOn-line
United Kingdom
Local time:

09:55


English to French
+ ...


TOPIC STARTER
Fab answer, to the point. Thank you very much.


I agree with you and appreciate the disclaimer, should not dive head first into CafeTran with a new project but this one is not super urgent. Using your suggested approach (work on the Word files in CafeTran and export, client is apparently not too bothered about getting a TM/TMX file anyways) should be safe, the Word files format is nothing complex.

I like CafeTran because it is Mac native, I don't have to reinvent the wheel with keyboard mapping and using Parallels. Would love to find an up to date tutorial/book/online training for the Akua version though.


Jean, merci pour cette réponse qui me donne un sérieux coup de main. Bon weekend à vous !

Jean-Louis

BabelOn-line
United Kingdom
Local time:

09:55


English to French
+ ...


TOPIC STARTER
Funny this. Answers to a question from Jean (my nom de guerre) come from Jean, then Hans. Next John and Jan and Giovanni?

Thanks for your answer. This is the perfect complement to Jean's answer.

I will experiment a bit with both approaches, but i am really pleased to see that 1/ CafeTran (yes, not Tran

) handles a variety of formats 2/ the CafeTrans community is quick to come to the rescue.

Have a great weekend, Hans, thanks for the clear step by step f to "save as return Trados file).

Kind regards.

Jean
To report site rules violations or get help, contact a site moderator:
You can also contact site staff by
submitting a support request »
Working on a .doc or a .sdlppx file with Cafetran
CafeTran Espresso
You've never met a CAT tool this clever!

Translate faster & easier, using a sophisticated CAT tool built by a translator / developer. Accept jobs from clients who use SDL Trados, MemoQ, Wordfast & major CAT tools. Download and start using CafeTran Espresso -- for free

More info »
Wordfast Pro
Translation Memory Software for Any Platform

Exclusive discount for ProZ.com users! Save over 13% when purchasing Wordfast Pro through ProZ.com. Wordfast is the world's #1 provider of platform-independent Translation Memory software. Consistently ranked the most user-friendly and highest value

More info »