DeepL Pro's API now integrated in CafeTran Espresso 2018
Thread poster: Hans Lenting
Hans Lenting

Netherlands


Member (2006)


German to Dutch

| | |
| --- | --- |
| DeepL web integration is still for free | Mar 24 |
From: https://www.proz.com/forum/sdl_trados_support/323909-deepl_pro_is_now_available_for_trados.html




A bit too expensive for me. 23 Mar

20 dollars per month is a bit too steep for me, especially that even if one month you just need to translate 50,000 characters, you will be charged 20 USD anyway.
Shame they haven't applied similar policy to Google Translate where you are charged for the usage from the very beginning, not after you exceed the magical 1 million characters. Or at least they could have set the limit slightly lower, say at 200,000 for lower price.



DeepL's web interface can still be queried for free, directly from CafeTran's interface.

This integration is actually very good: icons and keyboard shortcuts both for querying and retrieving.

So what are currently the benefits of the Pro version, besides the distraction free display and a potentially slightly more stable process?

In very rare cases, the automatic language detection of the web version can go bananas. This shouldn't happen with the Pro version, where the languages are set via the API. Still, is it worth € 20/month? Time will learn...

Edit: Two other advantages of the Pro version, that came to mind:

You can set your own font.

You can override DeepL's suggestion for selected terms via the Team feature, thus maintaining consistency:




When you have to translate badly formatted text (e.g. coming from Adobe InDesign IDML projects), DeepL Pro is doing a better job than DeepL Web: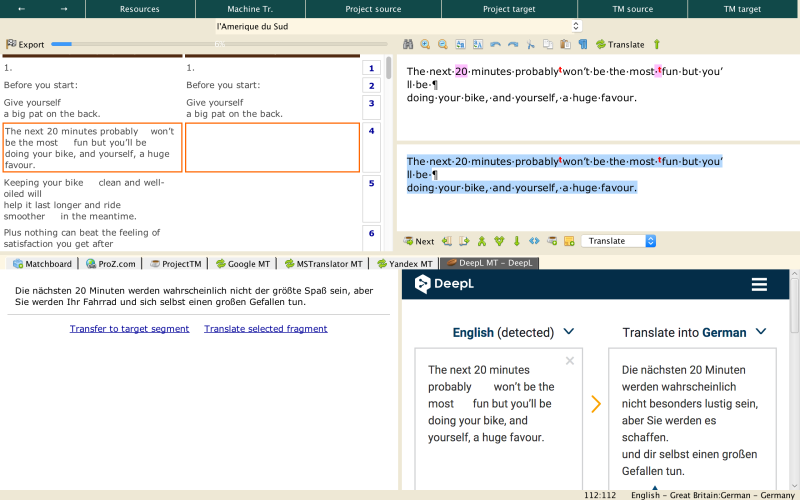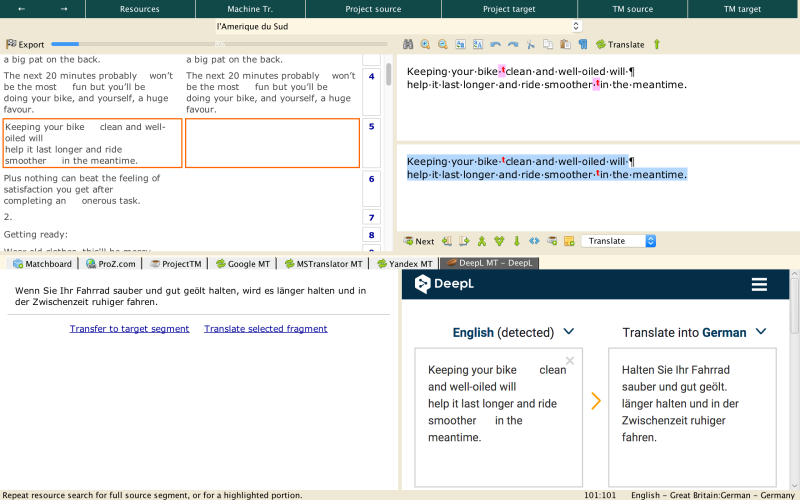 One other advantage of the API version: dragging over one word from a suggested translation to insert it into CT's target segment editor, doesn't distort the view in the DeepL pane by popping up a menu (like in the browser), displaying alternative translations.

And, since every advantage comes with a disadvantage (or the other way around):

One disadvantage of the API is that no alternative translations are displayed anymore. I was really hoping (and in fact requested for this) that the API would allow display of alternative translations, which sometimes can be very interesting (to collect, harvest or learn).

[Edited at 2018-03-24 11:37 GMT]
| | |
| --- | --- |
| Comparison DeepL web and DeepL Pro - cont. | Mar 26 |
(Sub)segments of the suggestions of DeepL Pro, as displayed in a CafeTran pane, will be added to the AutoCompletion inventory, whereas suggestions of the free web version aren't added.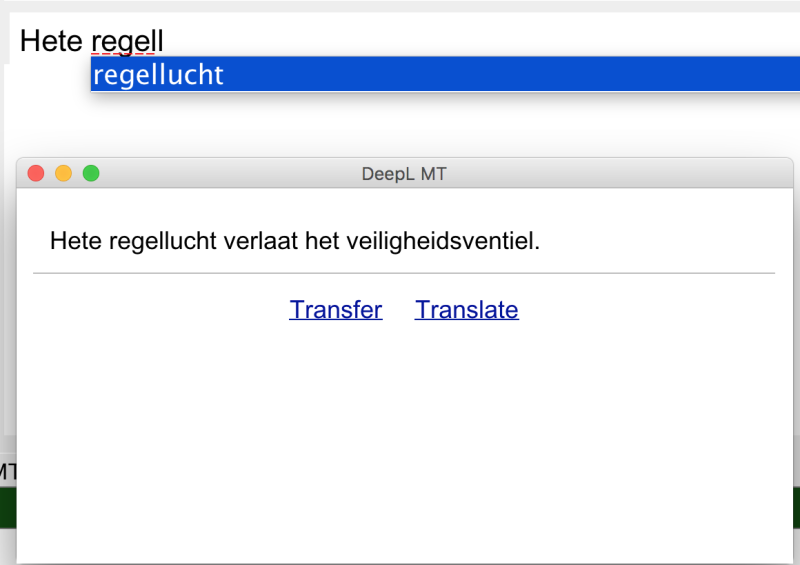 BTW: I'm currently using both the Pro and web version. The latter on a second screen, just to see the alternatives. But of course, this is a little weird.

[Edited at 2018-03-26 11:18 GMT]
| | |
| --- | --- |
| DeepL Pro doesn't save your translations | Mar 29 |
Another difference between the Pro and web version, is that the Pro version doesn't store your translations: https://www.deepl.com/pro-faq.html .

Also, tag handling could possibly be implemented in the Pro version.

Does the Studio plug-in already provide this?

From the FAQ:



What does tag handling do?
With tag handling enabled, you can translate sentences with tags (e.g. XML tags). The translation engine will map the tags onto the appropriate location in the target sentence as well as it can. Please consult the API documentation for detailed information on types of tags supported.
Please note that the DeepL API does not currently translate whole XML files.



[Edited at 2018-03-29 02:44 GMT]
| | |
| --- | --- |
| CafeTran Espresso 2018 froze again | Mar 29 |
Hans Lenting wrote:

BTW: I'm currently using both the Pro and web version. The latter on a second screen, just to see the alternatives. But of course, this is a little weird.



And there is was again: the freezing of CT directly after opening an existing project. So this obviously is related to reloading a web resource (DeepL) via the Dashboard.

I've removed DeepL web from the project template and will continue with the API version.

Edit: Perhaps it's a better approach to close the web resource before quitting CT?

[Edited at 2018-03-29 09:17 GMT]
BrauerTraining
United States
Local time:

10:44



| | |
| --- | --- |
| Buying DeepL Pro from the USA | May 8 |
Hello, Hans. I am testing the CafeTran Espresso api and it looks good. So I wanted to purchase the DeepL Pro version to integrate it but I don't seem to be able to PAY for it with dollars.... It does not give me the option of buying it if I live the USA... do you fathom what it is that I may be doing wrong?????
BrauerTraining wrote:

Hello, Hans. I am testing the CafeTran Espresso api and it looks good. So I wanted to purchase the DeepL Pro version to integrate it but I don't seem to be able to PAY for it with dollars.... It does not give me the option of buying it if I live the USA... do you fathom what it is that I may be doing wrong?????



Please contact DeepL at:

DEEPL GMBH
Im Mediapark 8a
50670 Köln
Germany
Phone: +49 (0) 221 589 399 0
Mail: info@deepl.com
Web: www.deepl.com
To report site rules violations or get help, contact a site moderator:
You can also contact site staff by
submitting a support request »
DeepL Pro's API now integrated in CafeTran Espresso 2018
SDL Trados Studio 2019 Freelance
The leading translation software used by over 250,000 translators.

SDL Trados Studio 2019 has evolved to bring translators a brand new experience. Designed with user experience at its core, Studio 2019 transforms how new users get up and running and helps experienced users make the most of the powerful features.

More info »
Protemos translation business management system
Create your account in minutes, and start working! 3-month trial for agencies, and free for freelancers!

The system lets you keep client/vendor database, with contacts and rates, manage projects and assign jobs to vendors, issue invoices, track payments, store and manage project files, generate business reports on turnover profit per client/manager etc.

More info »