Create Binde-Strich alternatives
Thread poster: Hans Lenting
Hans Lenting

Netherlands


Member (2006)


German to Dutch




Here is a macro to create alternative source terms that have upper case letters after a dash (Bindestrich). You'll have to insert the dashes manually.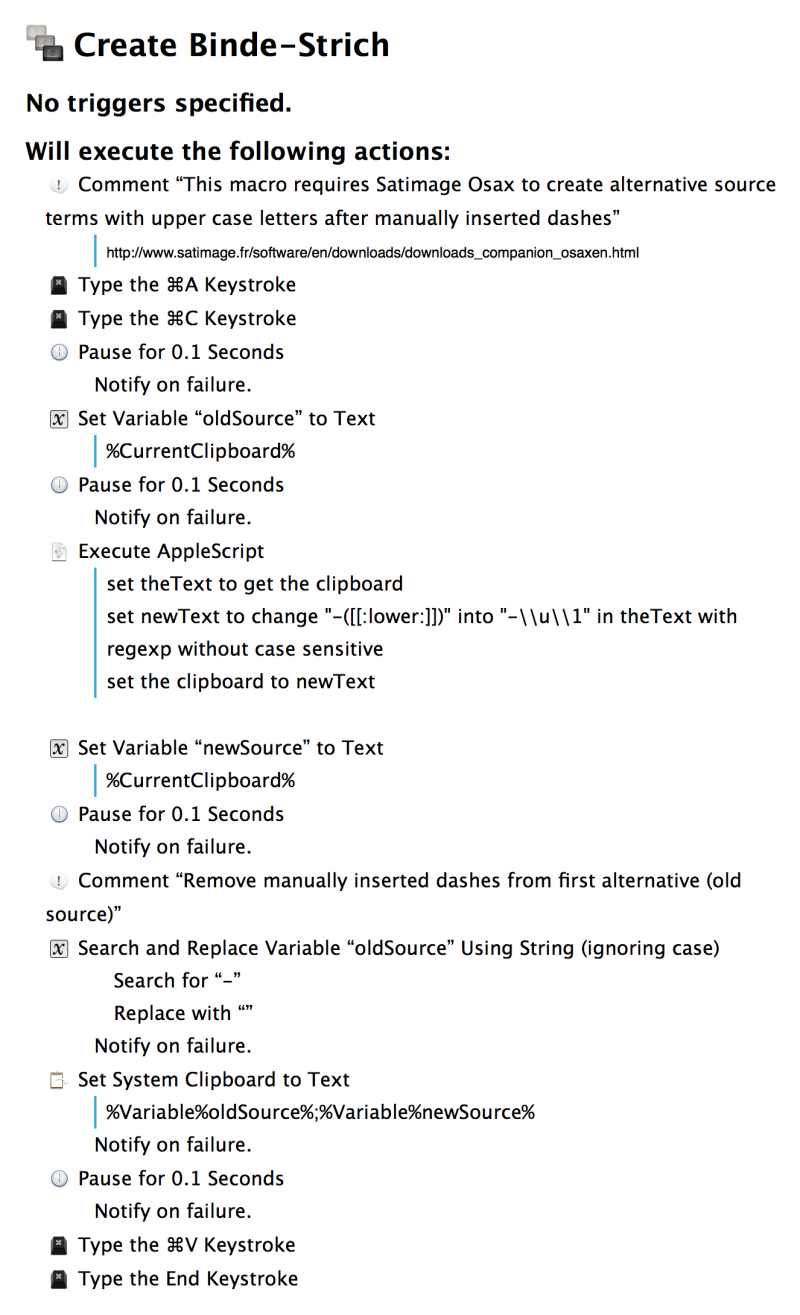 The result in the Term editor:





Note that the last alternative isn't generated automatically, yet. (I'll add that later.)

Edit:

I noticed that if the source term is taken from the source text and contains upper case letters after dashes (like Binde-Strich), the upper case letter isn't converted to lower case correctly, when removing the dash. I'll fix that.

I think that I'll allow for insertion of a double dash, to indicate that an extra form has to be generated: Produkt-zuführ--menge generates Produkt-Zuführ-Menge and Produkt-Zuführmenge.



[Edited at 2018-05-26 10:05 GMT]
Hans Lenting

Netherlands


Member (2006)


German to Dutch


TOPIC STARTER
To report site rules violations or get help, contact a site moderator:
You can also contact site staff by
submitting a support request »
Create Binde-Strich alternatives
SDL Trados Studio 2019 Freelance
The leading translation software used by over 250,000 translators.

SDL Trados Studio 2019 has evolved to bring translators a brand new experience. Designed with user experience at its core, Studio 2019 transforms how new users get up and running and helps experienced users make the most of the powerful features.

More info »
SDL MultiTerm 2019
Guarantee a unified, consistent and high-quality translation with terminology software by the industry leaders.

SDL MultiTerm 2019 allows translators to create one central location to store and manage multilingual terminology, and with SDL MultiTerm Extract 2019 you can automatically create term lists from your existing documentation to save time.

More info »