Preview problem
ibz

Local time:

17:47




Member (2007)


English to German
+ ...

Hi there,
I'm usin Cafetran Expresso Version 2017030301 for quite some while now, without any problem. With a new project, though, I can't open the preview option and neither can I export the current document - well, I can export it but I can't open it in Word.
Any ideas what this could be about or how I could proceed...?
Thanks in advance and regards,
Irene
| | |
| --- | --- |
| Stranger and stranger... | Jun 4 |
I just opened the document and saved it under another name, but the name I see when trying to open it via Cafetran is different (the first to letters): I safed it under Netzwerk-E.docx and I see ~$tzwerk-E.docx.
Any ideas what this could be about? I getting a little bit worried here.
Hi Hans,
I now saved it under a completely different name, started a new project and filled in all exact matches. Right now the previews works again, but it still makes me wonder. Could it have anything to do at all with the formating of the titles? Just guessing...
Thanks a lot for your help,
Irene
Igor Kmitowski

Poland
Local time:

17:47




Member (2016)


English to Polish
+ ...

| | |
| --- | --- |
| Formating of the titles | Jun 4 |
Hello Irene,

If you change anything in the original source language document before finishing its translation, you need to replace the previous version of the source document with the new one via Project > Replace document... . Then, CafeTran will reinsert the translation of the unchanged segments automatically leaving for translation only the changed segments.
Thank you for this information, Igor. I didn't know this!
However, it's not that I changed the formating of the original document - I just wondered if the original formatting could cause this problem.
Anyway, the preview works with the renamed document, but I'm still wondering about this...
Good morning,
I just tried to continue my work on my other computer - and the problem arises again. I can't open the Preview option and if I export the document, I get an error message when trying to open it in Word: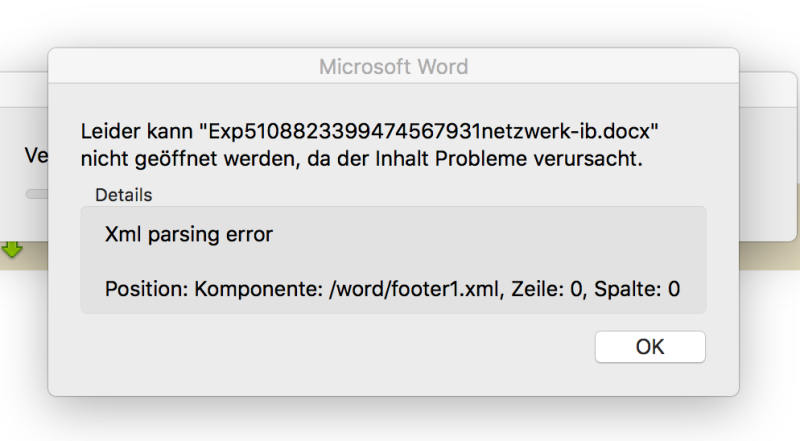 I'm at a loss ... What could this mean? Thank you for your help!
To report site rules violations or get help, contact a site moderator:
You can also contact site staff by
submitting a support request »