Using CafeTran to translate GDPR-related documents (DSGVO/AVG)
Thread poster: Hans Lenting

Hans Lenting


Netherlands


Member (2006)


German to Dutch

When translating GDPR-related documents, you'll constantly see these referrals to the relevant legislation.

The nice thing about regular expressions is that you don't have to use them if you don't want to. CafeTran Espresso 2018 is perfectly useable without any regular expressions.

But why would you? If you're driving a nice car, you probably want to test it on the German Autobahn. Within the speed limit, of course.

Regular expressions can make your daily work as a translator easier, avoid repetitive and boring tasks and help you to avoid errors.

Here is an example of a regular expression, used in a glossary, to translate a sequence that constantly returns (the numbers and letters are variable).

An example of the sequence: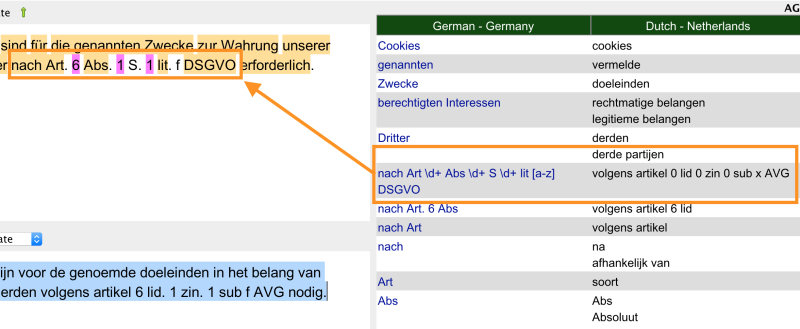 And the corresponding (and recognised!) glossary entry:





Note:

You'll have to remove the full stops in the auto-assembled target (though you can use a keyboard shortcut for that too).

You don't have to write the space as backslash+s.

You'll have to omit the full stops in the source term (don't exclude them with a backslash, this doesn't work).



[Edited at 2018-06-28 08:25 GMT]
Aliseo Japan
Japan
Local time:

09:28




Member


Italian to Japanese
+ ...


Hans Lenting


Netherlands


Member (2006)


German to Dutch


TOPIC STARTER
To report site rules violations or get help, contact a site moderator:
You can also contact site staff by
submitting a support request »
Using CafeTran to translate GDPR-related documents (DSGVO/AVG)
TM-Town
Manage your TMs and Terms ... and boost your translation business

Are you ready for something fresh in the industry? TM-Town is a unique new site for you -- the freelance translator -- to store, manage and share translation memories (TMs) and glossaries...and potentially meet new clients on the basis of your prior work.

More info »
SDL MultiTerm 2019
Guarantee a unified, consistent and high-quality translation with terminology software by the industry leaders.

SDL MultiTerm 2019 allows translators to create one central location to store and manage multilingual terminology, and with SDL MultiTerm Extract 2019 you can automatically create term lists from your existing documentation to save time.

More info »