Extract the content of Studio term bases to use in CafeTran
Thread poster: Hans Lenting
Hans Lenting

Netherlands


Member (2006)


German to Dutch

Thomas van Nellen (https://www.proz.com/profile/579962 ) fixed his tool to extract Studio term bases and segment bases, to work with Java 10. (I've tested with Java 10.0.2 64-bit on macOS HS). The latter can be opened by CafeTran Espresso 2018, for the term bases you can use his tool: http://vannellen.com/fortranslators.php > Download

Place the file TradosStudioResourceConverter2018-08-06.jar in your Applications folder (Mac) or in any appropriate Windows folder. Double-click to open the app.

From the GUI: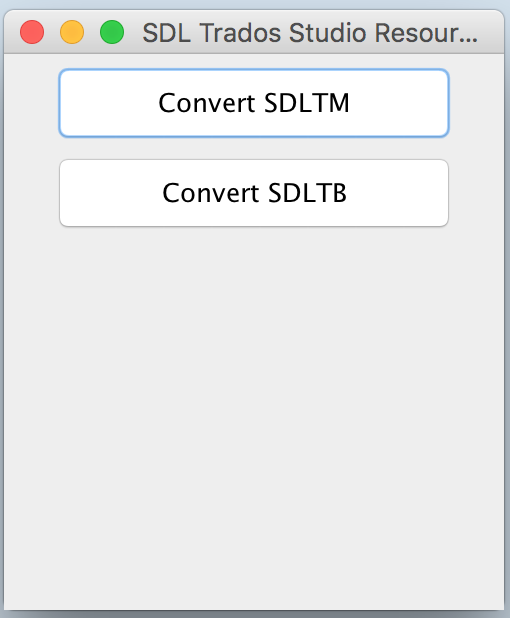 Choose Convert SDLTB. Then, Tab-separated TXT and Separated by a pipe |.

Delete the columns that you don't need and adjust the header to reflect your language pair. Replace ' | ' (space-vertical bar-space) with a semicolon.
To report site rules violations or get help, contact a site moderator:
You can also contact site staff by
submitting a support request »
Extract the content of Studio term bases to use in CafeTran
SDL MultiTerm 2019
Guarantee a unified, consistent and high-quality translation with terminology software by the industry leaders.

SDL MultiTerm 2019 allows translators to create one central location to store and manage multilingual terminology, and with SDL MultiTerm Extract 2019 you can automatically create term lists from your existing documentation to save time.

More info »
Wordfast Pro
Translation Memory Software for Any Platform

Exclusive discount for ProZ.com users! Save over 13% when purchasing Wordfast Pro through ProZ.com. Wordfast is the world's #1 provider of platform-independent Translation Memory software. Consistently ranked the most user-friendly and highest value

More info »