Pages in topic: [1 2] >
Across, memoQ are the hell for workers
sabrino

Japan
Local time:

05:33


French to Japanese
+ ...

All those who order jobs are not always kings as customers.
When economic rationality for all parties involved is lacking and only customer demand is unilaterally imposed, this is an economic tyranny and unfair deal.
A good example:
Especially Across. This online processing tool has internal program errors. An example: when the source texts are copied into the target column and confirmed, then every time number count errors pop up, which must be clicked either by Edit, Add, or Skip and this takes additional waste of time.
Replace-All function is unstable in that copied source text strings do not let copy into the Find and Replace popup easily. There is some internal link error with clipboard to Across UI.

Vendors prefer Across and memoQ for these generate less word count than by trados. This practice is still acceptable as internal fuzzy matches can be included in word count, which translator can put into target text strings by the replace-all function.

With client-based Trados, there no such errors, this is also not dependent on network conditions and rational. Word count can be chosen between. with/without internal fuzzy matches, the package structure is very stable and file size for return package can be often smaller than work files.

The blind belief on online live processing over the internet may have been the impetus for these business people who are manufacturing and selling these online tools.
The actual end result on the practical level is counterproductive, or only productive for those who prefer these tools and just like the "justice" imposed by mass media on any attacks by the power holding nations, those who prefer these tools want to believe that this is a "fact" that these would be productive for its online based technology. This is like cult religion and irrational.

Do not use Across, especially any more unless the program errors are not fixed.
ahartje
Portugal
Local time:

04:33




Member (2006)


English to German
+ ...

I used Trados years ago with all its pros(???) and cons(!!!), including difficult installation, worse or even no client´s support etc. until I found memoQ.
What a relief! It is stable in all its versions, works fine with almost each and every file format, online and offline, and the support given by Kilgray is outstanding and lightning fast.
With memoQ my dreams and demands became true...and Trados lost a forced client!
| | |
| --- | --- |
| @ahartje: I feel the same way | Dec 5, 2015 |
After years of using Trados (from 2005), I found memoQ 4 years ago. Full stop here. No more words needed.

What regards word counting, does it matter for you at all?
Every translator has his/her own method to calculate workload and profitabilty. Just take the amount proposed by your client and divide it by your comfortable unit (e.g. 250 words for my language pair). If you like the result, you accept the job. And it does not matter how they count: from right to left, from down to top, diagonally backwards, or upside down... No muss, no fuss.

By the way, same file, same TM. Total count is exactly the same. New words/No match count 188 (T2015) v. 189 (mQ) is almost the same.




[Edited at 2015-12-05 11:17 GMT]
| | |
| --- | --- |
| RE: what kind of support did you need for trados studio? | Dec 5, 2015 |
I don't.
Ask them: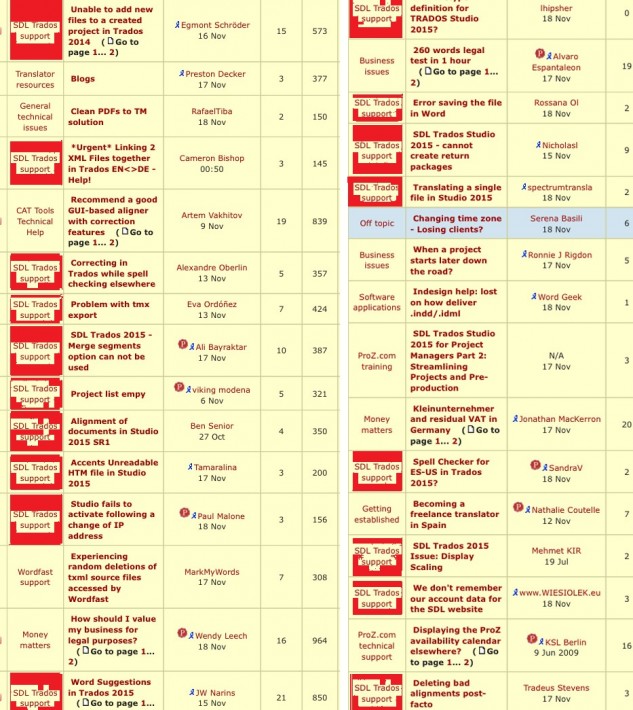 ------------------
BTW,
Trados... is also not dependent on network conditions - false. T2015 IS totally dependent. As soon as I disconnect Internet, T2015 says my 'License Expired'. You cannot work without Internet at all.
ahartje
Portugal
Local time:

04:33




Member (2006)


English to German
+ ...

| | |
| --- | --- |
| But I needed support for all versions, till Studio 2009, | Dec 5, 2015 |
for installation. The licence key did not work for 10 days, going forth and back, treating me like a dummy. Finally they called it one of these rare cases needing another approach.
But 2 times I needed urgent help solving a problem within an ongoing project. In both cases Trados replied to see the FAQs (as if I had not done so in first place!) and when I insisted to talk to the personal adviser (or how they called it), I received a message like: "Thank you for contacting me. I´m on vacation so please get in touch in 10 days from now."

At that moment my decision was made up to look for an alternative: memoQ! Happy ending (or beginning)!
Michael Beijer

United Kingdom
Local time:

04:33




Member (2009)


Dutch to English
+ ...

I know many pirated trados 2007 working on .ttx are still used mainly in China, except for some good vendors.
But I didn't know trados 2015 needs to be online for the license purpose. Will not use it. 2014 is good.

All in all, stop using Across, call to all all vendors.
I ended this hell of my work time by myself.

Good luck everybody and enjoy working and thank you for your replies.
Michael Beijer

United Kingdom
Local time:

04:33




Member (2009)


Dutch to English
+ ...

| | |
| --- | --- |
| the old versions are indeed better | Dec 5, 2015 |
Stepan Konev wrote:

Maybe you mean 2015 version. I have 2013 and I cannot detect any problem with it... What I do wrong?
Most problems with memoQ that I have seen here on this forum stem from lack of knowledge. That's it.



Indeed, I too still have 2013 (although I only ever use it for projects where the client insists that memoQ be used), and it is relatively bug free. However, this cannot be said of the newer versions, and since it is now 2015 already (almost 2016!), not 2013, or even 2014 – 2015 is the version Kilgray is pushing.

From 2016 to 2013 is quite a jump to have to make to escape bugs.

[Edited at 2015-12-05 19:22 GMT]
Mikhail Kropotov

Russian Federation
Local time:

07:33




Member (2005)


English to Russian
+ ...

Madeleine Chevassus

France
Local time:

05:33




Member (2010)


English to French

| | |
| --- | --- |
| I had several problems with SDL Studio, I frankly prefer MemoQ. | Dec 6, 2015 |
Hello

When I started as a translator, every agency wanted nothing else than SDL Trados. Studio was just available but it was not yet accepted by agencies. They all still wanted the pachyderm..So I had no choice and I bought Studio, and trained and used it.

At least 3 or 4 times during translation projects with short deadlines, the product had blocking errors with no correction proposed. Since I subscribed the technical support, I submitted the blocking problems to SDL support (very expensive support fee and they don't guarantee a 24 hours solution or turn around). Of course they took time to answer but meanwhile the product deadline occured and I was unable to deliver, making me loose money and reputation with these agencies (several times). Multiterm also is a very heavy and complex product.

Today I have Sudio 2014.
I admit that SDL Support made some progress with the KB (Known problem database) but there are still a lot of blocking problems, not fixed for 3 / 4 versions.
for instance blocking error:
Error messages in SDL Trados Studio: 'Object reference not set to an instance of an object' and 'TM Update failed'

This is why I hesitate to pay €200 more to upgrade to Studio 2015, if these bugs are still not fixed.

This is why I bought MemoQ and never had blocking problems (in 3 years).
Moreover the product is userfriendly and efficient, termbase feeding and handling is a pleasure.


Have a nice day - Madeleine
Heinrich Pesch

Finland
Local time:

06:33




Member (2003)


Finnish to German
+ ...

| | |
| --- | --- |
| Another minus with Across | Dec 7, 2015 |
1. You don't know what kind of content structure is until you have confirmed the job.
2. Incompatibility with other file formats and translation import to import into / export from Across

The territorial mentality of the developers is evident in the are of harmonization and open source and ubiquitous working. This state of business is same as different power plugs by countries of the world.
19th century mentality is that.

All this is a friendly reminder to Across company to improve their product.
Dominique Pivard

Local time:

06:33


Finnish to French

Heinrich Pesch wrote:
MemoQ is no online tool I believe.


In memoQ, you can work in online projects (if your client is running memoQ server and made resources available for you online). Depending on how the online project was configured, you can work on a local copy of it, and manually synchronize it. This means you can work even if there's no connection (or a slow one) to the server, which I believe you can't do with Across (never worked with Across on online projects). This is what the relevant options look like in memoQ 2015 (they are found under the Documents tab):


Pages in topic: [1 2] >
To report site rules violations or get help, contact a site moderator:
You can also contact site staff by
submitting a support request »
Across, memoQ are the hell for workers
Protemos translation business management system
Create your account in minutes, and start working! 3-month trial for agencies, and free for freelancers!

The system lets you keep client/vendor database, with contacts and rates, manage projects and assign jobs to vendors, issue invoices, track payments, store and manage project files, generate business reports on turnover profit per client/manager etc.

More info »
Déjà Vu X3
Try it, Love it

Find out why Déjà Vu is today the most flexible, customizable and user-friendly tool on the market. See the brand new features in action: *Completely redesigned user interface *Live Preview *Inline spell checking *Inline

More info »