How to clean a TM - OLIFANT

Aabam
Spain
Local time:

23:17


English to Spanish
+ ...

Hello there! We were wondering if someone out there could give us a hand with cleaning TMs.

We have the tool Olifant that's supposed to be very useful to clean TMs but, somehow, our team is going crazy about this... Does someone know how to use this tool and could explain us so in order to clean a TM? Also, if someone uses any other tool to clean TMs, feel free to let us know how to do so.

Thank you very much in advance!
Michael Beijer

United Kingdom
Local time:

22:17




Member (2009)


Dutch to English
+ ...

| | |
| --- | --- |
| or you can use Heartsome TMX editor | Jan 5 |
aabam wrote:

Hello there! We were wondering if someone out there could give us a hand with cleaning TMs.

We have the tool Olifant that's supposed to be very useful to clean TMs but, somehow, our team is going crazy about this... Does someone know how to use this tool and could explain us so in order to clean a TM? Also, if someone uses any other tool to clean TMs, feel free to let us know how to do so.

Thank you very much in advance!



Olifant can do it to, but this one is easier: https://github.com/heartsome/tmxeditor8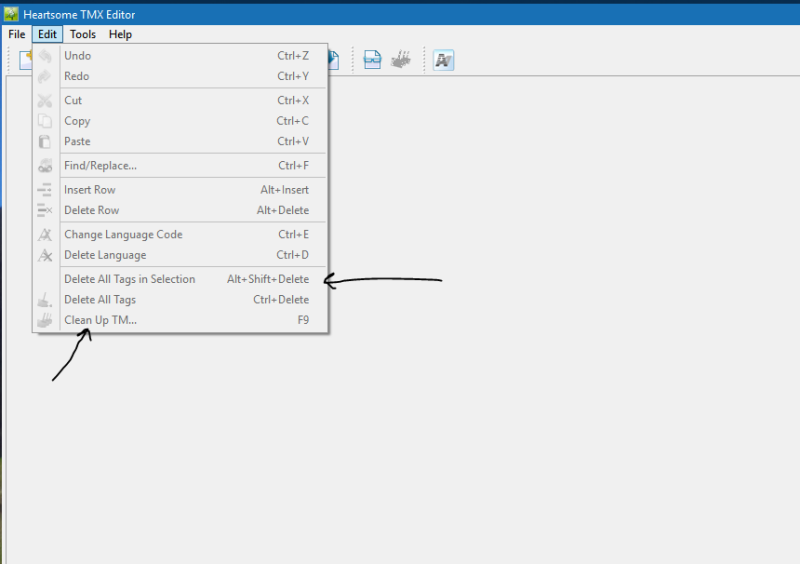 Michael

Aabam
Spain
Local time:

23:17


English to Spanish
+ ...


TOPIC STARTER
Hans Lenting

Netherlands


Member (2006)


German to Dutch

Stepan Konev

Russian Federation
Local time:

00:17


English to Russian

| | |
| --- | --- |
| How do I launch it? | Jan 7 |


Michael can you also advise on how to start the open source application?

Update (resolved): My bad, I see the executable and downloadable zips now =) Thank you

[Edited at 2018-01-07 02:50 GMT]
To report site rules violations or get help, contact a site moderator:
You can also contact site staff by
submitting a support request »
How to clean a TM - OLIFANT
PerfectIt consistency checker
Faster Checking, Greater Accuracy

PerfectIt helps deliver error-free documents. It improves consistency, ensures quality and helps to enforce style guides. It's a powerful tool for pro users, and comes with the assurance of a 30-day money back guarantee.

More info »
Protemos translation business management system
Create your account in minutes, and start working! 3-month trial for agencies, and free for freelancers!

The system lets you keep client/vendor database, with contacts and rates, manage projects and assign jobs to vendors, issue invoices, track payments, store and manage project files, generate business reports on turnover profit per client/manager etc.

More info »