How to clean a TM - OLIFANT

Aabam
Spain
Local time:

03:37


English to Spanish
+ ...

Hello there! We were wondering if someone out there could give us a hand with cleaning TMs.

We have the tool Olifant that's supposed to be very useful to clean TMs but, somehow, our team is going crazy about this... Does someone know how to use this tool and could explain us so in order to clean a TM? Also, if someone uses any other tool to clean TMs, feel free to let us know how to do so.

Thank you very much in advance!
Michael Beijer

United Kingdom
Local time:

02:37



Member (2009)


Dutch to English
+ ...

| | |
| --- | --- |
| or you can use Heartsome TMX editor | Jan 5 |
aabam wrote:

Hello there! We were wondering if someone out there could give us a hand with cleaning TMs.

We have the tool Olifant that's supposed to be very useful to clean TMs but, somehow, our team is going crazy about this... Does someone know how to use this tool and could explain us so in order to clean a TM? Also, if someone uses any other tool to clean TMs, feel free to let us know how to do so.

Thank you very much in advance!



Olifant can do it to, but this one is easier: https://github.com/heartsome/tmxeditor8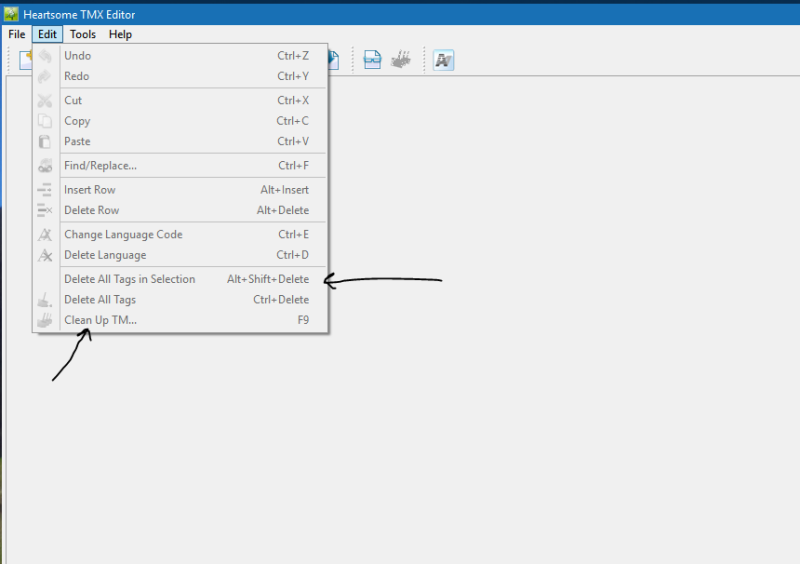 Michael

Aabam
Spain
Local time:

03:37


English to Spanish
+ ...


TOPIC STARTER
Hans Lenting

Netherlands

Member (2006)


German to Dutch

Stepan Konev

Russian Federation
Local time:

04:37


English to Russian

| | |
| --- | --- |
| How do I launch it? | Jan 7 |


Michael can you also advise on how to start the open source application?

Update (resolved): My bad, I see the executable and downloadable zips now =) Thank you

[Edited at 2018-01-07 02:50 GMT]
To report site rules violations or get help, contact a site moderator:
You can also contact site staff by
submitting a support request »
How to clean a TM - OLIFANT
SDL MultiTerm 2017
Guarantee a unified, consistent and high-quality translation with terminology software by the industry leaders.

SDL MultiTerm 2017 allows translators to create one central location to store and manage multilingual terminology, and with SDL MultiTerm Extract 2017 you can automatically create term lists from your existing documentation to save time.

More info »
TM-Town
Manage your TMs and Terms ... and boost your translation business

Are you ready for something fresh in the industry? TM-Town is a unique new site for you -- the freelance translator -- to store, manage and share translation memories (TMs) and glossaries...and potentially meet new clients on the basis of your prior work.

More info »