Best CAT software for Chinese translation on Mac
Thread poster: Dina Bossenbroek
Dina Bossenbroek
Netherlands
Local time:

00:01


English to Chinese
+ ...

Dina Bossenbroek wrote:

Dear translators,

I'm looking for a software which can be easily used on Mac and to be used for translating from Eng to Chinese. I have tried several, like memoQ (not suitable for Mac), Influency Now (not easy for Chinese characters)... so is there anyone who has a good idea?

Thanks!

Dina



See: https://www.proz.com/forum/cafetran_support/320582-chinese_characters_in_cafetran.html

CT also offers a connector for Youdao MT: https://en.m.wikipedia.org/wiki/Youdao

Here's a simple project with a glossary with four columns EN, IT, JA and ZH. Directly after loading the glossary: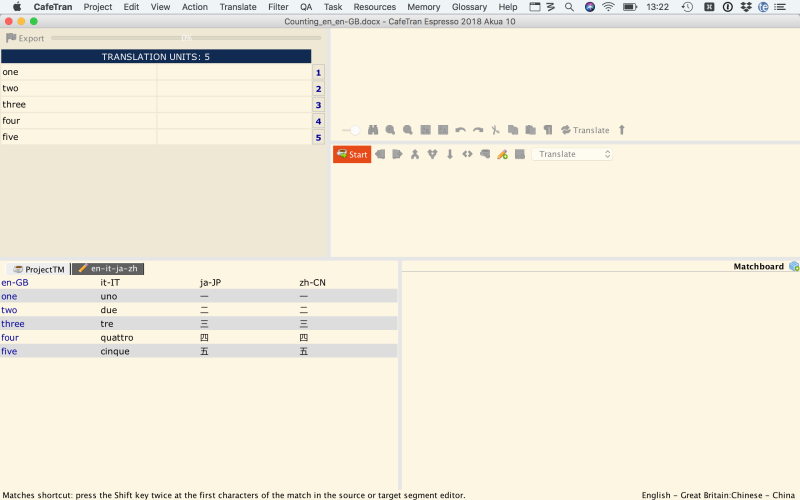 And during translation: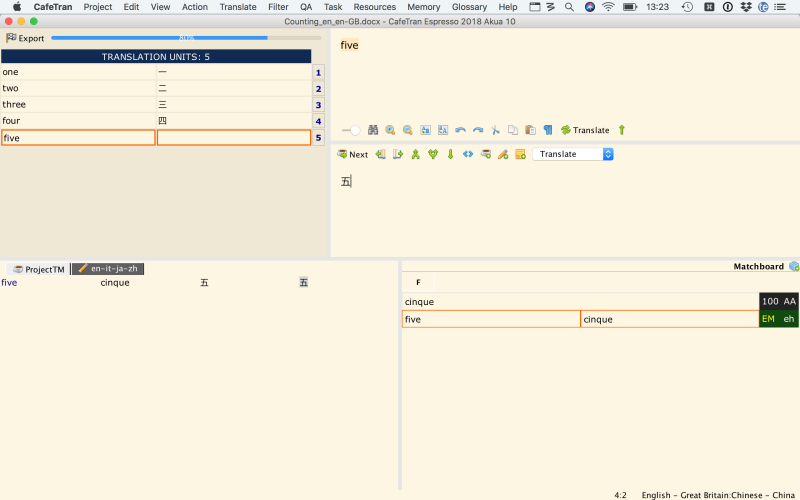 Note that:

The source language has to be in the first glossary column.

If you want to use auto-assembling (= automatic insertion of all recognised target terms into the target segment), the target language has to be the second column (with this example glossary, Italian will be available for auto-assembling; if you want to have Chinese auto-assembled, you'll have to rearrange the columns).



[Edited at 2018-06-17 11:28 GMT]
Try OmegaT. It includes a Chinese tokenizer to improve translation memory/glossary matching (I do not translate from Chinese and can't comment further).

[Edited at 2018-06-18 08:29 GMT]
esperantisto wrote:

Try

OmegaT

. It includes a Chinese tokenizer to improve translation memory/glossary matching (I do not translate from Chinese and can't comment further).

[Edited at 2018-06-18 08:29 GMT]



CafeTran Espresso 2018 offers a similar technique, by using the Hunspell dictionary.

On a side note: Here's CafeTran Espresso 2018 on a 27" hi-res iMac: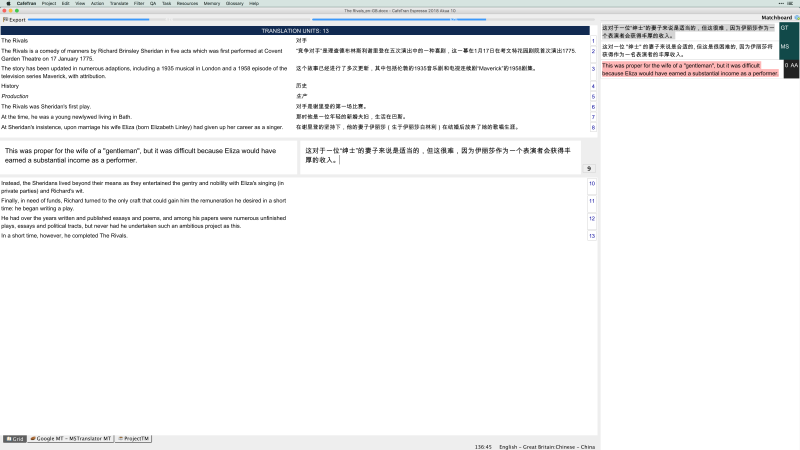 Click here for the full hi-res screenshot:

https://www.dropbox.com/s/lau7kbtshlom42f/CT-EN-ZH-hi-res.png?dl=1

[Edited at 2018-06-18 08:57 GMT]
To report site rules violations or get help, contact a site moderator:
You can also contact site staff by
submitting a support request »
Best CAT software for Chinese translation on Mac
Anycount & Translation Office 3000
Translation Office 3000

Translation Office 3000 is an advanced accounting tool for freelance translators and small agencies. TO3000 easily and seamlessly integrates with the business life of professional freelance translators.

More info »
BaccS – Business Accounting Software
Modern desktop project management for freelance translators

BaccS makes it easy for translators to manage their projects, schedule tasks, create invoices, and view highly customizable reports. User-friendly, ProZ.com integration, community-driven development – a few reasons BaccS is trusted by translators!

More info »