Pages in topic: < [1 2]
First look at the user interfaces of several CAT tools
Thread poster: Hans Lenting
| | |
| --- | --- |
| Translation Workspace XLIFF Editor | Oct 24 |
LionBridge/Geoworx's "TWS" (Translation Workspace XLIFF Editor) can't convert DOCX to XLIFF, so I opened a MemSource MXLIFF file in it just to show what it looks like.

TWS is meant to work with XLIFF files that were created by your agency using LB/GW's tools. I'm not suggesting that TWS can edit MXLIFF files or any other XLIFF -- it can view it, but it's not actually meant to edit it. You can see in the screenshot below how TWS can't interpret the MXLIFF file's tags correctly, but
...
See more
LionBridge/Geoworx's "TWS" (Translation Workspace XLIFF Editor) can't convert DOCX to XLIFF, so I opened a MemSource MXLIFF file in it just to show what it looks like.

TWS is meant to work with XLIFF files that were created by your agency using LB/GW's tools. I'm not suggesting that TWS can edit MXLIFF files or any other XLIFF -- it can view it, but it's not actually meant to edit it. You can see in the screenshot below how TWS can't interpret the MXLIFF file's tags correctly, but TWS can work with its own XLIFF files' tags just fine.

The screenshot below

150% zoom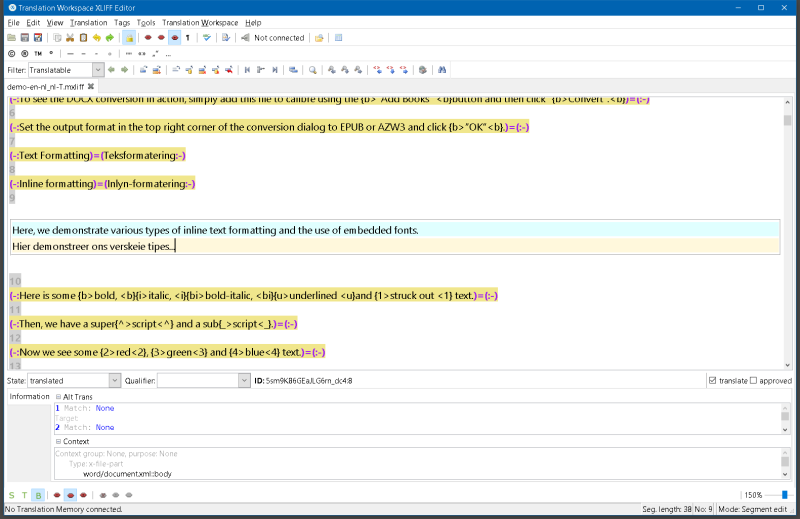 [Edited at 2019-10-24 14:29 GMT]
▲
Collapse
Jean Dimitriadis


France
Local time:

13:46




Member


English to French
+ ...



Note: Target text content not translated/edited (MT left as is).

Full size screenshot


[Edited at 2019-10-24 14:42 GMT]
Michael Beijer


United Kingdom
Local time:

12:46




Member (2009)


Dutch to English
+ ...

Termsoup, translation mode, zen UI, side-by-side view, with TM column and word-lookup column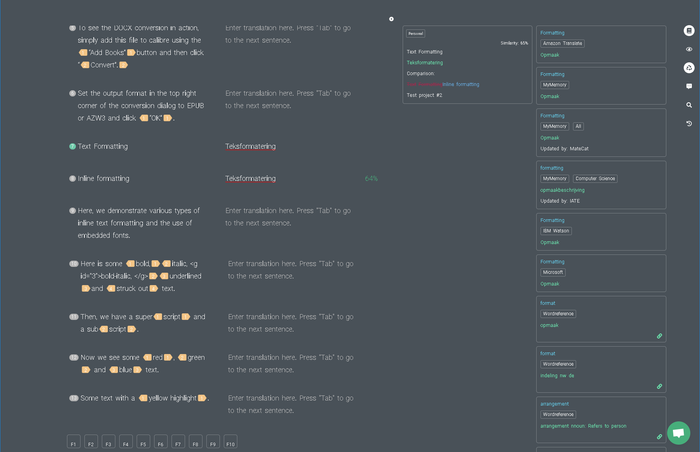 Termsoup, translation mode, normal UI, above-and-below view, with paragraph preview column and word-lookup column, plus a glossary match that shows additional information upon hover, and the quick jump tabs visible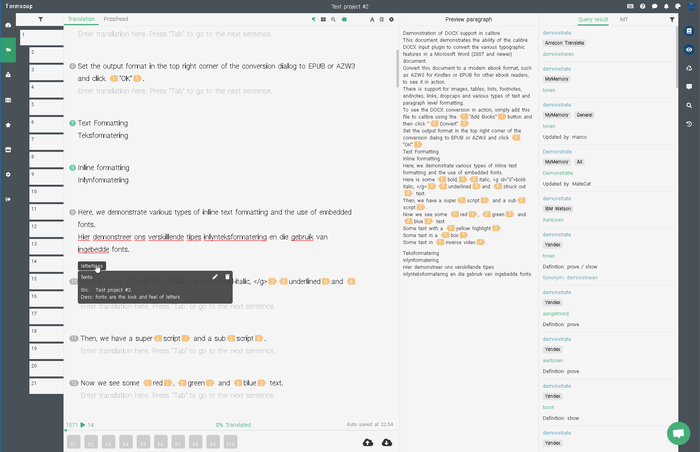 Termsoup, proofreading mode, focus UI, with TM column and word-lookup column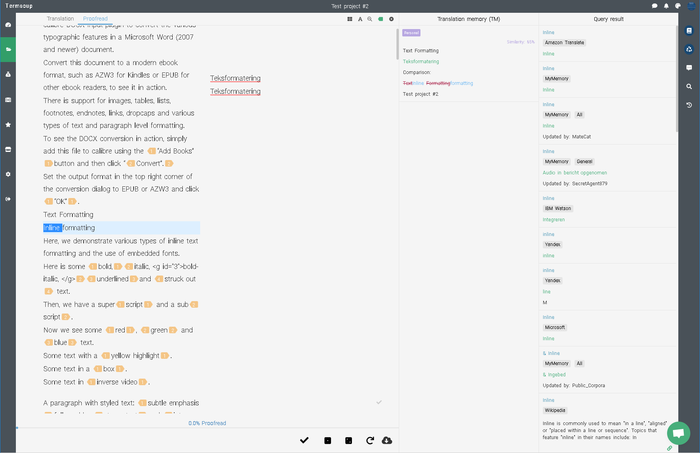 Pages in topic: < [1 2]
To report site rules violations or get help, contact a site moderator:
You can also contact site staff by
submitting a support request »
First look at the user interfaces of several CAT tools
SDL Trados Studio 2019 Freelance
The leading translation software used by over 250,000 translators.

SDL Trados Studio 2019 has evolved to bring translators a brand new experience. Designed with user experience at its core, Studio 2019 transforms how new users get up and running and helps experienced users make the most of the powerful features.

More info »
Wordfast Pro
Translation Memory Software for Any Platform

Exclusive discount for ProZ.com users! Save over 13% when purchasing Wordfast Pro through ProZ.com. Wordfast is the world's #1 provider of platform-independent Translation Memory software. Consistently ranked the most user-friendly and highest value

More info »