Pages in topic: < [1 2 3 4 5 6 7 8 9 10 11 12 13 14 15 16 17 18 19 20 21 22 23 24 25 26 27 28 29 30 31 32 33 34 35 36 37 38 39 40 41 42 43 44 45 46 47 48 49 50 51 52 53 54 55 56 57 58 59 60 61 62 63 64 65 66 67 68 69 70 71 72 73 74 75 76 77 78 79 80 81 82 83 84 85 86 87 88 89 90 91 92 93 94 95 96 97 98 99 100 101 102 103 104 105 106 107 108 109 110 111 112 113 114 115 116 117 118 119 120 121 122 123 124 125 126 127 128 129 130 131 132 133 134 135 136 137 138 139 140 141 142 143 144 145 146 147 148 149 150 151 152 153 154 155 156 157 158 159 160 161 162 163 164 165 166 167 168 169 170 171 172 173 174 175 176]
Off topic: 泰晤士(TIMES)四合院儿
| | |
| --- | --- |
| Art and Music for Labor Day 2018 | Sep 3 |
《2018 劳工节音乐美术欣赏》



QHE wrote:

Largo from Xerxes - G. F. Händelhttps://www.youtube.com/watch?v=DyCYSrMj-o4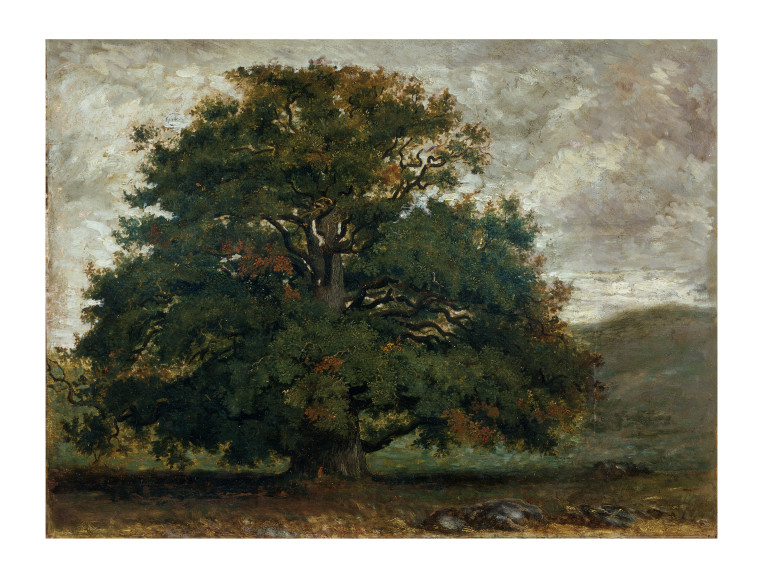 Théodore Rousseau (1812-1867) A Tree in Fontainebleau

Händel's Ombra Mai Fu calls to mind scenes of pastoral peace and natural beauty.

While Westerners celebrate scenes of natural beauty through music, the Chinese reach such heights in the state of mind through poetry and painting, especially the landscape school of Tang poetry (山水诗) and Song Yuan paintings (山水画).

It is interesting to note that such poetic feelings in Western music are rarely found in Western paintings. The only thing that comes close to this tradition celebrating the silent beauty of nature in Western art was the short lived Barbizon School (巴比松画派) of painting that flourished in the SE suburbs of Paris in the 1830s-1870s.

Huge trees like the one in the picture above are still there around the little village of Fontainebleau (枫丹白露). Just Google Barbizon School (in images) and you can enjoy such artworks by Miller (米勒), Rousseau (卢梭), and Dupré (杜普雷).




Jean-François Millet (1814-1875) The Gleaners DS 戏译《粒粒皆辛苦》



Jules Dupré (1811-1889) Crossing a Bridge 《奶牛不知秋,携酒过小桥》

Another one by Rousseau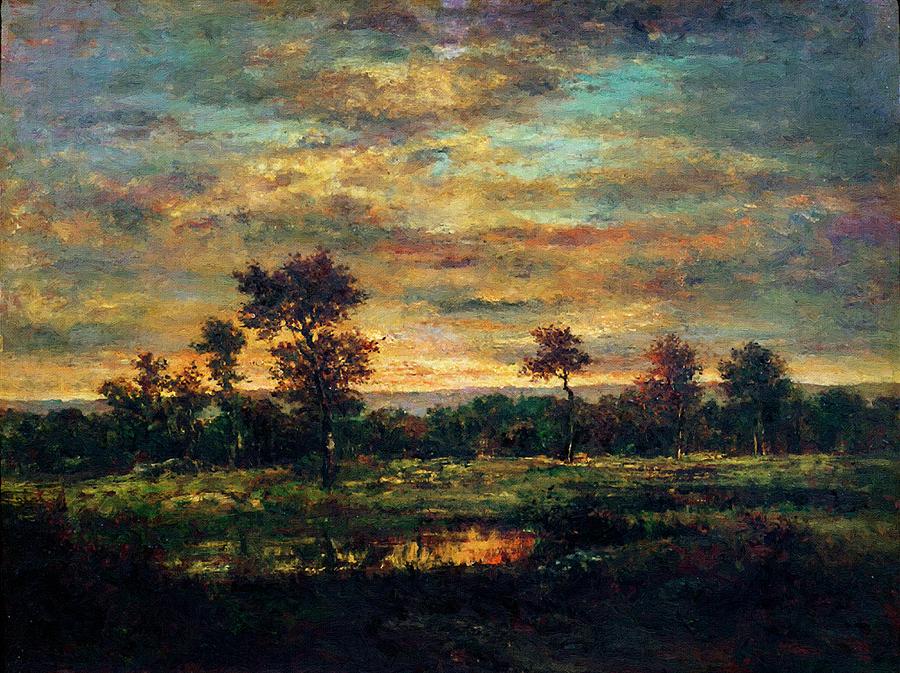 Théodore Rousseau A Pond outside Barbizon 《村外池边林,晚霞灿若锦》
[Edited at 2018-09-03 18:07 GMT]

[Edited at 2018-09-03 18:08 GMT]

[Edited at 2018-09-04 01:56 GMT]
QHE
United States
Local time:

09:11


English to Chinese
+ ...


TOPIC STARTER
| | |
| --- | --- |
| The Ideal Man according to Confucius? | Sep 15 |
《理想人格,仁者不忧》

子曰:"仁者不忧,智者不惑,勇者不惧。"

Upon viewing the video of José Mujica of Uruguay, I have the impression that he might be an exemplification of the ideal man Confucius had been looking for, except he is far away, in Uruguay. Alas!

不 见 孔 子 答 颜 回, 但 闻 和 尚 想 私 会。
论 语 两 千 五 百 年, 帝 王 将 相 翻 成 倍。
世 上 果 然 有 君 子, 可 他 远 在 乌 拉 圭。
不 及 我 朝 一 县 长, 个 个 贵 过 你 José 。

D.S.2018.0913.b

There are many English versions of the Analects, but this would be my translation of the line above:

The Master says: "The virtuous is never worried, the wise is never mislead, and the brave is never afraid."



[Edited at 2018-09-15 18:38 GMT]
QHE
United States
Local time:

09:11


English to Chinese
+ ...


TOPIC STARTER
| | |
| --- | --- |
| 2018 Ig Nobel Prizes | Sep 19 |
"For achievements that first make people LAUGH then make them THINK"

The 2018 Ig Nobel Prizes (/ˌɪɡnoʊˈbɛl/ ) were awarded at the 28th First Annual Ig® Nobel Prize Ceremony & Lectures on Thursday, September 13, 2018, at Harvard's Sanders Theatre.

THE THEME of the 2018 ceremony is: THE HEART

The winners physically received their prizes (including a cash prize of 10 trillion dollars*), and a handshake, from genuine Nobel laureates.

THE WINNERS:

LITERATURE PRIZE [AUSTRALIA, EL SALVADOR, UK] — Thea Blackler, Rafael Gomez, Vesna Popovic and M. Helen Thompson, for documenting that most people who use complicated products do not read the instruction manual.
REFERENCE: "Life Is Too Short to RTFM: How Users Relate to Documentation and Excess Features in Consumer Products," Alethea L. Blackler, Rafael Gomez, Vesna Popovic and M. Helen Thompson,Interacting With Computers, vol. 28, no. 1, 2014, pp. 27-46.
https://academic.oup.com/iwc/article/28/1/27/2363584

MEDICINE PRIZE [USA] — Marc Mitchell and David Wartinger, for using roller coaster rides to try to hasten the passage of kidney stones.
REFERENCE: "Validation of a Functional Pyelocalyceal Renal Model for the Evaluation of Renal Calculi Passage While Riding a Roller Coaster," Marc A. Mitchell, David D. Wartinger, The Journal of the American Osteopathic Association, vol. 116, October 2016, pp. 647-652.

CHEMISTRY PRIZE [PORTUGAL] — Paula Romão, Adília Alarcão and the late César Viana, for measuring the degree to which human saliva is a good cleaning agent for dirty surfaces.
REFERENCE: "Human Saliva as a Cleaning Agent for Dirty Surfaces," by Paula M. S. Romão, Adília M. Alarcão and César A.N. Viana, Studies in Conservation, vol. 35, 1990, pp. 153-155.
Cleaning Picasso: https://www.smithsonianmag.com/arts-culture/cleaning-picasso-180766115/

ECONOMICS PRIZE [CANADA, CHINA, SINGAPORE, USA] — Lindie Hanyu Liang, Douglas Brown, Huiwen Lian, Samuel Hanig, D. Lance Ferris, and Lisa Keeping, for investigating whether it is effective for employees to use Voodoo dolls to retaliate against abusive bosses.
REFERENCE: "Righting a Wrong: Retaliation on a Voodoo Doll Symbolizing an Abusive Supervisor Restores Justice," Lindie Hanyu Liang, Douglas J. Brown, Huiwen Lian, Samuel Hanig, D. Lance Ferris, and Lisa M. Keeping, The Leadership Quarterly, February 2018.
https://www.sciencedirect.com/science/article/pii/S104898431730276X

PEACE PRIZE [SPAIN, COLOMBIA] — Francisco Alonso, Cristina Esteban, Andrea Serge, Maria-Luisa Ballestar, Jaime Sanmartín, Constanza Calatayud, and Beatriz Alamar, for measuring the frequency, motivation, and effects of shouting and cursing while driving an automobile.
REFERENCE: "Shouting and Cursing While Driving: Frequency, Reasons, Perceived Risk and Punishment," Francisco Alonso, Cristina Esteban, Andrea Serge and Maria-Luisa Ballestar, Journal of Sociology and Anthropology, vol. 1, no. 12017, pp. 1-7. http://pubs.sciepub.com/jsa/1/1/1/

OTHER CATEGORIES
https://www.improbable.com/ig/winners/




*Ten Trillion Zimbabwe Dollars:


(*ZW$10 trillion dollars will fetch ~ US$0,02)


[Edited at 2018-09-20 00:20 GMT]
Pages in topic: < [1 2 3 4 5 6 7 8 9 10 11 12 13 14 15 16 17 18 19 20 21 22 23 24 25 26 27 28 29 30 31 32 33 34 35 36 37 38 39 40 41 42 43 44 45 46 47 48 49 50 51 52 53 54 55 56 57 58 59 60 61 62 63 64 65 66 67 68 69 70 71 72 73 74 75 76 77 78 79 80 81 82 83 84 85 86 87 88 89 90 91 92 93 94 95 96 97 98 99 100 101 102 103 104 105 106 107 108 109 110 111 112 113 114 115 116 117 118 119 120 121 122 123 124 125 126 127 128 129 130 131 132 133 134 135 136 137 138 139 140 141 142 143 144 145 146 147 148 149 150 151 152 153 154 155 156 157 158 159 160 161 162 163 164 165 166 167 168 169 170 171 172 173 174 175 176]
To report site rules violations or get help, contact a site moderator:
You can also contact site staff by
submitting a support request »
泰晤士(TIMES)四合院儿
WordFinder Unlimited
For clarity and excellence

WordFinder is the leading dictionary service that gives you the words you want anywhere, anytime. Access 260+ dictionaries from the world's leading dictionary publishers in virtually any device. Find the right word anywhere, anytime - online or offline.

More info »
SDL MultiTerm 2019
Guarantee a unified, consistent and high-quality translation with terminology software by the industry leaders.

SDL MultiTerm 2019 allows translators to create one central location to store and manage multilingual terminology, and with SDL MultiTerm Extract 2019 you can automatically create term lists from your existing documentation to save time.

More info »