Pages in topic: < [1 2 3 4 5 6 7 8 9 10 11 12 13 14 15 16 17 18 19 20 21 22 23 24 25 26 27 28 29 30 31 32 33 34 35 36 37 38 39 40 41 42 43 44 45 46 47 48 49 50 51 52 53 54 55 56 57 58 59 60 61 62 63 64 65 66 67 68 69 70 71 72 73 74 75 76 77 78 79 80 81 82 83 84 85 86 87 88 89 90 91 92 93 94 95 96 97 98 99 100 101 102 103 104 105 106 107 108 109 110 111 112 113 114 115 116 117 118 119 120 121 122 123 124 125 126 127 128 129 130 131 132 133 134 135 136 137 138 139 140 141 142 143 144 145 146 147 148 149 150 151 152 153 154 155 156 157 158 159 160 161 162 163 164 165 166 167 168 169 170 171 172 173 174 175 176 177 178 179 180 181 182 183 184] >
Off topic: 泰晤士(TIMES)四合院儿
| | |
| --- | --- |
| Texas has a City of China too | Mar 21, 2015 |
http://www.tshaonline.org/handbook/online/articles/hjc10
CHINA, TEXAS
. China is on U.S. Highway 90 ten miles west of Beaumont in northwestern Jefferson County. The Texas and New Orleans Railroad was completed through the area in 1860, and a water stop was established amidst
a grove of chinaberry trees
near the community's present location; the stop was dubbed China Grove. A post office by that name was authorized in March 1887 but was discontinued within two months. Another office, using the shorter name China, was established in 1893.
Two miles east of China, Charlie Nash and Howell Land organized a separate community called Nashland, which had 174 residents in 1900. The new townsite plat was belatedly filed on October 30, 1902. When fire destroyed the older China depot to the west in 1906, the people of Nashland convinced railroad officials to move operations to the more populated community center. The railroad, however, stipulated that the new depot retain the name of China. The Nashland post office, established in 1900, was therefore renamed China.
Agriculture provided the community with its economic lifeblood, and rice warehouses made it a center for the area's rice farmers. The South China oilfield, discovered in 1939, provided further growth. Although the community's population fell from an estimated 350 during the mid-1920s to 200 by the early 1950s, new discoveries of oil and natural gas at nearby oilfields in 1960, 1975, and 1980 brought new growth. In 1971 residents voted 118 to 88 in favor of incorporation. By the mid-1980s China had a population of 1,351 and eighteen businesses. In 1990 the population was 1,144, and in 2000 it was 1,112.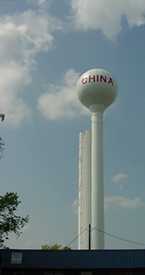 [Edited at 2015-03-21 21:31 GMT]
ysun wrote: A small world
http://www.china.govoffice.com/
谢谢孙先生的重要信息!有机会应该去中国看一下,顺便再周游一下列国。
wherestip wrote: Texas has a City of China too

Steve,

这样看来,说不定骑自行车就可以回中国了。





[Edited at 2015-03-21 22:56 GMT]
QHE wrote:
谢谢孙先生的重要信息!有机会应该去中国看一下,顺便再周游一下列国。


QHE,

I didn't know China and the other countries were so close to me when I was in New Hampshire. The farthest place in Maine I reached is the Bush Compound. Of course, the security guards didn't let me in.

https://www.youtube.com/watch?v=1DzqBthBamw

[Edited at 2015-03-22 15:10 GMT]
| | |
| --- | --- |
| Correction: New Sweden, ME | Mar 22, 2015 |
ysun wrote:

Steve,

You really have sharp eyes!



Yueyin,

Thank you. But upon further examination with an online map, I noticed that Sweden, ME and Sweden, NY were both in the same general direction from China, ME. Since the arrows are pointing in opposite directions for the 2 Swedens on the road sign, apparently one of them is not what's involved.

Furthermore, the distance between China, ME and Sweden, NY is about an 8-hour drive, much farther than the 232 miles indicated.

Instead, there's a Town of New Sweden in Northern Maine(at the northern tip of the 48 states); not only is it in the right direction, but it's also exactly the right distance away from the Town of China, ME.


Anyway, I have nothing better to do on a Sunday morning before the news programs start.



[Edited at 2015-03-22 15:33 GMT]
| | |
| --- | --- |
| Lost in Translation? | Mar 22, 2015 |
http://www.citiesjournal.com/the-14-weirdest-names-for-american-cities/

1. No Name, CO
2. ZZYZX, CA
3. Bug Tussle, OK
4. Sweet Lips, TN
5. Burnt Store, FL
6. Embarrass, MN
7. Earth, TX
8. Okay, OK
9. Accident, MD
10. Asylum, PA





[Edited at 2015-03-22 19:39 GMT]


http://en.wikipedia.org/wiki/Hell,_Michigan

Hell, or Hiland Lake,[1] is an unincorporated community in Putnam Township of Livingston County in the U.S. state of Michigan. The community is near the border with Washtenaw County, about 15 miles (24 km) northwest of Ann Arbor. Hell is 3 miles (4.8 km) southwest of Pinckney via Patterson Lake Road. The community is served by the Pinckney post office with ZIP Code 48169.




Hell, Norway

http://en.wikipedia.org/wiki/Hell,_Norway

~*~*~*~*


http://en.wikipedia.org/wiki/Toad_Suck,_Arkansas
| | |
| --- | --- |
| Hell for Certain, KY | Mar 22, 2015 |
http://en.wikipedia.org/wiki/Hell_for_Certain,_Kentucky

Hell for Certain is an Unincorporated community in Leslie County, Kentucky, United States.

The unincorporated town of Dryhill, (37.1546° North, 83.4157° West), is the proper name of Hell for Certain, located 7 miles (11 km) north of the small town of Hyden. Dryhill became known by this name because it is located near Hell for Certain Creek.[1]

The area is sparsely populated due to the hilly, forested terrain, and is generally inhabited by families who have passed on their property from one generation to the next. In the late 20th century, a number of newer homes were built throughout the region by people not native to the Appalachian region

David Lin


United Kingdom
Local time:

23:23




Member (2013)


English to Chinese
+ ...

Moderator of this forum
| | |
| --- | --- |
| Spring song 迎接春分 Spring Equinox | Mar 23, 2015 |
上周末在去翻译途中听到伦敦电台主播兴高采烈地讨论今年的日全蚀刚好发生在春分这个日子 (3 月 20 日),才晓得春分已悄然而至。刚好看到这个英文部落格用阴阳五行来介绍春分,也挺有趣的。

http://earthsky.org/human-world/a-chinese-perspective-on-the-spring-equinox



In 2015, the vernal or spring equinox for the Northern Hemisphere (autumn equinox for Southern Hemisphere) will arrive on March 20 at 22:45 UTC, or 5:45 p.m. Central Daylight Time for us in the central U.S.

In Chinese thought, spring is associated with the color green, the sound of shouting, the wood element, the climate of wind, things sprouting, your eyes, your liver, your anger, patience and altruism – and a green dragon. Not surprisingly, spring is also associated with the direction east, the sunrise direction as Earth spins us toward the beginning of each new day.

....

So to celebrate the spring equinox in accordance with Chinese thought, you might …

Stand facing east, considered the direction of spring in this philosophy. Just stand for a few moments and honor the quality of east as it relates to the season of spring.

Plant a garden. Sprouting and the color green are integral to springtime in both eastern and western philosophies. In Chinese thought, so are your eyes. Have you ever had the experience of straining your eyes, then resting them by taking a long car ride, looking at the many soothing greens of the landscape? I have. In the Chinese system of thought, your eyes and the color green, springtime and sprouting plants, all correspond.

Fly a kite! Wind is the climate of spring, in Chinese thought.

Shout! Let it go. Time to begin anew.

The Chinese understanding of nature's cycle seems fanciful, but once you begin to consider the five elements or phases of Chinese philosophy, you see them cycling in and around everything. All things sprout (spring), bloom (summer), reach completeness (late summer), become brittle and die (autumn), then rest (winter). You can recognize these phases in the course of relationships, over a workday, in the progress of a play or novel, in the process of aging, while eating a meal, in the growth of a garden, in a scientific or political or business enterprise, while playing a game.

So enjoy this easiest of seasons … this beginning. Happy spring, everybody!
Pages in topic: < [1 2 3 4 5 6 7 8 9 10 11 12 13 14 15 16 17 18 19 20 21 22 23 24 25 26 27 28 29 30 31 32 33 34 35 36 37 38 39 40 41 42 43 44 45 46 47 48 49 50 51 52 53 54 55 56 57 58 59 60 61 62 63 64 65 66 67 68 69 70 71 72 73 74 75 76 77 78 79 80 81 82 83 84 85 86 87 88 89 90 91 92 93 94 95 96 97 98 99 100 101 102 103 104 105 106 107 108 109 110 111 112 113 114 115 116 117 118 119 120 121 122 123 124 125 126 127 128 129 130 131 132 133 134 135 136 137 138 139 140 141 142 143 144 145 146 147 148 149 150 151 152 153 154 155 156 157 158 159 160 161 162 163 164 165 166 167 168 169 170 171 172 173 174 175 176 177 178 179 180 181 182 183 184] >
To report site rules violations or get help, contact a site moderator:
You can also contact site staff by
submitting a support request »
泰晤士(TIMES)四合院儿
BaccS – Business Accounting Software
Modern desktop project management for freelance translators

BaccS makes it easy for translators to manage their projects, schedule tasks, create invoices, and view highly customizable reports. User-friendly, ProZ.com integration, community-driven development – a few reasons BaccS is trusted by translators!

More info »
Across Translator Edition and Across Language Server v7
Meet our brand new version and speed up your translation processes!

Deliver high-quality translations with our fast and secure solutions. You can also integrate machine translation and other third-party systems. The Across Translator Basic Edition is free for freelancers. Start now and discover new business opportuniti

More info »