La carte de France 2017 des acteurs de la traduction
Thread poster: Jean-Marie Le Ray
Jean-Marie Le Ray

Italy
Local time:

09:35



Member


Italian to French
+ ...

Sur le site Infogreffe, le code métier de notre profession est "7430Z".

Voici l'ensemble des acteurs de la profession tels qu'ils sont référencés sur Infogreffe, par départements.

Cette carte propose le découpage par régions, en tenant compte du nouveau paysage régional de la France après la dernière réforme.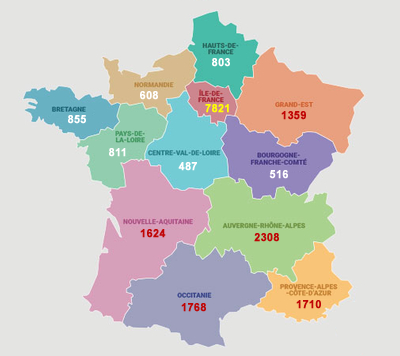 La seule chose est qu'Infogreffe référence chaque code sans faire de différence entre sociétés et professionnels indépendants, donc il est difficile de faire la part des choses et de savoir quelles sont les proportions respectives.

Si quelqu'un de vous à des idées ou des infos à ce sujet, je suis preneur.

Pour celles et ceux qui souhaitent approfondir le détail des chiffres, suivez ce lien (PDF) :

https://drive.google.com/file/d/0B_FsNv6W-V9YbEgtWWNMOHh5WUE/view

Jean-Marie

P.S. J'oubliais : la France métropolitaine, hors Corse (dont la dénomination officielle est "collectivité territoriale à statut particulier"), compte au total 20670 codes "7430Z", ainsi répartis :

- Le chiffre en jaune est l'Île de France : 7821 acteurs (3982 juste à Paris), soit 37,84% (contre 38,28% en 2014)
- Les chiffres en rouge sont les 5 autres régions ayant plus de 1000 codes "7430Z", et les chiffres en blanc sont les 6 régions ayant moins de 1000 codes, le cumul de ces 11 régions représentant 12849 acteurs, soit 62,16% (en légère progression par rapport aux 61,72% en 2014).




[Modifié le 2017-10-08 12:00 GMT]
Jennifer Forbes

Local time:

08:35



Member (2006)


French to English
+ ...

Lori Cirefice

France
Local time:

09:35


French to English

M-G

Germany
Local time:

09:35



Member (2009)


German to French
+ ...

To report site rules violations or get help, contact a site moderator:
You can also contact site staff by
submitting a support request »
La carte de France 2017 des acteurs de la traduction
BaccS – Business Accounting Software
Modern desktop project management for freelance translators

BaccS makes it easy for translators to manage their projects, schedule tasks, create invoices, and view highly customizable reports. User-friendly, ProZ.com integration, community-driven development – a few reasons BaccS is trusted by translators!

More info »
Protemos translation business management system
Create your account in minutes, and start working! 3-month trial for agencies, and free for freelancers!

The system lets you keep client/vendor database, with contacts and rates, manage projects and assign jobs to vendors, issue invoices, track payments, store and manage project files, generate business reports on turnover profit per client/manager etc.

More info »