Organisation d'une formation marketing sur Paris
Thread poster: Jean-Marie Le Ray
Jean-Marie Le Ray

Italy
Local time:

14:51




Member


Italian to French
+ ...

Bonjour,

Selon le bon vieux dicton "on n'est jamais aussi bien servi que par soi-même", j'envisage d'organiser une formation au marketing pour tous les collègues que la chose pourrait intéresser.
Depuis 2011, j'ai déjà dispensé plusieurs formations identiques en Italie, en obtenant toujours des retours positifs.
Malheureusement, je n'ai pas encore pu faire de même en France.
Mon idée est de louer un espace dédié pour la journée (de 9h à 18h) dans une université parisienne, la location étant entièrement à ma charge.
Or pour que la chose soit viable, il faut que je puisse réunir un nombre minimum de participant.e.s, disons en gros entre 30 et 50 (dans plusieurs universités les espaces permettent, selon le cas, de 15 à 70 places et plus), et moduler le prix de la journée entre 35 et 50€ selon les personnes enregistrées.
En fonction des manifestations d'intérêt de votre part, le choix de la formule peut être souple et il sera également plus facile de fixer un calendrier précis.
Concernant les formalités, je suis déjà inscrit à l'URSSAF comme traducteur-interprète-formateur, mais pour celles et ceux qui voudraient en savoir davantage, vous pouvez répondre sur ce fil ou m'envoyer un courriel directement.
Voilà pour commencer


Jean-Marie
Axelle H.



Member (2017)


English to French
+ ...

Jean-Marie Le Ray

Italy
Local time:

14:51




Member


Italian to French
+ ...


TOPIC STARTER
| | |
| --- | --- |
| Programme et calendrier | Feb 6 |
Ayant reçu par courriel des questions sur le programme, autant en faire profiter tout le monde. En fait, mon programme est basé sur la formation déjà dispensée plusieurs fois en italien, que j'ai adaptée en français. Mais rien de tel qu'une image pour faire la synthèse :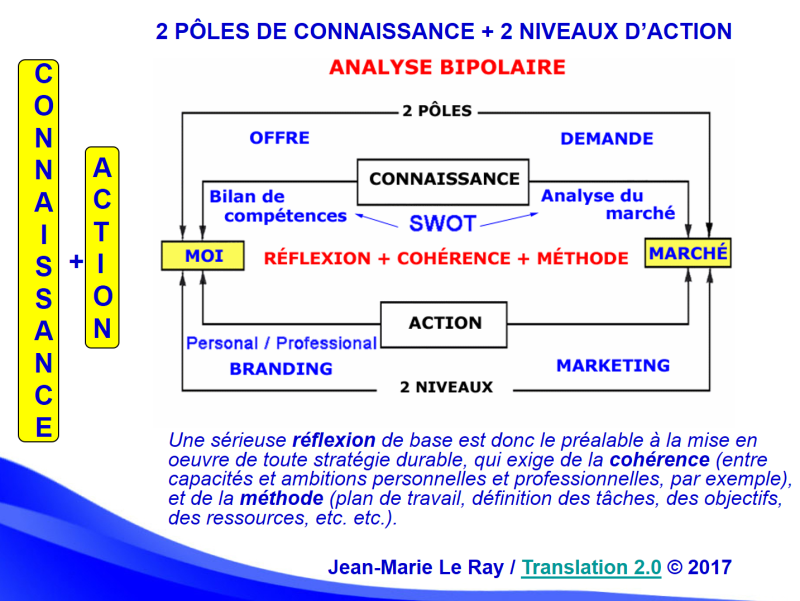 Ce "parcours formatif" (si on veut appeler ça comme ça), initialement intitulé "Marketing & Branding pour les professionnels de la traduction-interprétation", se déroule autour de 2 axes indissociables - CONNAISSANCE & ACTION -, ainsi répartis :

Deux pôles de connaissance :
1. se connaître soi-même au niveau professionnel (analyse SWOT, bilan de compétences)
2. connaître le marché en général, et le sien en particulier (analyse SWOT, étude des marchés)

auxquels correspondent Deux niveaux d'action :
1. agir sur soi-même en intervenant sur les points faibles et points forts identifiés (Branding)
2. agir sur son marché de référence pour l'influencer (Marketing)

Avec les objectifs suivants :
* intégrer le marketing à tous les échelons de son offre commerciale
* étudier une stratégie marketing personnalisée en réalisant un plan marketing à mettre en œuvre de façon permanente
* quoi faire d'Internet à tous les niveaux, y compris pour favoriser l'intégration entre Branding & Marketing, en partant du constat qu'Internet met aujourd'hui à la disposition de chacun/e, gratuitement (même si le terme lui-même a des implications pas toujours évidentes), des opportunités qui étaient réservées auparavant aux multinationales ou aux sociétés capables d'investir des millions dans la pub. Il s'agit donc d'apprendre à choisir et maîtriser les outils disponibles, chacun.e dans son coin...

Voici donc ce qu'on peut dire du programme, brièvement : quatre modules (2 le matin 9h-13h, 2 l'après-midi 14h-18h), en laissant dix minutes de battement entre un module et l'autre.
Une journée chargée, donc, mais croyez-moi ça passe très très vite vu la quantité de choses à développer.

Sans compter qu'il y aurait quelques tâches préparatoires à faire chez soi avant le jour J, pour favoriser une interaction toujours souhaitable au niveau du groupe le moment venu.

Côté calendrier, j'hésite entre mai-juin et septembre, avec une préférence pour septembre, histoire de bien commencer l'année professionnelle après les "grandes vacances"...

Mais tout dépend bien sûr du nombre d'adhésions : si nous réunissons 50 personnes dans la semaine, on pourra anticiper


Jean-Marie
To report site rules violations or get help, contact a site moderator:
You can also contact site staff by
submitting a support request »
Organisation d'une formation marketing sur Paris
Protemos translation business management system
Create your account in minutes, and start working! 3-month trial for agencies, and free for freelancers!

The system lets you keep client/vendor database, with contacts and rates, manage projects and assign jobs to vendors, issue invoices, track payments, store and manage project files, generate business reports on turnover profit per client/manager etc.

More info »
TM-Town
Manage your TMs and Terms ... and boost your translation business

Are you ready for something fresh in the industry? TM-Town is a unique new site for you -- the freelance translator -- to store, manage and share translation memories (TMs) and glossaries...and potentially meet new clients on the basis of your prior work.

More info »