Can't open the BBC website? Anyone know why?
Thread poster: Phillippa May Bennett
Phillippa May Bennett
Portugal
Local time:

05:35




Member


Portuguese to English

Hi,

This has happened to me before and it is rather frustrating. Suddenly yesterday for no apparent reason I was no longer able to open the BBC site. I've tried, Internet Explorer, Mozilla and Chrome to no avail.

It happened a few months back and was "off" for about 2/3 weeks and then it mysteriously started working again. As far as I know I've not altered any of my internet options, or chosen to block any sites. Is there anything I could have done to make this happen?!?!?

Any help would be most welcome.....

Thank you
| | |
| --- | --- |
| Never had this problem | Aug 27, 2009 |
But you should note that certain parts of it are only available to UK residents, like the iPlayer section (for catching up on missed tv programmes).

I use the BBC site quite a bit, and have never ever had such a problem.

Even if you did delete cookies, they would simply be set next time you clicked on to the site again.

Perhaps it's because your ISP in Brazil has blocked it for some reason?
oligyp
Local time:

00:35


English to Spanish
+ ...

| | |
| --- | --- |
| It could be just a rubbish ISP! | Aug 27, 2009 |
The only way to find out is to phone up the company that supplies your broadband service (I am assuming you have broadband...) and ask them why you cannot access the BBC website. It could be a DNS issue: the web page below may shed a little light on it, but it gets a bit technical. I would phone the ISP directly to see what they say about it, then try one of the solutions from the web page:

http://forums.tweakguides.com/showthread.php?t=7235

Other than that, you're not running a script blocker like NoScript are you? Or are simply getting a completely blank page when you try to connect to the BBC site?

[By the way, as I type this, I am listening to the live news service on the BBC, so it's not a general thing, and I've been popping in and out of that site all day today getting (live) updates on a cricket match.]

Or could it be a government thing???

http://www.theinquirer.net/inquirer/news/1014626/chinese-government-blocks-web-sites-like-amnesty-the-bbc

But then why would the government of Brazil block the BBC site?

Can you ask some local colleagues to see if it affects them too?
| | |
| --- | --- |
| Conspiracy definitely ;-) | Aug 27, 2009 |
I've just tried opening it up again and it says DNS error. I then tried the proxy server idea suggested on the link and yes - a DNS error!!I'm not running a script blocker either (not that I'm aware of certainly!) I'm looking into some of the other solutions and I think it's time for me to ring up my ISP.

It's highly frustrating as I feel like I'm missing out on my BBC fix!!

Thank you
Lesley Clarke

Mexico
Local time:

23:35


Spanish to English

| | |
| --- | --- |
| Check DNS setting | Aug 28, 2009 |
You should be able to get to a GUI like this: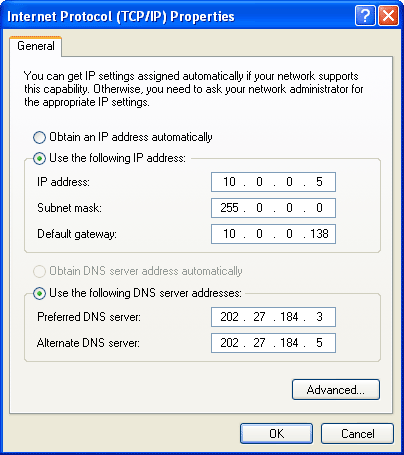 (Search Google for dns+setting+ windows-xp or whatever version of Windows you have.)

If your ISP has told you the IP addresses of its DNS servers (they usually do I think) try setting them manually

If it still does not work with either the automatic setting or the manual setting then contact your ISP.

Is the BBC's the only website with the problem? If you can get to it with just the IP address, I would have thought it fairly clear that access is not being denied altogether.

[Edited at 2009-08-28 11:33 GMT]
| | |
| --- | --- |
| Thanks, will try this out.. | Aug 29, 2009 |
Thanks Robert, I will try this out today - just found the above settings.

Fingers crossed it works..


Have a good weekend.

P.S Yes, it's just the BBC site - I can get to the first page with the IP address but no further.

[Edited at 2009-08-29 12:38 GMT]

[Edited at 2009-08-29 12:47 GMT]
| | |
| --- | --- |
| bbc net probs | Feb 8, 2010 |
I've been having the same problem, and I'm fairly certain it's an ISP prob.
I just got on line to the beeb by going through my ISP (and soon to be fired)
AOL and everything worked. So you could try this

Strangely - or maybe not - my laptop which doesn't have the aol programme
on board and is wireless linked to my router has no such troubles. My internet
radio does.

Is this any help?
Has anyone an idea wht the prob with the radio can be

AH
Hamburg
To report site rules violations or get help, contact a site moderator:
You can also contact site staff by
submitting a support request »
Can't open the BBC website? Anyone know why?
BaccS – Business Accounting Software
Modern desktop project management for freelance translators

BaccS makes it easy for translators to manage their projects, schedule tasks, create invoices, and view highly customizable reports. User-friendly, ProZ.com integration, community-driven development – a few reasons BaccS is trusted by translators!

More info »
SDL Trados Studio 2019 Freelance
The leading translation software used by over 250,000 translators.

SDL Trados Studio 2019 has evolved to bring translators a brand new experience. Designed with user experience at its core, Studio 2019 transforms how new users get up and running and helps experienced users make the most of the powerful features.

More info »