Somebody wrote a post under my name/profile! (site staff: issue addressed)
Thread poster: Katalin Szilárd
Katalin Szilárd

Hungary
Local time:

08:58




Member (2006)


English to Hungarian
+ ...

https://www.proz.com/forum/prozcom_profile_help/311410-anybody_has_any_idea_what_is_this_prozcom_javascript_third_party_application.html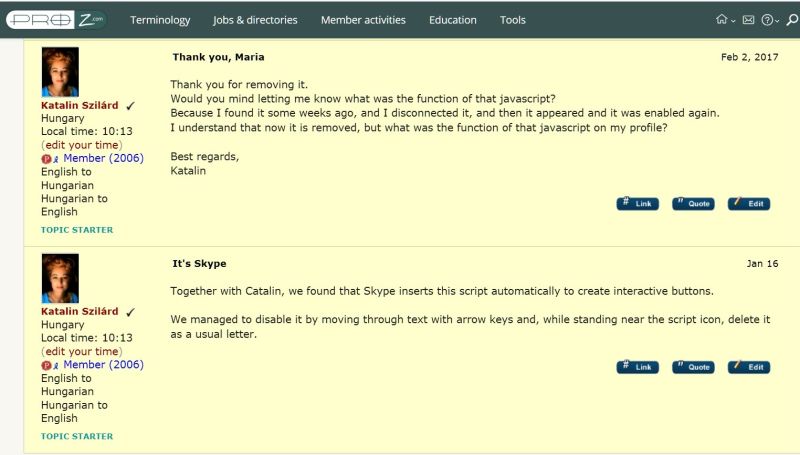 I can see that there is a post on the 16th of January, and it was not me who wrote it.
And I would never call myself Catalin.
Who wrote this under my name with my profile and how??????????????


"Katalin Szilárd Identity Verified
Hungary
Local time: 10:13
(edit your time)
Member (2006)
English to Hungarian
Hungarian to English
TOPIC STARTER

It's Skype Jan 16

Together with Catalin, we found that Skype inserts this script automatically to create interactive buttons.

We managed to disable it by moving through text with arrow keys and, while standing near the script icon, delete it as a usual letter."
Tony M
France
Local time:

08:58




Member


French to English
+ ...

I can imagine the only people who could possibly have the authorization to post using your profile might be site staff — though that would clearly have been an error in this instance!
From the wording of the post, it certainly sounds like a member of staff describing the actions taken.

Otherwise, it can only be imagined that your account security has been compromised, and somebody else has been using your account. Do you work in a company where someone else might have access to your computer? it could have been a perfectly innocent error...

I assume you have already reported this to site staff for investigation?

[Modifié le 2018-01-30 10:56 GMT]
Katalin Szilárd

Hungary
Local time:

08:58




Member (2006)


English to Hungarian
+ ...


TOPIC STARTER
| | |
| --- | --- |
| Yes, it was the site staff | Jan 30 |
Tony M wrote:

I can imagine the only people who could possibly have the authorization to post using your profile might be site staff — though that would clearly have been an error in this instance!
From the wording of the post, it certainly sounds like a member of staff describing the actions taken.

Otherwise, it can only be imagined that your account security has been compromised, and somebody else has been using your account. Do you work in a company where someone else might have access to your computer? it could have been a perfectly innocent error...

I assume you have already reported this to site staff for investigation?

[Modifié le 2018-01-30 10:56 GMT]



Thank you, Tony for your answer.
I talked with a site staff and this happened accidentally.
Although I think it is spooky (and from security & privacy point of view it is controversial) that site staff can write in the name of us (even accidentally).

There is another issue I figured out: someone logged in my account 60 days ago with a router admin ip and changed my availability to red/non-available. Meanwhile I never set my availability in my calendar. My login session details are messed up: it is shown differently depending on the pages I open. It shows sometimes that I logged in 60 days ago or 19 days ago or 32 days ago, there I can see my own ip (except if I click on settings -> manage apps: there I can see the router admin ip 60 days ago and my availability is shown as red there - I never set my availability).

I'm the only one who has access to my computer, changed my password a couple of times.

And since August I can see my own ip sometimes as if I was a non-logged in visitor meanwhile I'm logged in at the moment when I check my profile.

And one more thing: when these security anomalies happen or if I write about them, I receive visitors from here: 11:42 Not Logged In 5.9.37.121 prohoster.info Profile 24 10:53

13:09 Not Logged In 5.9.37.122 n82.blox.ua Profile 29 12:11

Actually a member also mentioned these weird visitors:

https://www.proz.com/forum/business_issues/322087-huge_number_of_profile_visits_but_a_few_stand_out_should_i_be_concerned.html

[Edited at 2018-01-30 12:21 GMT]
To report site rules violations or get help, contact a site moderator:
You can also contact site staff by
submitting a support request »
Somebody wrote a post under my name/profile! (site staff: issue addressed)
memoQ translator pro
Kilgray's memoQ is the world's fastest developing integrated localization & translation environment rendering you more productive and efficient.

With our advanced file filters, unlimited language and advanced file support, memoQ translator pro has been designed for translators and reviewers who work on their own, with other translators or in team-based translation projects.

More info »
TM-Town
Manage your TMs and Terms ... and boost your translation business

Are you ready for something fresh in the industry? TM-Town is a unique new site for you -- the freelance translator -- to store, manage and share translation memories (TMs) and glossaries...and potentially meet new clients on the basis of your prior work.

More info »