Punctuation problem with MS Word
Thread poster: Tom in London
Tom in London
United Kingdom
Local time:

09:34




Member (2008)


Italian to English

Has anyone else ever encountered problems when switching between different language versions of MSWord?

I never have - until today.

Apparently the quotation marks and apostrophes that appear correctly on my screen do not appear correctly on my Italian client's screen.

Has anyone else ever come across this problem?

Lingua 5B


Bosnia and Herzegovina
Local time:

10:34


German to Serbian
+ ...


Teresa Borges
Portugal
Local time:

09:34




Member (2007)


English to Portuguese
+ ...

After the last Windows update, I experienced a series of small problems with some peripherals, mainly my printer (stopped working and had to be reinstalled) and my keyboard (because I lived in Belgium for a long while I've been using an adapted French keyboard and the system decided to switch automatically to a Portuguese keyboard). I've never had the problem you describe though…
| | |
| --- | --- |
| More details | Jun 22, 2018 |
Apparently it's not a Word-to-Word problem but a Word-to-(publishing software) problem.

My apostrophes in Word come out different in their publishing software. Sometimes they even come out as a different symbol (see image).

I'm trying to find out what publishing software they use and if they have recently changed it, or if that software has been updated to a new version.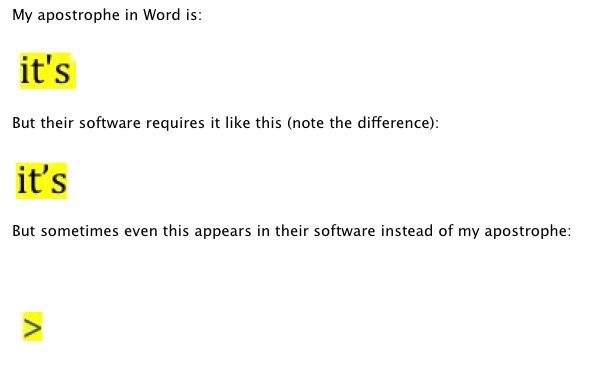 José Henrique Lamensdorf


Brazil
Local time:

06:34


English to Portuguese
+ ...

| | |
| --- | --- |
| It COULD be a font issue | Jun 22, 2018 |
From the days of Word 2 for DOS, Microsoft has had some uncanny ways to handle characters. This page gives some clues.

Furthermore, font matching is often haphazard, using "best match" resources. For instance, the US version of Word includes the Verdana Bold font. In the Brazilian version, this font is named Verdana Negrito (Portuguese for bold). Some programs make this match based on internal font file parameters, others consider the font "unavailable" and go for the best match. The same procedure often takes place between Helvetica (Mac) and Arial (PC).

This leads to some other issues at the Mac x PC frontier checkpoint. In the ancient days of Page Maker, I received a bunch of files generated with a Mac, and many issues came up on my PC. I asked the author about them, and he sent me PC-friendly files generated with a Mac, which were trouble-free.

Apparently Word - depending on the version - has a font-embedding option to avoid these problems.
See https://www.howtogeek.com/106681/how-to-embed-fonts-in-a-microsoft-word-document/
If you are crossing the Mac-PC border, I'd embed the system fonts too.
Files are gonna be big, but that's what the cloud was built for.


Maxi Schwarz


Local time:

03:34


German to English
+ ...


Samuel Murray


Netherlands
Local time:

10:34




Member (2006)


English to Afrikaans
+ ...

| | |
| --- | --- |
| Well, that is a known problem | Jun 22, 2018 |
Tom in London wrote:
Apparently it's not a Word-to-Word problem but a Word-to-(publishing software) problem.



Yes, some DTP programs have autocorrection enabled, and some DTP programs run autocorrection on existing files. The DTP operator can't speak your language, but he can speak his own, so when the DTP program changes things to match his expecation, he assumes that the program is right. Or, sometimes the DTP operator isn't even aware that his program performs/performed a series of autocorrections.

I often find this in Afrikaans where PDF versions from the client contain single opening quotes (e.g. 'n) instead of apostrophes (e.g. 'n), even though the Word file I sent them has apostrophes. I find that such programs are less likely to change quotes to quotes (e.g. if I write 'n then it will not change it to 'n), but sometimes these programs do even that.

W.r.t. "<", I suspect it's not "<" but rather "‹", which is a single guillemet a.k.a. "French quotation mark" -- in some fonts they are more curly, but in other fonts, they look very much like or identical to "<".

Samuel Murray


Netherlands
Local time:

10:34




Member (2006)


English to Afrikaans
+ ...

Tom in London wrote:
I hope the client finds a way to get round this because otherwise it may be too much hassle for him to continue giving me work...



Well, I recommend you tell your client that his DTP program performs an autocorrection, and that he should figure out how to disable that setting.

José Henrique Lamensdorf


Brazil
Local time:

06:34


English to Portuguese
+ ...

| | |
| --- | --- |
| Another workflow | Jun 23, 2018 |
Tom in London wrote:

I hope the client finds a way to get round this because otherwise it may be too much hassle for him to continue giving me work...



Many people in the trade believe that Word is a kind of DTP app. As its name says, Word is a word/text processor. Its original paradigm is the typewriter. I'd like to introduce my evidence on that:
a) If you add one paragraph, say, on page 12, all the everything beyond that will most likely reflow;
b) You can't work, say, on page 20, then on page 6, and then on page 47, without having to check where everything has gone afterwards;
c) If Word were a DTP app, Microsoft would have discontinued and buried its (horrible!) MS Publisher many years ago.

The original paradigm for DTP is the typesetting and paste-up studio, entirely made "virtual" in Page Maker, InDesign's father. Other DTP programs created their own virtual paradigms, which have no match in real life.

For the record, the various DTP apps in the market use proprietary format files, incompatible with each other, and often incompatible across successive versions of the same software. Among the few converters ever developed for either situation, none is reliably effective. In the rare cases they work, the outcoming file looks cockeyed.

Translators are not DTP operators, and they don't need to be. The need is to get a neatly laid-out publication in another language. The less changes to the original layout, the better. However text often swells or shrinks in translation, which creates the need for graphic adjustments.

While some CAT tools are able to trespass into DTP files, and even PDF files, to get the text translated, this tends to create messy publications, which require adjustments by a DTP operator using the same program adopted to create them.

DTP apps are expensive (at least the good ones), and their learning curve may be a tad too steep for translators. Anyway, they wouldn't have to use any graphic design talent & skills, since the goal is to preserve the layout while translating.

Nowadays nobody sends DTP-app proprietary files out for printing or anything else. Even if the printer has that same DTP software, version conflict is a high risk. The market standard for publication deployment is PDF, which is the ultimate goal of any DTP program, and word processors like MS Word as well.

Two basic strategies have evolved for translation on (editable!) PDF files:
a) Translators work on the PDF using CAT tools that can trespass into them; later a DTP operator uses a PDF editor to fix graphic issues;
b) a 'PDF operator' exports the text from a PDF file , a translator translates it in any compatible way, and then the operator imports that text back into the PDF and fixes it.

I use process (b) and, if the translation involves EN PT, I might be playing both roles or not. The process is shown at http://www.lamensdorf.com.br/direct-pdf-translation.html .

Getting to back the OP, you'll notice that I only offer partnership with translators when the job involves languages that I speak (regardless of whether I translate them or not). So I'll immediately notice if there are any problems with characters being unduly changed, and find a way to solve them. I think it is important that whoever is in charge of the "bridge" between the translation and its final look can do this check, and fix it.


I had an iconic case a few years ago. I translated, and a colleague reviewed EN > PT a book originally laid-out by the author using MS Word. The layout was a bit complex, because it contained a profusion of boxed quotes. As the text got swollen in translation, the resulting DOCX was a mess!

The Canadian PM got a monoglot francophone DTP operator to move our translation into InDesign. The DTP operator used InDesign's Italian dictionary to hyphenate our translations in Portuguese! She sent us a PDF to review. Many wrong hyphens. Every time we spotted a bad hyphen in a paragraph, and she fixed it, a new bad hyphen would come up below, still in the same paragraph.

It took us (translator, reviewer, DTP operator) EIGHT cycles through the entire 200-page book to get rid of the last bad hyphen. This shouldn't happen...
| | |
| --- | --- |
| Problem still occurring | Sep 12, 2018 |
I'm still having the problem.

The problem:

When the end client (a publisher) imports my MSWord documents into Indesign (or whatever software they use) my apostrophes cause problems.

Apparently that's because the proprietary coding for Indesign (or whatever it is) is not compatible with the coding for Word.

As a desperate workaround, I've rewritten my translation so that it contains no apostrophes. Not an ideal solution, but at least it has helped to identify that the problem is my apostrophes.

I've tried saving the document in 3 different versions of Word (for Mac): 2008, 2011, and 2016. That doesn't seem to make any difference.

MY QUESTION:

Has anyone else ever experienced this problem?

Thanks to everyone who has already answered. You have been very informative and helpful.

New answerers would be welcome


Tony M
France
Local time:

10:34




Member


French to English
+ ...

| | |
| --- | --- |
| Have had a similer problem with InDesign | Sep 12, 2018 |
One of my client's uses InDesign, and it cannot handle non-breaking spaces, as inserted by Word. Luckily, now I know, this is an easy one to get round, though it does mean they have to be super-careful proofing their layouts in case any NBSP need to be inserted to keep things together.

I suspect you have a similar problem here; have you tried using 'smart quotes' to generate a 'proper' apostrophe ' [Alt + 0146] — or perhaps even better to insert that character specifically manually, rather than using the 'smart' facility, which I've noticed often screws up in cross-language situations!

Le me know if you are still having problems, I have a graphic artist friend who uses InDesign and can test it for you...

Mirko Mainardi


Italy
Local time:

10:34




Member


English to Italian

To report site rules violations or get help, contact a site moderator:
You can also contact site staff by
submitting a support request »
Punctuation problem with MS Word
Déjà Vu X3
Try it, Love it

Find out why Déjà Vu is today the most flexible, customizable and user-friendly tool on the market. See the brand new features in action: *Completely redesigned user interface *Live Preview *Inline spell checking *Inline

More info »
PerfectIt consistency checker
Faster Checking, Greater Accuracy

PerfectIt helps deliver error-free documents. It improves consistency, ensures quality and helps to enforce style guides. It's a powerful tool for pro users, and comes with the assurance of a 30-day money back guarantee.

More info »