"Restore Down" button not working
Textklick

Local time:

21:15


German to English
+ ...

Hi

I have a dual-monitor configuration, which in itself seems to be working as such. In Display Properties settings, clicking on the appropriate screens makes them identify themselves visually.

However, since yesterday, the "Restore down" button is not working in any applications. This kind of negates the joy of dual monitors, in that you cannot flick files from monitor 1 to monitor 2.

Browsing around, I have seen suggestions where it has been said that this is caused by a registry error, although these inevitably refer to registry issues in specific applications. I performed a registry cleanup, but no joy yet.


Running on XP Standard, SP2.

If anyone has any ideas, I'd certainly be very grateful


TIA

Chris
Textklick

Local time:

21:15


German to English
+ ...


TOPIC STARTER
| | |
| --- | --- |
| No error message | Dec 5, 2007 |
Hi Margreet,

No - no error messages.

The files are all fully processable. I can minimize them and close them,
it's just this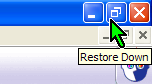 that refuses to work.

The button changes to the way it should look for a split second, and then reverts to the way it looks here

Chris

[Edited at 2007-12-05 11:55]
| | |
| --- | --- |
| Resolution? (Guesswork..) | Dec 5, 2007 |
I must admit, I'm guessing here.

I only work with dual monitor settings when using a video projector.
That is not quite your situation, because your dual screen configuration is permanent, mine is temporary. Most problems I have had were solved when changing to a lower resolution, but I'm not sure I'd recommend that in your situation.

What has changed since yesterday? Have you installed any new software, replaced hardware, something like that? I'm beginning to believe it might be a driver problem, but I don't understand why it worked well until yesterday and does not function properly now.

I hope someone with a permanent dual-screen configuration like yours shows up, they'll probably be able to help you better than I can.
To report site rules violations or get help, contact a site moderator:
You can also contact site staff by
submitting a support request »
"Restore Down" button not working
CafeTran Espresso
You've never met a CAT tool this clever!

Translate faster & easier, using a sophisticated CAT tool built by a translator / developer. Accept jobs from clients who use SDL Trados, MemoQ, Wordfast & major CAT tools. Download and start using CafeTran Espresso -- for free

More info »
WordFinder Unlimited
For clarity and excellence

WordFinder is the leading dictionary service that gives you the words you want anywhere, anytime. Access 260+ dictionaries from the world's leading dictionary publishers in virtually any device. Find the right word anywhere, anytime - online or offline.

More info »