Qualitätssicherung (nicht nur) für medizinische Übersetzer
Thread poster: Siegfried Armbruster
Siegfried Armbruster

Germany
Local time:

19:55




Member (2004)


English to German
+ ...

Dienstag, 20.09.2016
10:00 bis 11:30 Uhr

Seid Ihr denn alle schon zertifiziert nach EN 15038 oder ISO 17100? Nicht? – Ich auch nicht.
In meinem Webinar werde ich praktische Ansätze und Lösungen vorstellen, die ich benutze, um die Qualität meiner Übersetzungen zu verbessern. Natürlich gehören dazu auch Checklisten, aber wie wäre es mit einem Tool, das meine Ausgangstexte (und auch meine Übersetzungen) analysiert und mir markiert, was nicht den Vorgaben entspricht (z. B. keine Leerschritte zwischen Wert und Einheit). Oder das mir anzeigt, welche Abschnitte eines Beipackzettels den EMA-Vorlagen entsprechen, und das viele Fehler auch noch automatisch beheben kann. Oder habt ihr euch schon einmal Gedanken gemacht, wie sich die Erkennungsraten von Dragon oder von FineReader verbessern lassen können.
Diese und noch viele andere praktische Tipps gibt es nächsten Dienstag bei meinem Webinar über Qualitätssicherung, das sicher nicht nur für medizinische Übersetzer interessant ist.
Ich verspreche, es wird nicht langweilig werden!


Weitere Infos und Anmeldung: http://seminare.bdue.de/2936

Beispiel für die automatisierte Analyse eines Ausgangstextes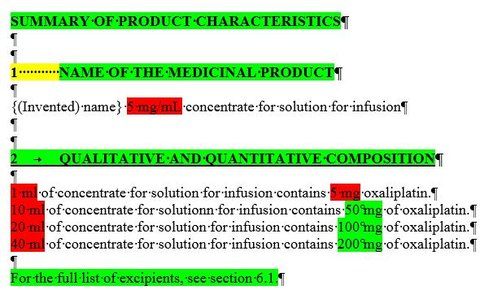 Weitere Infos zu Webinaren und einige gratis AutoSuggest-Dateien aus den aktuellen DGT-TMs gibt es hier
There is no moderator assigned specifically to this forum.
To report site rules violations or get help, please contact
site staff »
Qualitätssicherung (nicht nur) für medizinische Übersetzer
PerfectIt consistency checker
Faster Checking, Greater Accuracy

PerfectIt helps deliver error-free documents. It improves consistency, ensures quality and helps to enforce style guides. It's a powerful tool for pro users, and comes with the assurance of a 30-day money back guarantee.

More info »
Déjà Vu X3
Try it, Love it

Find out why Déjà Vu is today the most flexible, customizable and user-friendly tool on the market. See the brand new features in action: *Completely redesigned user interface *Live Preview *Inline spell checking *Inline

More info »