Zieltext konnte nicht gespeichert werden: Die Methode oder der Vorgang ist implementiert
Thread poster: Naoko Wada
Naoko Wada

Germany
Local time:

03:26



Member (2009)


German to Japanese
+ ...

Hallo Zusammen!

Ich arbeite mit Studio 2015 auf Windows 10.
Nachdem ich die Übersetzung durch bilingualen Datei (Word 2013) aktualisiert habe, wird die Übersetzung
nicht mehr in Zielsprache (Format IDML) gespeichert. Vor der Aktualisierung hat eigentlich alles geklappt.

Ich habe ein neues Projekt erstellt und die Übersetzungen vom TM eingespielt, aber immer noch erhalte ich folgende Fehlermeldung: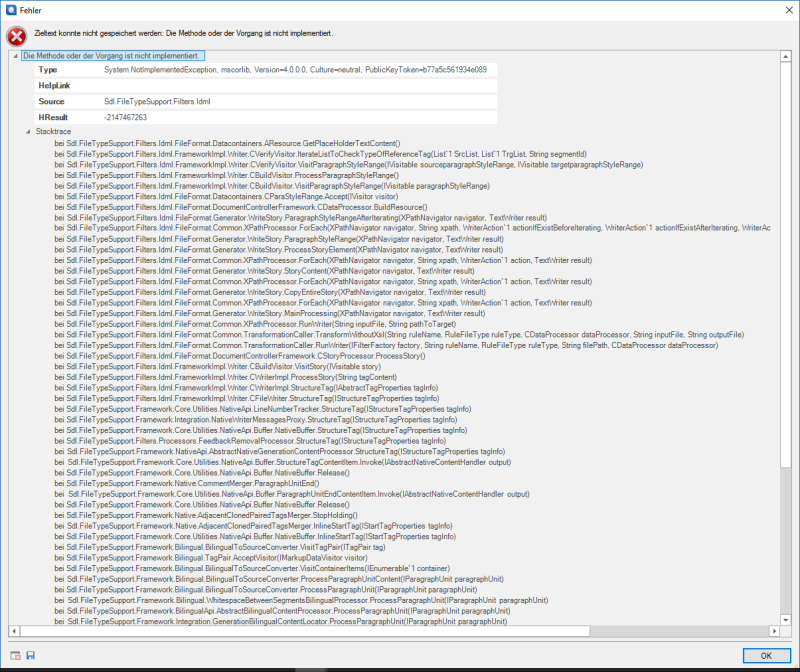 Wer kennt das Problem und kann mir weiterhelfen? Vielen Dank!
Elif Baykara Narbay

Turkey
Local time:

04:26


German to Turkish
+ ...

| | |
| --- | --- |
| source file format | Oct 6, 2016 |
Hi, sorry that my reply is in English.

What was the format of your source file? I am not an expert but as far as I know, you cannot start with a word file (for example) and obtain a target file in idml but a file in word format.

If this is the case, I guess that your client would have to perform the necessary conversion.

Elif.
Naoko Wada

Germany
Local time:

03:26



Member (2009)


German to Japanese
+ ...


TOPIC STARTER
There is no moderator assigned specifically to this forum.
To report site rules violations or get help, please contact
site staff »
Zieltext konnte nicht gespeichert werden: Die Methode oder der Vorgang ist implementiert
memoQ translator pro
Kilgray's memoQ is the world's fastest developing integrated localization & translation environment rendering you more productive and efficient.

With our advanced file filters, unlimited language and advanced file support, memoQ translator pro has been designed for translators and reviewers who work on their own, with other translators or in team-based translation projects.

More info »
PerfectIt consistency checker
Faster Checking, Greater Accuracy

PerfectIt helps deliver error-free documents. It improves consistency, ensures quality and helps to enforce style guides. It's a powerful tool for pro users, and comes with the assurance of a 30-day money back guarantee.

More info »