House, apartment, condo or loft?
Thread poster: Mario Chavez (X)
We tend to build our home offices with what we've got. In my humbler beginnings, I remember using a chest of drawers as a desk, to the chagrin of my neck and shoulders. There was this time (1993) in Brooklyn when I preferred to have my desk face one of the big windows and work in natural light as much as possible. In New York, the use of lofts —a split-level apartment of sorts— had become very popular years before, and I always wanted to have one. The good part was that the loft (the upper level) was the sleeping area, a type of open-faced bedroom with stairs or a ladder connecting to the lower floor, which was a big space with no partitions (internal walls).

What are your current home office arrangements and what makes them distinctive, uniquely functional for you?
eski


Mexico
Local time:

08:02




Member (2008)


Spanish to English
+ ...

MODERATOR
| | |
| --- | --- |
| eski's home-office/studio | Jan 10, 2018 |
We are fortunate to have access to a beautiful, compact 4-bedroom house in a quiet residential neighborhood. Initially, the owner of the house (who is also our family doctor) rented it to my wife and I for a very reasonable price because there was still no internet connection in our neighborhood (some 5 years ago). However, he had a condo about six blocks away that DID have internet service, so he rented it to me for office use and I would get up each morning and walk to my office/studio (I also intended to record music there but I hardly ever did because my workload was quite heavy and any spare time we spent going to the beach, movies or doing exercise at the park). Depending on the hour, I'd either walk back home at nights or hop on a bus that got me home in under three minutes. My condo apartment had a low partion wall with glass up to the ceiling for both of the bedrooms, each with it own bathroom. I used one of them for my office and designed a rather elaborate setup to use for both translation and as a DAW console to record music, but - as I mentioned earlier, I eventually only used it to translate /transcribe and edit documents for our clients. Because we also do mp3 & mp4 transcription/translations, in addition to my laptop & desktop pc, I also had a bit of special equiptment to help us with timespotting, earphones, etc.

That routine went on for about a year and worked out pretty well. The only downside was having to pay two rents and utility bills for each place every month, but our landord gave us a break on the rent for each one, so it wasn't too bad. Then about four years ago, we finally were able to get internet service/cable tv at our house, so I gave the condo keys back to the owner and signed a new contract to lease the house for about 15% more than what we'd been paying, but our rent never went up until this January, when we renewed our contract with a small 10% bump in the rent. When I moved the office into our house, my wife (a landcape designer) generously offered to let me use the two empty upstairs bedrooms - in addition to our master bedroom - one for my translation work and the other room for my music equipment /practice studio (I play drums and with a couple of local pop/rock/ blues groups and a little guitar for songwriting); she got the exclusive use of the downstairs guestroom for her work and she uses our back yard as a nursery for her plants and flowerbeds. When we have sleep-over guests, her office is instantly re-converted into the guestroom with 2 queen-size air matresses (:D !) She also has video/audio equipment in her office in addition to our normal living room entertainment setup.

In the "new" office my setup is somewhat simpler than when I rented the condo office. The only new additions have been (3) better pc speakers, a bigger monitor, a new motherboard and a little more RAM for the pc and a longer table so that two people can work side-by side. A friend and I meet once a week at his workshop and work on woodworking projects, so part of my office space houses three tool cabinets/boxes and I have a couple of things around for drafting (we are in the process of acquiring land in the mountains to build a cabin) and watercolor painting supplies. It's a small (11m2) space adjacent to the music room and a bathroom, but with large windows overlooking our backyard garden and plenty of light and fresh air. I have two chairs at my office desk and a big comfy, swivel "executive"- type chair for guests to sit down. We don't use air-conditioning, we rely on fans throughout both stories to circulate air and all the windows are sliding units with screens. We have an emergency LED system to back up the regular electrical service in case of a blackout, but it only works for lighting. All four walls in our office are covered with bookshelves, model car collections, an acoustic guitar and portraits, drawings, and photos of our kids, grandchildren as well as a few drawings of my former and current projects in architecture, and box with a few simple toys for our grandkids to play with when they visit us.

That's about it for our current set-up; I'd be interested to find out what some of our other ProZ.com colleagues have done with their workspace. Cheers from sunny Acapulco, Mexico!



[Edited at 2018-01-10 03:52 GMT]

Daniel Frisano
Switzerland
Local time:

15:02




Member (2008)


English to Italian
+ ...


jyuan_us


United States
Local time:

09:02




Member (2005)


English to Chinese
+ ...

| | |
| --- | --- |
| I'm often on my bed while working | Jan 11, 2018 |
I'm in the supine position right now with my small laptop over my chest. I use one of my legs to hold the laptop in place.

I sit at my desk in the kitchen only when I have to do so, for example, at the time when I need to work on 2 laptops.

[Edited at 2018-01-11 02:03 GMT]

Philippe Etienne


Spain
Local time:

15:02




Member


English to French


Tomás Cano Binder, BA, CT


Spain
Local time:

15:02




Member (2005)


English to Spanish
+ ...

| | |
| --- | --- |
| A small flat in a quiet residential area | Jan 12, 2018 |
For my office I bought a flat in a quiet residential area several years ago. This place suits us well since we arrive to the office when most residents leave for work, and nuisance during work is close to absolute zero. I have a small team, so we can all work together in the main space in the flat, while we use the other spaces for server, printer, archives, and meetings. This way, we can communicate constantly about work and discuss life in general whenever we feel to. I am aware that this place can be seen as not very businesslike and is perhaps not ideal to welcome visiting customers, but we very very rarely have any: they all prefer to stay in Madrid (30 miles away) when they visit Central Spain.

Now, having expressed the functional side of things, what caught me of this place is the stunning view which, on a clear day, reaches to the hills some 40 miles away to the North. It is nice to be able to stretch mentally and check the weather. We are also host to several families of housemartins that leave in October and return in mid-March. Lovely little things flying just meters from our workstations.

See what I mean: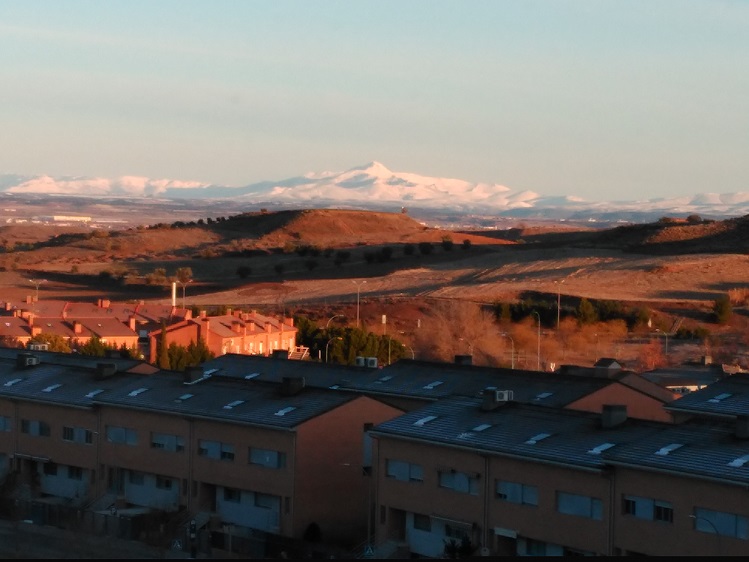 [Edited at 2018-01-12 13:39 GMT]
Angie Garbarino




Member (2003)


French to Italian
+ ...

To report site rules violations or get help, contact a site moderator:
You can also contact site staff by
submitting a support request »
House, apartment, condo or loft?
SDL Trados Studio 2019 Freelance
The leading translation software used by over 250,000 translators.

SDL Trados Studio 2019 has evolved to bring translators a brand new experience. Designed with user experience at its core, Studio 2019 transforms how new users get up and running and helps experienced users make the most of the powerful features.

More info »
Wordfast Pro
Translation Memory Software for Any Platform

Exclusive discount for ProZ.com users! Save over 13% when purchasing Wordfast Pro through ProZ.com. Wordfast is the world's #1 provider of platform-independent Translation Memory software. Consistently ranked the most user-friendly and highest value

More info »