Tracking script or ad on Kudoz?
Thread poster: Katalin Szilárd

Katalin Szilárd


Hungary
Local time:

05:20




Member (2006)


English to Hungarian
+ ...

I have experienced a very interesting phenomenon on the following Kudoz link:

https://www.proz.com/kudoz/english_to_hungarian/advertising_public_relations/6423895-pre_roll.html

Today I answered this Kudoz question.
But now as I opened the link again all I can see is a black screen and in the middle there is a tiny white dot.

I checked it on the net and it says it is usually used for tracking.

"... displays an image file, such as 1-pixel GIF file (often used for tracking), it display the image on a dark background. Does the URL you're visiting end with an image extension (or have an image extension followed by a question mark and then various parameters)? If not, a script on the site may be serving you an image instead of a web page for some reason. "

What kind of tracking ad or script is put on that link and by whom and why?

If such "bugs" happen usually I receive the answer that it couldn't have been reproduced, but still this is what I see when I open that link: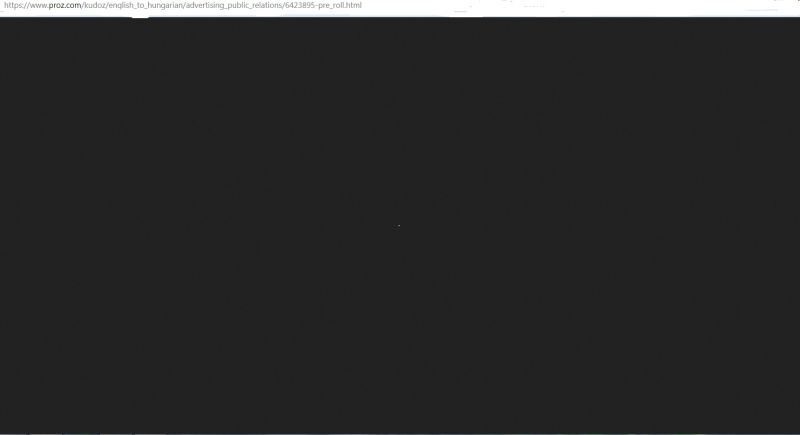 So this way the site is not working properly.





[Edited at 2017-11-14 10:30 GMT]
| | |
| --- | --- |
| Thank you for your answer | Nov 14, 2017 |


Thank you for your answer, Thomas.
Yes, I have a reliable security on my computer, no malware, no adware, no plug-in extension.
If cookies were the problem, then this problem wouldn't have been solved by itself.
But it did:
After I wrote this thread, I haven't used my laptop for a while, just came back and voila now the link is working perfectly.
I haven't deleted any cookies, I haven't closed/opened anything, the link is working on the same browsing page I used before.

Mysterious ....
| | |
| --- | --- |
| Impossible to debug if it has only happened once | Nov 14, 2017 |
The list of potential causes of such problems is close to endless, and if it has only happened once, it's impossible to debug.

If Kudoz kept doing the same thing over and over again, it would be possible to start tracing, but odd one-off things like this just happen sometimes, just like emails occasionally disappear without a trace.

About the 1-pixel gifs, I don't really see how they could be used for tracing anything on a web page, as it's just a tiny file downloaded together with the rest of the page. But in emails they can be used to trace if an email has been opened, when, and from which IP address. That's why it's a good idea to disable automatic image download in emails and only download them in specific emails from people you know.
I don't see these two links in the page source on that page. Maybe they are not loaded every time, as advertising is dynamic.

I still have no problem with that page.

You could ask Proz support if the links are supposed to be there.

Webroot SecureAnywhere does not block these two links if I click on them.

Your antivirus could be overreacting.

You could also have some sort of adware not detected by your antivirus. Not all solutions detect 100% of the problems.

But I don't see why blocking a couple of ads should corrupt the entire page.

Maybe a support ticket can help clarify this.
To report site rules violations or get help, contact a site moderator:
You can also contact site staff by
submitting a support request »
Tracking script or ad on Kudoz?
TM-Town
Manage your TMs and Terms ... and boost your translation business

Are you ready for something fresh in the industry? TM-Town is a unique new site for you -- the freelance translator -- to store, manage and share translation memories (TMs) and glossaries...and potentially meet new clients on the basis of your prior work.

More info »
WordFinder Unlimited
For clarity and excellence

WordFinder is the leading dictionary service that gives you the words you want anywhere, anytime. Access 260+ dictionaries from the world's leading dictionary publishers in virtually any device. Find the right word anywhere, anytime - online or offline.

More info »