September 14, 2019: III Belarusian Translation Forum
Thread poster: Yuliya Tsimashenka

Yuliya Tsimashenka


Belarus
Local time:

08:26


German to Russian
+ ...




Dear colleagues!

On September 14, 2019, the III Belarusian Translation Forum — a Russian-speaking translation event — will gather over 150 professional translators and interpreters to discuss the industry's developments — work at large sporting events, AVT, simultaneous interpreting, freelancing (website optimization, hardware, interaction with clients and notaries). The Forum is also supported by one of our partners — ProZ.com.


Website
https://translationforum.by

When?
Saturday, September 14, 2019

Who is the Forum intended for?
Translation industry experts: in-house and freelance translators/interpreters, editors, correctors, guide interpreters, academic educators on translation/interpretation disciplines, representatives of translation agencies and translation departments, language software suppliers.

Registration
Please register here: https://translationforum.by/price/
There's a limited number of e-tickets available! August 31 is the final day of sales.

Where?
Cultural Center Korpus, 9/8, Masherov Ave., Minsk, Belarus

More https://translationforum.by?

The Belarusian Translation Forum is the largest event in the translation and interpreting industry in Belarus. It is the first and so far the only non-academic platform to share experience and to lead a constructive debate on issues in the translation and interpreting field in the country. The First Translation Forum with more than 90 participants was held on 30 September 2017, the International Translation Day established by the UN in 2017 at the initiative of the Republic of Belarus in 2017. A year later, on 29 September 2018, the II Belarusian Translation Forum that brought together 140 professional translators and interpreters from Belarus, Ukraine, and Russia was held successfully. You will find the links to the event's presentations on a variety of translation/interpretation activities and linguistic mediation at our Youtube channel Translators & Interpreters of Belarus (https://www.youtube.com/channel/UCtnyv0C8eGPLKtNEvFCiKPg/featured).

Organizers
Originator and freelance translator and interpreter Yuliya Tsimashenka supported by a group of like-minded colleagues (Olga Budaj, Ekaterina Zubchenok, Nadia Karabanovich, Olga Lojko, Helena Lojko, and Renata Khitrova). https://translationforum.by/en/contacts/.

Everyone interested in translation/interpretation as a business or hobby are welcome to III Belarusian Translation Forum that will take place in Minsk on September 14, 2019!
Great vibes and atmosphere are guaranteed. See you in Minsk!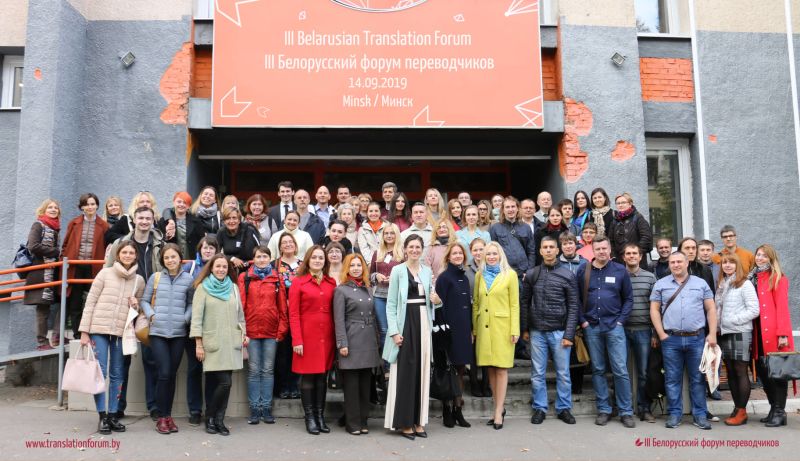 [Edited at 2019-08-05 10:30 GMT]
To report site rules violations or get help, contact a site moderator:
You can also contact site staff by
submitting a support request »
September 14, 2019: III Belarusian Translation Forum
CafeTran Espresso
You've never met a CAT tool this clever!

Translate faster & easier, using a sophisticated CAT tool built by a translator / developer. Accept jobs from clients who use SDL Trados, MemoQ, Wordfast & major CAT tools. Download and start using CafeTran Espresso -- for free

More info »
SDL MultiTerm 2021
One central location to store and manage multilingual terminology.

By providing access to all those involved in applying terminology (such as engineers, marketers, translators, and terminologists), our terminology management solution ensures consistent and high-quality content from source through to translation.

More info »