Off topic: Are you one of those noisy translators?
Thread poster: Nicole Schnell

Nicole Schnell


United States
Local time:

18:08


English to German
+ ...

Does your typing keep your family and neighbours awake?

You might try this gadget, the Thanko Keyboard Quiet cover: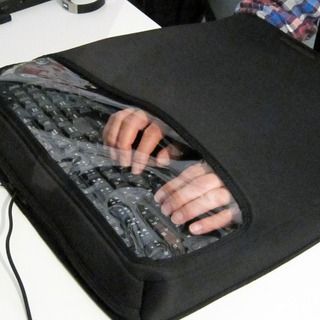 "Need a quiet keyboard? Thanko's latest keyboard cover may exactly what you are looking for! Not only reducing the noise, it will also protect your keyboard from the dust or water.

Shipping: Usually from 5 to 15 Working Days"

http://www.geekstuff4u.com/thanko-keyboard-quiet-cover.html


Also, don't you hate it when your keyboard is too cold in the morning?

Try the USB Warmer and Cooler Keyboard Set:

Keep cool in summer and warm in winter thank to Thanko USB Warmer and Cooler Keyboard. This set include thanko warmer mouse.

http://www.geekstuff4u.com/usb-warmer-and-cooler-keyboardandmouse.html





Lingua 5B


Bosnia and Herzegovina
Local time:

02:08


German to Serbian
+ ...

| | |
| --- | --- |
| What a gadget | Dec 28, 2010 |
my God, looks like one of those BDSM devices. Scary.

Ergonomic keyboards are generally quieter. It's also good that my office is in its own wing of the house so to speak, so that I don't annoy anyone and no-one annoys me. Neighbors are luckily far enough.

[Edited at 2010-12-28 17:23 GMT]

Alison Sabedoria


United Kingdom


Member (2009)


French to English
+ ...

| | |
| --- | --- |
| Only lacking the handcuffs | Dec 28, 2010 |
It's not my typing that's noisy, it's my saying/singing things out loud - the dog gets very confused. At the moment he's rolling his eyes at yet another half-baked sonnet. Yesterday I was belting out Praetorius's Puer natus / Ein Kind geborn in Bethlehem. There are so many wonderful German carols!

Anyway, the tapping and rattling sounds emitted from the office at least give the impression that there's some work going on. I can even imagine people putting on CDs of typing sound effects when they want to have a little snooze.

For warmth, I like fingerless mittens - it's the new translator chic - along with 4 layers of jumpers. I'm currently wearing so much wool, I feel like I should be baaaa-ing. =)

[Edited at 2010-12-28 12:58 GMT]

Evonymus (Ewa Kazmierczak)


Poland
Local time:

02:08




Member (2010)


English to Polish
+ ...


Halil Ibrahim Tutuncuoglu "Бёcäטsع Լîfe's cômplicåtعd eñøugh"
Turkey
Local time:

04:08


Turkish to English
+ ...


Michal Berski


Poland
Local time:

02:08


Polish to English
+ ...


Tomás Cano Binder, BA, CT


Spain
Local time:

02:08




Member (2005)


English to Spanish
+ ...


Vitals


Lithuania
Local time:

03:08




Member (2008)


English to Lithuanian
+ ...

| | |
| --- | --- |
| Hm... I should take this seriously | Dec 28, 2010 |
Well, my home folks sometimes do complain about the annoying keyboard sound they can hear behind the wooden wall, when I am on a night-project... So I should consider this. Thanks, Nicole.

However, my long fingers and snappy manner of typing will need an XXL size of this, it was quite painful to see the fingers so pressed down to the keyboard on the picture.

Nicole Schnell


United States
Local time:

18:08


English to German
+ ...


TOPIC STARTER