Term recognition in MQ 2015. How is it supposed to work?
Thread poster: Luca Tutino
Luca Tutino

Italy
Local time:

18:52



Member (2002)


English to Italian
+ ...

I have set up a termbase, I can add terms into it while translating (eg by pressing ctrl-q) and search in it (ctrl+p). I have also disabled any termbase plugin because I need to stick to specific terminology in this project.

Now I have 3 questions:

1 Why in automatic lookup and fragment assembly the terms that I have added do not always appear?
If I cannot solve this, the termbase becomes practically pointless.

2 Is there a way to alert me about the presence of a termbase term in the original segment by automatic highlight? Or should I just search the entire list in the automatic lookup each time? (which is quite unpractical)

3 What are the orange segments in the automatic lookup window (on the right side)?
The status of the window only gives a question mark and the name of my project TM. In the window that opens if I hit the "Customize appearance" context menu option, the orange color does not appear at all.
Stepan Konev

Russian Federation
Local time:

19:52


English to Russian

| | |
| --- | --- |
| Termbase properties for "New terms" | Jul 4, 2016 |
In your termbase properties, you can change settings for new terms by setting Fuzzy for prefix and No for case sensitivity. This makes your termbase recognize almost everything.
For example, if you add "word" with ctrl+Q (with Fuzzy and No settings), it will recognize and highlight "words" and even "wording" as a term assigned to "word".
Unlike the above referenced ctrl+e combination that allows you to assign settings for one term each time, changing properties for new terms allows you to do it for all future terms without the need to set them each next time.

[Edited at 2016-07-04 17:31 GMT]
| | |
| --- | --- |
| Matching: 50% and Case sens.:Permissive, now changed into Fuzzy and Permissive - still not working | Jul 4, 2016 |
I have now changed both my default and the term "aantal" properties as indicated in the title. However, when I go on the segment "Aantal vragen bij overname" the term "aantal" does not appear on my right side window, and I only have "Aantal" -> "Numero" as an orange result.

My impression is that I did not activate some term recognition pane, which I cannot find in the help.

@Mirko: Thank you about the explanation for the orange results!

None of the results in my translations results shows any symbol and in particular not the symbol for "The match comes from a regular term base." as specified in the reference url page
| | |
| --- | --- |
| Case sensitivity > No | Jul 4, 2016 |
Luca Tutino wrote:


Matching: 50% and Case sens.:Permissive, now changed into Fuzzy and Permissive - still not working



If you get a suggestion for "Aantal", but not for "aantal", then it sounds as if the problem is in fact the case sensitivity setting. As Stepan was saying, "case sensitivity" should be set to "no", rather than "permissive" (which is the default value).

As far as I remember, the automatic lookup for both TM an TB should be enabled by default... The only other thing that comes to mind is that you can get more results by clicking on the "eye" left of "Translation results", right above the auto lookup pane, but I don't think that's got anything to do with your problem...

P.S. And you're welcome


[Edited at 2016-07-04 21:48 GMT]
| | |
| --- | --- |
| Very weird... | Jul 5, 2016 |
Luca Tutino wrote:

TB activation means that the case to the left of the termbase should be selected on Project Home > Termbases and "automatically scan segments" should be selected in the Translation > Translation settings dialog, right?



Fact is, if "automatically scan segments" was disabled, you wouldn't see anything in the automatic lookup, while that's not your case, as you do see TM hits and only some TB hits...

I tried setting up a test project, and here is what I see, for instance: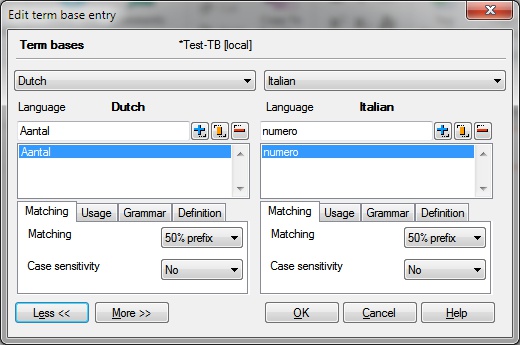 Not sure if this has something to do with some settings your PM set server-side, at this point, although I'd think that what counts should be the settings of your own local TB in this specific case...
| | |
| --- | --- |
| Solved - Kudoz to Kilgray's support!! | Jul 5, 2016 |
For some reason the checkmark was missing in the "lookup results" tab of the "customize results" dialog (right click on the results pane). I had verified this dialog many times, and I I probably missed the presence of this second tab.

Kudoz to Kilgray's support. They are always available, competent, helpful and precise. This is really a big plus for MemoQ!

[Edited at 2016-07-05 12:16 GMT]
To report site rules violations or get help, contact a site moderator:
You can also contact site staff by
submitting a support request »
Term recognition in MQ 2015. How is it supposed to work?
memoQ translator pro
Kilgray's memoQ is the world's fastest developing integrated localization & translation environment rendering you more productive and efficient.

With our advanced file filters, unlimited language and advanced file support, memoQ translator pro has been designed for translators and reviewers who work on their own, with other translators or in team-based translation projects.

More info »
SDL Trados Studio 2019 Freelance
The leading translation software used by over 250,000 translators.

SDL Trados Studio 2019 has evolved to bring translators a brand new experience. Designed with user experience at its core, Studio 2019 transforms how new users get up and running and helps experienced users make the most of the powerful features.

More info »