finnlingo wrote:
Dear Stepan,
thank you so much for your quick reply, I really appreciate that you are helping me to resolve this and learn more.
I am used to do export to xliff previously but for some reason there is no such option. I am using MemoQ 2015 with the client´s license.
See the screenshot when I press the export button in the Project view -
what should I do here?
Hovering over export there is a not "Save translated documents in their original format"
Export function gives the options on the screenshot - I tried both, both give the same kind of excel which gets first run time error and some warnings and that worries me - am I able to import it back or is it corrupted somehow.
no such option as bilingual xliff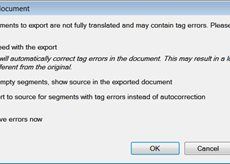 Attachment shows as a code below the post - I hope this works
Anyway, message is
Some of the documents to export are not fully translated and may contain tag errors. Please teel MemoQ how to proceed.
Option 1/2 I want to proceed with the export
here option a) For empty segments, show source in the exported document
b) Revert to source for segments with tag errors instead of autocorrection
Option 2/2 I want to resolve the errors now
Kind rgds Eija
[Edited at 2016-10-04 08:19 GMT]
[Edited at 2016-10-04 08:21 GMT]