Trados Studio 2015 does not open MemoQ mqxliff files
Thread poster: EL Cavanaugh
EL Cavanaugh


Member (2008)


English to Finnish

I have exported the MemoQ files in mqxliff format and added the mqxliff file extension in Editor xliff file, separated by colon from sdlxiff - Trados still says it doe snot recognize the file type.

Is there some other setting in Trados I am not aware of?
I asked my colleague to try to open with his Trados Sutdio 2015 and he has no problems opening the file I created.


Kindly advice what I am not seeing,
Thanks a lot.

Enote

Local time:

01:49




Member (2007)


English to Russian

| | |
| --- | --- |
| That´s exactly how I did | Oct 9, 2016 |
That´s exactly how I did. My colleague can open the very same file exported, I am not able to .

I am able to open in 2011 by changing the file extension but I would like to figure out how to open them in Studio 2015 as well.

Studio 2015 does not recognize the file type at all.

Thanks but this did not help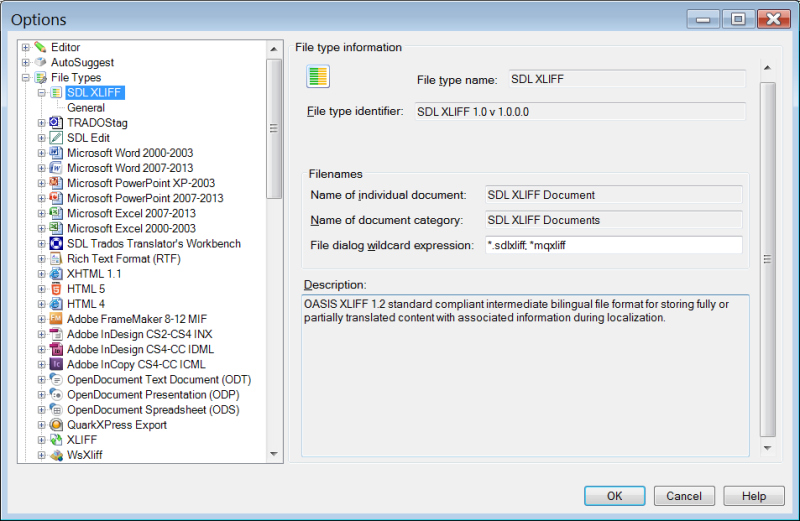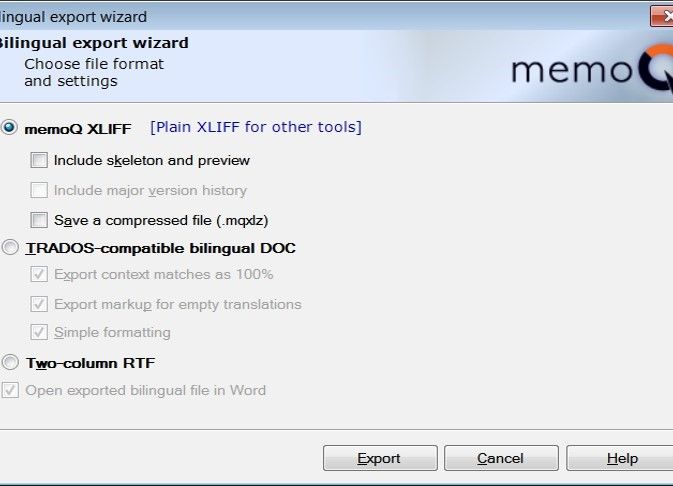 [Edited at 2016-10-09 10:42 GMT]
Click on File Types (one level higher than that on your screenshot).
You will see a list of file types on the RIGHT side.
Check the 'XLIFF: Kilgray MemoQ' box.
This will allow you to open both mqxliff and mqxlz.

On the left side, there must be 'XLIFF: Kilgray MemoQ' just below the 'XLIFF' line.
In your case, there is WsXliff, which means that the 'XLIFF: Kilgray MemoQ' is just not checked.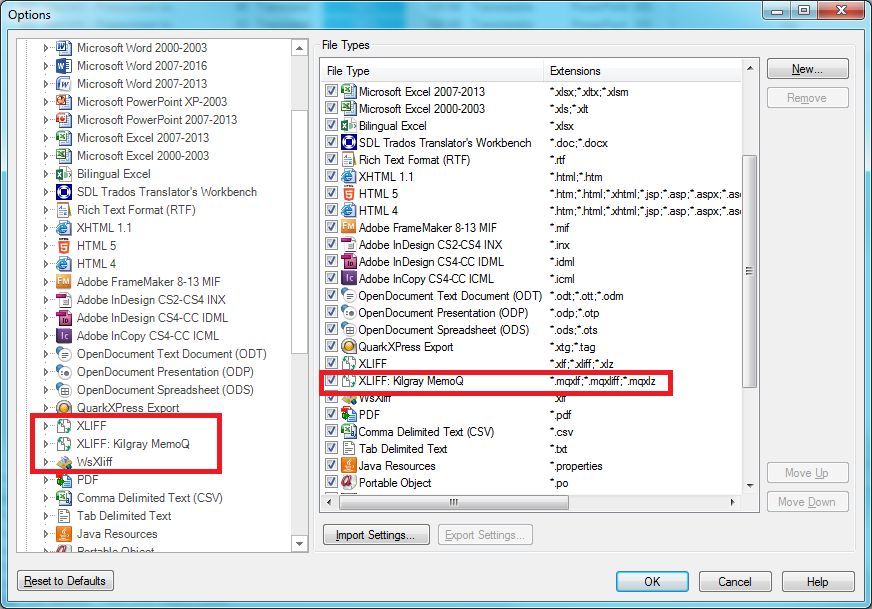 [Edited at 2016-10-09 11:25 GMT]
| | |
| --- | --- |
| where can I check that option | Oct 9, 2016 |
Dear Stephan
thank you so much for responding to me so quick.

I must not see something - how do I add that check box of mqxliff so I can add it as I not not see it here?

Appreciated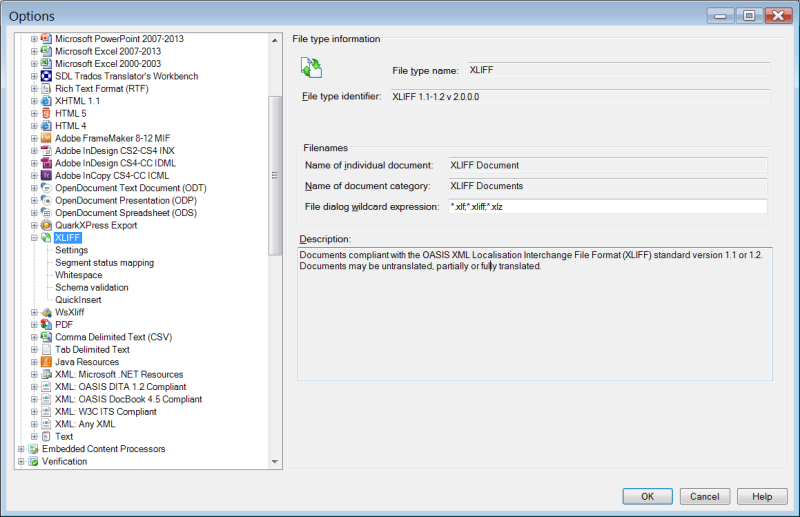 It is weird, all forums say Studio 2015 should have that but for some reason I do not have that option here, what am I missing?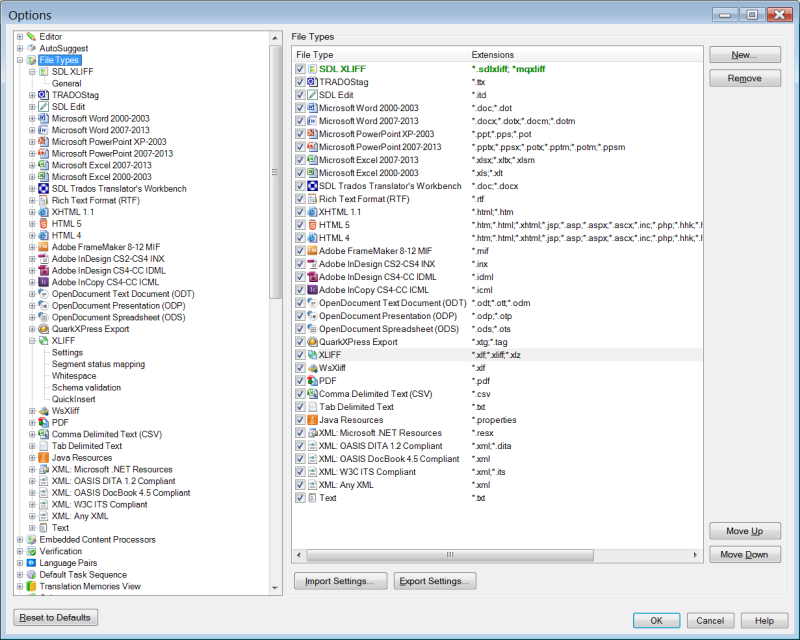 [Edited at 2016-10-09 11:51 GMT]
| | |
| --- | --- |
| Thought about that too and downloaded the plugin | Oct 9, 2016 |
Still no luck

I have contacted MemoQ, will call them tomorrow as I need to call anyway. I participated in group buy as so far I have only used the clients´s license - and did not get the confirmation mail and instructions to pay - and now the offer has expired. I do not seem to have good luck with MemoQ! Just too bad that more and more agencies are using it.
To report site rules violations or get help, contact a site moderator:
You can also contact site staff by
submitting a support request »
Trados Studio 2015 does not open MemoQ mqxliff files
SDL MultiTerm 2019
Guarantee a unified, consistent and high-quality translation with terminology software by the industry leaders.

SDL MultiTerm 2019 allows translators to create one central location to store and manage multilingual terminology, and with SDL MultiTerm Extract 2019 you can automatically create term lists from your existing documentation to save time.

More info »
SDL Trados Studio 2019 Freelance
The leading translation software used by over 250,000 translators.

SDL Trados Studio 2019 has evolved to bring translators a brand new experience. Designed with user experience at its core, Studio 2019 transforms how new users get up and running and helps experienced users make the most of the powerful features.

More info »