DTD processing error when importing TMX
Thread poster: Ana Domínguez Rodríguez
Ana Domínguez Rodríguez

Spain
Local time:

20:38




Member (2013)


English to Spanish
+ ...

Hello,

I'm importing a TMX to a local new TM I created in a server project in memoQ 2015.

The steps I followed were:

Once the project in the server is open I clicked on Settings > TM Settings > Create use/new and created a new local TM.
Then I selected it and clicked Import New to import the TMX and this error message came up: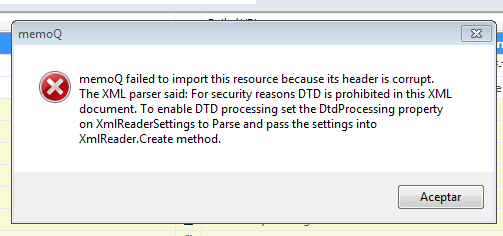 I tried converting the file to cvs but the same error applied.

The PM of the project states that other linguists could import it successfully so I don't think the file is corrupt. In my opinion it would be most likely a setup issue or that I'm following the wrong steps.

I hope someone with technical knowledge can give me some piece of advice on this.

Thanks a lot in advance!

Ana



[Edited at 2016-10-29 16:15 GMT]
Tomás Cano Binder, BA, CT

Spain
Local time:

20:38




Member (2005)


English to Spanish
+ ...

| | |
| --- | --- |
| A damaged TMX file? | Oct 30, 2016 |
As far as I am aware, a TMX is an XML file that is "well-formed," i.e. it intrinsically complies with the TMX DTD file, with no need to include a reference to that DTD within the file. To me, this looks like some kind of corruption in the TMX file.

You might want to use a TMX validation tool to check that your TMX file is well-formed. For instance, you can check this page, which also mentions tools you can use to fix the TMX in case it is damaged: http://www.maxprograms.com/products/tmxvalidator.html

Have you tried opening the TMX file with Olifant, for instance? If it opens well, you might want to save it from Olifant with a different name to make sure a clean TMX file is created. It might be worth giving it a try! I will be glad to do this step for you if you are not acquainted with Olifant. Just send me an email via Proz.com.

I hope this helps a bit!
Tomás Cano Binder, BA, CT

Spain
Local time:

20:38




Member (2005)


English to Spanish
+ ...

| | |
| --- | --- |
| Another quick thing to check before TMX validation etc. | Oct 30, 2016 |
This sounds a bit stupid, but you never know: are you sure your XML file is saved with UTF-8 encoding (as any XML file should)?

To check, simply open the Notepad (the "Bloc de notas" in Spanish), drag the TMX file onto it (or Use File - Open and browse for the file in your system), and select File - Save as... in the menu. The Encoding option should show "UTF-8". If this is not the case (it could contain ANSI or some other option), save the file as a new document with UTF-8 encoding.

I am only asking as the error message that the header is corrupt could relate to an incorrect encoding of the TMX file. Maybe it was not saved or decompressed correctly at some stage.
esperantisto

Local time:

22:38




Member (2006)


English to Russian
+ ...

| | |
| --- | --- |
| Read the message! | Oct 31, 2016 |
The message says:

…its header is corrupt.


Thus, you should look into the TMX file header to see what is wrong. A good TMX file header should look like this:
<?xml version="1.0" encoding="UTF-8"?>
<!DOCTYPE tmx SYSTEM "tmx11.dtd">
<tmx version="1.1">
<header creationtool="OmegaT" o-tmf="OmegaT TMX" adminlang="EN-US" datatype="plaintext" creationtoolversion="4.0.1_1_r9358" segtype="sentence" srclang="ru-RU"/>
<body>

[Edited at 2016-10-31 12:16 GMT]
To report site rules violations or get help, contact a site moderator:
You can also contact site staff by
submitting a support request »
DTD processing error when importing TMX
WordFinder Unlimited
For clarity and excellence

WordFinder is the leading dictionary service that gives you the words you want anywhere, anytime. Access 260+ dictionaries from the world's leading dictionary publishers in virtually any device. Find the right word anywhere, anytime - online or offline.

More info »
Anycount & Translation Office 3000
Translation Office 3000

Translation Office 3000 is an advanced accounting tool for freelance translators and small agencies. TO3000 easily and seamlessly integrates with the business life of professional freelance translators.

More info »