Pages in topic: < [1 2 3]
Reminder to all members: Don't undervalue yourself when quoting!
Thread poster: Dylan Jan Hartmann
Phil Hand

China
Local time:

14:23


Chinese to English

| | |
| --- | --- |
| The reason I think this isn't quite right | May 17 |
Daniel Frisano wrote: ...please tell me where I am wrong

...but God forbid somebody translating for $0.04 a word... outrageous!



Your point about free markets is well-taken, but I do think there's a problem with that price point, in particular for translation into English and among European languages.

The problem is this: it seems to fall between two stools. These days, automatic translation is really quite OK - you can use it for quite a lot of situations in which you want to get the gist of something.

If you need something better than rough gist, you're going to need a professional. And professionals can't live at a price point which is too low. (Of course I'm generalising, but I don't think outrageously.) If you pay a human translator 0.04, then they can't be a professional (i.e. someone who makes a living from translation) living in a language-relevant country. And I'm afraid my opinion is that if you get your translation done by e.g. a student or a non-native speaker living in a low-cost country, then you have no guarantee that you will get better results than just plugging your document into Google Translate. If you think that you can get a better result, then you've been fooled.

It's a bit like buying a second-hand car, I suppose. It's always possible that you'll find a bargain for under a thousand quid, but there are no guarantees, and you are most likely to get a rubbish old banger. Given that rubbish old bangers are given away for free over the internet these days, I find this low-paid segment slightly fishy.

(Having said that, I spent some time in that segment myself. I did it as I was breaking into the industry, on my way to a more stable price level, at which I could maintain a decent income. For me, it was effectively "trainee rates".)

There will, of course, be some exceptions to the generalisation above. But I think customers deserve to know this information. As most customers are not in our industry, they genuinely don't know; the clearest bit of information they get about what we do is the price signal.
Mirko Mainardi

Italy
Local time:

08:23




Member


English to Italian

| | |
| --- | --- |
| "This is the kind of reminder that EVERYONE in our industry needs!" - Your words | May 18 |
Dylan Jan Hartmann wrote:

Mirko Mainardi wrote:

Then we should also inform those translation agencies and clients who seem to hold a similar perception...

The difference with how Australian agencies treat you is remarkable. Now, working as a certified translator in Australia where agencies only hire certified translators, all agencies offer very high rates and treat translators professionally with high esteem. International agencies are a mixed bunch, some are good, most are like sweatshops!



Yeah, well, good for you, but since your appeal was aimed at every single translator, worldwide, I think that's something you should take into account as well. It's not just translators who devalue themselves, but several clients give them a big "helping" hand in that...

Personally, I am accredited with my national association, but I can tell you that no client/agency has ever rolled out a red carpet before me because of that... (or even just said: "Since you already passed a translation test to get accredited, we're losing ours").
Lian Pang

Netherlands
Local time:

08:23




Member (Mar 2018)


English to Chinese
+ ...

Tom in London wrote:
Kay-Viktor Stegemann wrote:

....they need quality for their own economic purposes, like selling products. And I also think that the quality market segment is growing overall.
When we laugh at very bad translations, such as this one: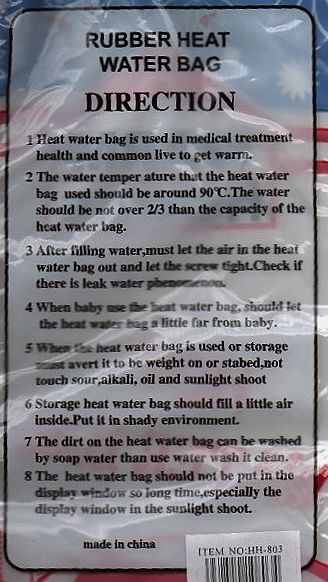 - we're laughing at a cheap, poor-quality translation of the instructions for what is probably a cheap, poor-quality product.

There will always be cheap translators for poor-quality products. They're probably becoming cheaper and cheaper.

But not all products are cheap and poor quality. There are high quality products that require translations of the very highest quality.



Once at a sushi place, I was was browsing the menu when suddenly noticed a wok called "chicken with chicken with chicken"

Guess what I ordered that day
jyuan_us

United States
Local time:

02:23




Member (2005)


English to Chinese
+ ...

Dylan Jan Hartmann wrote:

I tend to assume that the majority of the translation community are highly skilled and educated and that only the minority may be questionable. That's why I shared this!




Your assumption might be true to your language pair but might not be true to mine.

I just proofread a file translated by someone who is almost done with her master's degree in translation. It is a 300 word file. Guess what, I had to make 20 corrections.

And this case is not an exceptional one.
Pages in topic: < [1 2 3]
To report site rules violations or get help, contact a site moderator:
You can also contact site staff by
submitting a support request »
Reminder to all members: Don't undervalue yourself when quoting!
CafeTran Espresso
You've never met a CAT tool this clever!

Translate faster & easier, using a sophisticated CAT tool built by a translator / developer. Accept jobs from clients who use SDL Trados, MemoQ, Wordfast & major CAT tools. Download and start using CafeTran Espresso -- for free

More info »
SDL MultiTerm 2019
Guarantee a unified, consistent and high-quality translation with terminology software by the industry leaders.

SDL MultiTerm 2019 allows translators to create one central location to store and manage multilingual terminology, and with SDL MultiTerm Extract 2019 you can automatically create term lists from your existing documentation to save time.

More info »