Off topic: Any ferret owner around?
Thread poster: Francesca Battaglia

Francesca Battaglia
Italy
Local time:

07:26




Member (2007)


English to Italian
+ ...

Hi, long time no see..

We recently adopted a ferret from an association that saves ferrets that were abandoned or kept in very poor conditions.
My baby is called Bubo and just turned 2! He is currently an only child and then I was thinking..Perhaps he might be finding some Prozian pawn pal..



Liliana Roman-Hamilton


Local time:

22:26


English to Italian


Trudy Peters


United States
Local time:

01:26


German to English
+ ...

| | |
| --- | --- |
| Not a ferret owner either, | Jun 28, 2008 |
but I would suggest getting him/her a playmate. Make sure they're neutered, though

)

Have 3 dogs, had cats, but never a ferret. Bless people like you who get their pets from "save the ferrets" or other humane societies. All the dogs and cats I've had over the years have been either strays or adopted from humane societies. My newest addition is literally a "junk yard dog." Had obviously been abused and abandoned there. It's so rewarding!

Good luck,

Trudy

Patrice


United States
Local time:

22:26




Member


French to English
+ ...

| | |
| --- | --- |
| That is the cutest thing! | Jun 28, 2008 |
At my Gulf Island getaway, my neighbors raise alpacas and also take in ferrets. They have 6 of them and take them camping with them and let them make holes in their sofas. But I don't think the ferrets can write so being pen pals is out of the question. But if you have any questions about ferrets, I can always pass them on to Jim & Linda.

www.alpacabuybc.com

This is their url for all you animal lovers. However, there are only adorable pics of alpacas and none of their ferrets.

(Note:I am another animal rescuer, but generally dogs & cats).
Giovanni Guarnieri MITI, MIL


United Kingdom
Local time:

06:26




Member (2004)


English to Italian


Dana Rinaldi
Italy
Local time:

07:26




Member


Italian to English
+ ...


Daniel Bird


United Kingdom
Local time:

06:26


German to English


Stephanie Wloch


Germany
Local time:

07:26




Member (2003)


Dutch to German

Uee, che bello!
Nice photo, interesting thing about your slippers that show that you have a great sense of humour.
You have to, I guess, cause they are supposed to be true rascals.;-)
Unfortunately I never met one, but I know a lot of fascinating stories about their wild cousins and I admire their cleverness and creativity.


Buon divertimento col tuo birichino!!
Stefania

[Edited at 2008-06-30 07:59]

Francesca Battaglia
Italy
Local time:

07:26




Member (2007)


English to Italian
+ ...


TOPIC STARTER
thank you all

I see the slippers had a great succes! They are my favourites..but..that was my boyfriend! PENGUIN FROM THE FRONT...PENGUIN FROM THE BACK! and the pijama was matching



Bubo, my ferret, is a cute little boy..neutered...he's funny and playful but he's also very sweet, he loves to be cuddled and then he falls asleep on my lap, watching into my eyes as I scratch his belly


and he's so clumsy! He keeps falling off from the bed or from the couch when we are at play! because he runs backwards, he doesn't see where he's going and then..BAM...he's not on the bed anymore..ahha...

you deserved another pic!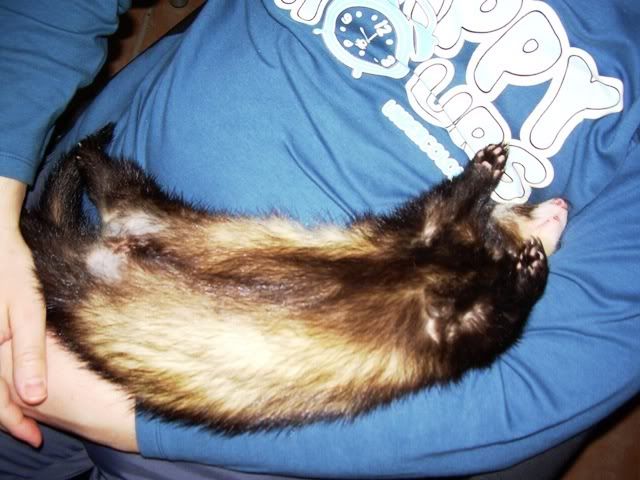 juvera


Local time:

06:26


English to Hungarian
+ ...


Tomás Cano Binder, BA, CT


Spain
Local time:

07:26




Member (2005)


English to Spanish
+ ...

| | |
| --- | --- |
| Ferrets and the rest of life... | Jul 3, 2008 |
This is just curiosity really, as having a ferret would be something really uncommon in Spain: Are ferrets interested in other life present in gardens, like lizards, birds, earthworms, etc?

I am quite happy with the birds (specially blackbirds and turtle doves) being raised in my garden and a ferret would probably do the same damage as a cat?

Nicole Schnell


United States
Local time:

22:26


English to German
+ ...


Francesca Battaglia
Italy
Local time:

07:26




Member (2007)


English to Italian
+ ...


TOPIC STARTER
| | |
| --- | --- |
| moles, worms and other vivid things :) | Jul 3, 2008 |
First of all, thank you again all for the compliments, Bubo is saying "FERRENK YOU"..hiih...
My baby is actually scared of any living thing, cats, birds, not to say dogs..............He just discovered snails and I must say he seems pretty interested in licking them but he's not allowed..
Ferrets to live long and well need a very balanced diet which means they shouldn't be eating lizards or bugs..Although in the past they were created and employed to hunt rabbits, but this is not legal now, luckily.
They are carnivores and they should be fed with a mixture of dry food and fresh white meat, possibly with bones. The bones will enforce the gums an prevent the formation of plaque, which is very dangerous and may bring wide infections of the mouth, leading to heart attacks.

I'd say ferrets are very playful and social with other animals and perhaps they could they to play with your doves. I wouldn't trust letting a ferret with rodents or birds..Although if they are raised together from a very early age, they will become as brothers and sisters. I know of a ferret in love with the cat of the house, he sleeps on top of the cat and follows her everywhere!
I won't let any ferret to be free to run in a garden or in a street without a lace, they are very small and love to sneak in the smallest holes, if they ran away, they wouldn't be able to find the way back home, and if not rescued on time, they would be dying in a very short amount of time, a matter of days, hit by cars or simply for hunger (used to be fed, they wouldn't know how to provide for their own food).

They looove to dig, though! I'm sure they will hunt down your moles but your garden would still look like a piece of Swiss cheese

ahha

But I also have to say that they are so smart, and loving! They love to be kissed and cuddled and they show their love for you just like a baby would do. They are so human, you wouldn't believe it..
To report site rules violations or get help, contact a site moderator:
You can also contact site staff by
submitting a support request »
Any ferret owner around?
BaccS – Business Accounting Software
Modern desktop project management for freelance translators

BaccS makes it easy for translators to manage their projects, schedule tasks, create invoices, and view highly customizable reports. User-friendly, ProZ.com integration, community-driven development – a few reasons BaccS is trusted by translators!

More info »
Across Translator Edition and Across Language Server v7
Meet our brand new version and speed up your translation processes!

Deliver high-quality translations with our fast and secure solutions. You can also integrate machine translation and other third-party systems. The Across Translator Basic Edition is free for freelancers. Start now and discover new business opportuniti

More info »