Off topic: Travel in Portugal
Thread poster: erika rubinstein
erika rubinstein

Local time:

21:35




Member (2011)


English to Russian
+ ...

Dear colleagues,
I am travelling from Lisbon to Potimao on Dec., 2. I need to get a bus to Portimao. I found a homepage of Algarvebus, but it is not possible to understand anything on it. Maybe someone from Portugal knows how I can get from Lisbon airport to Portimao. I arrive at 3.30 p.m. Is there any possibility to go directly from the airport or to which station I have to go to take a bus, and when the bus goes.
Hello, Erika,

I'm currently in Aveiro, 2 h northwest of Lisbon, but I've been to Lisbon. The place you're looking to go is Portimão. If you go to maps.google.com, you can set the Lisbon Airport (Lisbon Portela) as a starting point and Portimão as the destination point. From what I see, the red line metro (linha vermelha) will take you there.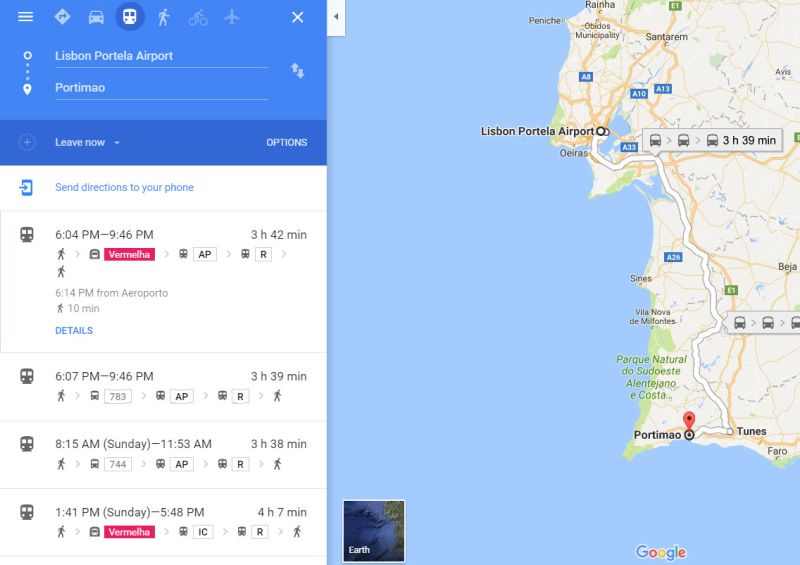 I hope the above helps. If not, send me an email and I'll try to get more info for you.

Cheers.

Mario

Zuzana Greksakova

Slovakia
Local time:

21:35




Member (2016)


English to Slovak
+ ...

| | |
| --- | --- |
| bus to Portimao | Nov 19, 2016 |
Hi Erika,

you need to take the red line (metro) and change to blue line on Sao Sebastiao, then get off at Jardim Zoologico. The buses to Portimao leave from a station called Sete Rios (just above the metro exit). You can check the timetables at http://www.rede-expressos.pt/

Cheers,
Zuzana
I second Zuzana, the best thing is to get a bus at the bus station in Sete Rios, just as Zuzana described. Besdies of Rede Expressos company, there is Eva, shorter travelling time as they drive more direct and stop less.
No need to worry bout getting tickets in advance, busses leave in intervals of one hour in the morning and later afternoon. Where the number of passengers exceeds the seating (on holiday seasons), they arrange a second bus for the same timing.
All you need to be clear about is where you want to step out: in Portimao itself or Praia da Rocha.
erika rubinstein

Local time:

21:35




Member (2011)


English to Russian
+ ...


TOPIC STARTER
erika rubinstein

Local time:

21:35




Member (2011)


English to Russian
+ ...


TOPIC STARTER
erika rubinstein wrote:

I have seen the homepage. Do they start also from "Sete rios"?
And thanks a lot to the others too.



What is there in Portimão?

I'll be in Lisbon for three months next year and I want to spend some time traveling around Portugal, Spain and Europe.

Obrigado!

Mario
To report site rules violations or get help, contact a site moderator:
You can also contact site staff by
submitting a support request »
Travel in Portugal
memoQ translator pro
Kilgray's memoQ is the world's fastest developing integrated localization & translation environment rendering you more productive and efficient.

With our advanced file filters, unlimited language and advanced file support, memoQ translator pro has been designed for translators and reviewers who work on their own, with other translators or in team-based translation projects.

More info »
Protemos translation business management system
Create your account in minutes, and start working! 3-month trial for agencies, and free for freelancers!

The system lets you keep client/vendor database, with contacts and rates, manage projects and assign jobs to vendors, issue invoices, track payments, store and manage project files, generate business reports on turnover profit per client/manager etc.

More info »