Off topic: Be alert to go to the Republic of South Africa
Thread poster: Soonthon LUPKITARO(Ph.D.)
Soonthon LUPKITARO(Ph.D.)

Thailand
Local time:

14:48




Member (2004)


English to Thai
+ ...

I was robbed in Johannesburg, South Africa on my 7th day tour over there, on July 7, 2018.

I had been aware of the security issues in Africa and I was reluctant to travel in this region until 7 days before departure. On the last I bought an English travel guidebook of an eminent publishing company and decisively determined that safety was not that much serious.
I went to this country as solo due to stimulus of one web-based tourist events. The events promote how to seek hosts in the destinations and how to stay with them conveniently etc.

To be familiar with the local situations, I first stayed 2 night in Pretoria suburb, 20 Km. from the urban zone. Next I dared to move in a Metrorail urban train to check in at a hotel in Johannesburg. When I entered George Goch Station and was about to transfer to another train to Faraday Station, a Black Zulu woman said with broken English and body language that I would have been robbed or killed to change the station platform as well as to travel alone to that station. She finally arranged one Black man to lead me to Johannesburg Park Station. The man walked very quickly through crowded markets, flea markets and other to lead me to the prospected hotel. I was not robbed on that July 4th.
The hotel manager and staffs told me about what to be alert while staying at the hotel, and suggested me to go for money exchange and shopping at Carlton Centre. They told me not to take photos on streets, not to carry much cash and passport, not to stray about at nights etc. After 2 nights I move to stay at Soweto, the home area of Nelson Mandela, the former President of this country. I was harassed and chased there but I was not robbed.
On the next day, July 7, I moved back from Soweto to Johannesburg in a minitaxi. After arriving at the Johannesburg Park Station, I walked back to my hotel and was robbed among so many passers-by on one corner of Carlton Centre, the large shopping center in that CBD. No one went to help me or to report the crime to the police car on the opposite corner.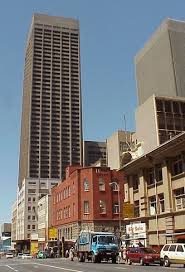 After coming back to my home country, I found that my credit card was exploited to withdraw cashes out of ATM machines many times: I wonder how thieves could know the 4-digit password of that card while I neither remembered no withdrew the money before, both domestically and abroad.
The Johannesburg Police and the hotel reacted exhaustively on my incidence. I spent many days before my departure to my home country to investigate about newspaper archives, history and records of assaults to solo tourists there. I found that all urban areas of South Africa have many records on robbing of tourists. I also confirmed that robbing occurs to the International Airport, urban trains, metro buses, residential areas, markets and any other places all around the country. Local people perceive that robbing is a daily event and quite a commonsense.
I just realized that this country is not suitable for tourists to travel solo and pay less but become victims of local crimes. Tourism in this country is located in a dimension largely different from other countries of the world.
One South African friend of mine sent a post message regarding robbing there and raised two typical examples to proof how the South African Government gains benefits out of crimes: VAT and taxes collected from the armed security firms that act instead of local polices, and taxes collected from car vendors and insurance firms that sell new cars to ones who have been robbed before.
As a translator and interpreter, this case is rare but it is necessary to be aware that extraordinary environments exist and they can possibly harm innocent travelers.

Dr. Soonthon Lupkitaro
Bangkok Thailand
Liviu-Lee Roth
United States
Local time:

02:48


Romanian to English
+ ...

I traveled solo, hiked solo the Table Mountain, Devil's Peak, Lion's Head. Never had any problems. The only issue, somebody stole my credit card credentials and tried to buy a laptop online. My credit card issuer called me to confirm the purchase and cancelled that card.

I loved South Africa.

Lee
Tom in London
United Kingdom
Local time:

07:48




Member (2008)


Italian to English

I've heard similar things about many other cities in other places, São Paulo for example. A friend of mine who went there for work was advised not to leave the hotel. These problems are the result of social inequality, which you will find in most countries. Wherever you go in the world you should not dress or act like a tourist. Tourists are very easy to identify and every city in the world has crooks hanging about waiting to pounce on tourists. Here in London I've seen them hanging around the bus terminals where people arrive from the airports. One trick they play is to offer themselves as taxi drivers.

[Edited at 2018-07-30 07:14 GMT]
Tina Vonhof
Canada
Local time:

00:48




Member (2006)


Dutch to English
+ ...

It may be that some countries have more security issues than others but you can be robbed wherever you go, especially when if it is obvious that you are a tourist. Over the years I have translated several police reports for Canadians or Americans who were robbed in the Netherlands, most often at train stations, other crowded areas, or waiting in line somewhere. The only thing you can do is to keep your eye on your belongings, don't wear or carry anything that is obviously expensive, for men not to put your wallet in your back pocket, for women to keep a tight hold on your purse, and above all don't let anyone distract you.
Tom in London
United Kingdom
Local time:

07:48




Member (2008)


Italian to English

It's easy for an ill-intentioned person to identify a tourist. Tourists will be wearing "holiday" clothes, will look excited by their surroundings (whereas the locals will ignore them) and will be draped with cameras. Or they may be observed in places where "city bus" tours stop. On the London Underground they can be seen chattering and looking around as though the London Underground were some sort of fun experience.

So don't be a tourist. The more savvy visitor to London dresses "down", does not wear a bum bag (aka fanny pack), and has a blasé expression at all times.

Not that London is inherently dangerous but like all big cities, it does have a criminal underclass who are always waiting to pounce on the unsuspecting. I once had my wallet stolen in a café in Paris, from **inside my jacket** which I had hung on the back of my chair. I only discovered that I had been robbed when I got up to go. Some of these thieves are very skilful!

[Edited at 2018-07-30 15:34 GMT]
IrinaN
United States
Local time:

01:48


English to Russian
+ ...

| | |
| --- | --- |
| South Africa is on my bucket list | Jul 30 |
But I wouldn't care about "local situation" in some shady residential areas and local trains, and I would not travel there on some stimulus invitation... I don't mean to be mean or play a rich b*, but there are good reasons to be exceptionally wary about certain places. When I was younger and much poorer:-), and got to the other side of the iron curtain so hungry to see the world, I traveled very modestly but to the places much better equipped for that than South Africa. Or visited friends.

I love to travel solo - no one to wait for, no problems to have lunch or coffee when and where I want to, a good chance to shut up for a long time after a long and hard interpretation assignment:-) and enjoy the surroundings in silence, no problem to change plans on a spot, nice brief chats with occasional pleasant strangers. I was perfectly comfortable in Paris, Rome, Venice, Madrid and Barcelona, Tokyo and Kyoto, Brussels, Prague, Malta and many other places and countries. No night life, of course, save organized night tours from the hotels, but after starting my day of exploring at 7 am, I would crawl back to my room around 7-8 pm, barely alive, feet swelling... what night life?
- I'd shower, give my feet a cold wrap and a relaxing mint lotion:-), and crash to be ready to go next morning. Theaters may be the only exception. The only place I was robbed 14 years ago was Amsterdam! and it was bad, really bad - laptop, some unique jewelry (Hawaiian black pearls, Mayan handmade silver and turquoise bracelet, diamond earrings among other things, I was carrying it back home after a very long stay in Russia with my late mom), Russian passport, some important papers and some money! Thank God I was on my way back to the US and my US passport was in my crossbody bag. I was distracted for a second, the other creep jerked my tote away from me and jumped out when the train door opened. They knew the exact time to a second! Lots of people on the train and the thieves didn't care... The tote was found by the police at the next station and all documents were intact. My friends picked my passport in the Russian Consulate in Hague! All because I played a cheapskate - since I stayed in B&B next to the Central Train Station, which was very nice and had 2 red resident cats (they sealed the deal:-)) , I decided to save on my cab to the airport. With those things with me! What an idiot I was! with my abilities to waste money on silly things... Oh well, too late to cry:-) But I've been in Amsterdam again since:-) BTW, being a care-free American, I had my cell phone clipped to my jeans on the side in the open upon first arrival, and I remember round eyes and warning gestures of locals and airport police pointing at my waist. One Dutch gentleman had finally approached me and explained the deal, I thought something was wrong with my wardrobe or something.

Next spring I'll be staying solo in Cape Town in Waterfront Marriott that provides shuttle services from the airport, and pack my trip with Viator tours - vineries, safari, coast sightseeing, swimming with sharks in a cage - check it out! That would be some item to check on the bucket list! So far I only did snorkeling and deep sea fishing in Hawaii and Mexico. I picked the hotel where Viator vans with guides will be picking me up and delivering back to the door but otherwise many people on TripAdviser claim that nearby large tourist and shopping areas are quite safe even at night. Again, I don't care about nights. Also, Cape Town and Kruger park are malaria-free.

About credit cards - for places like South Africa or Mexico, for example, I have one special "my personal travel" Visa with a very small limit, only $500, I put a freeze on increasing it and at least I won't lose any more, and it can not be used for cash. I can raise the limit in a second, if needed in emergencies. And, of course, I check the account daily. I can always pay it online on the same night from the hotel to have the money on it again. Everything else is usually prepaid with bonuses using serious cards that stay at home. I just need to guard my debit card, also with a very small balance on that account, for petty cash. And no more serious jewelry on vacations!!

Life is short! Happy travel everyone!
Soonthon LUPKITARO(Ph.D.)

Thailand
Local time:

14:48




Member (2004)


English to Thai
+ ...


TOPIC STARTER
| | |
| --- | --- |
| Asians in South Africa | Jul 30 |
As an Asian race like me in South Africa, it is not easy to disguise and distract robbers. An elderly Asian has white hair and brown skin. In Soweto near Johannesburg I was shouted with word "Nihao." The Black understands that I am from China and chased me until the police car.
Tour guidebooks says we must pretend to be a local person e.g. use cheap clothes, use black trash bag instead of shopping bag etc. These instructions are insufficient. Robbers are too skillful.
I think that solo tourists should review again before going somewhere they are not familiar with. Now Europe or America is still risky for travelers and innocent translators who seek time out.

Soonthon Lupkitaro
Soonthon LUPKITARO(Ph.D.)

Thailand
Local time:

14:48




Member (2004)


English to Thai
+ ...


TOPIC STARTER
| | |
| --- | --- |
| Wisdom out of travelers | Jul 31 |
I especially love IrenaN's writing since those give a number of points to take care. I went to many places without any troubles and I was supposed to have privileges as tourists. In fact, tourists have several issues to be serious. Cheaper flights, hotels, meals and others may not be substituted for physical safety and security.
One classic Japanese novel says "Hardship of a traveler" but I just really agreed when I suffered from tourism.
To report site rules violations or get help, contact a site moderator:
You can also contact site staff by
submitting a support request »
Be alert to go to the Republic of South Africa
SDL MultiTerm 2019
Guarantee a unified, consistent and high-quality translation with terminology software by the industry leaders.

SDL MultiTerm 2019 allows translators to create one central location to store and manage multilingual terminology, and with SDL MultiTerm Extract 2019 you can automatically create term lists from your existing documentation to save time.

More info »
BaccS – Business Accounting Software
Modern desktop project management for freelance translators

BaccS makes it easy for translators to manage their projects, schedule tasks, create invoices, and view highly customizable reports. User-friendly, ProZ.com integration, community-driven development – a few reasons BaccS is trusted by translators!

More info »