Pages in topic: [1 2] >
Off topic: Obnoxious email of the year?
Thread poster: Michael Beijer
Michael Beijer

United Kingdom
Local time:

14:05




Member (2009)


Dutch to English
+ ...

So this lovely summer afternoon here in Hastings, I found the following obnoxious email in my inbox, which I thought I would share with you, as I know you all probably have similar strange stories to share about how downright rude people can be these days, as our lives become ever more digital and disconnected. So here is what I found in my inbox just now, completely out of the blue and apropos of nothing: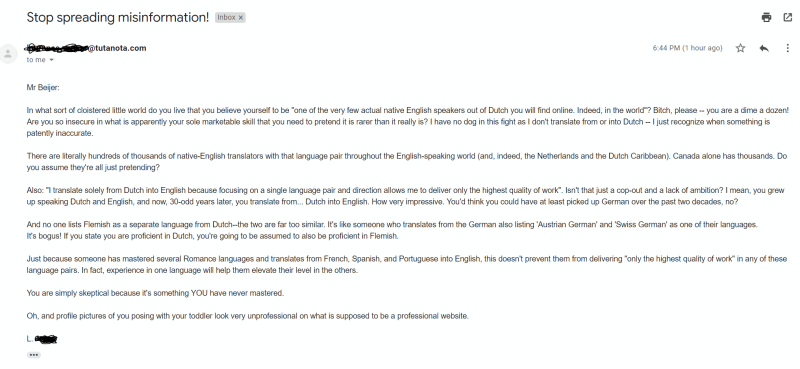 ~~~

And my response:



Stop spreading misinformation!Inbox

XXXXXXX@tutanota.com
6:44 PM (1 hour ago)
to me

Mr Beijer:

In what sort of cloistered little world do you live that you believe yourself to be "one of the very few actual native English speakers translating out of Dutch you will find online. Indeed, in the world"? Bitch, please -- you are a dime a dozen! Are you so insecure in what is apparently your sole marketable skill that you need to pretend it is rarer than it really is? I have no dog in this fight as I don't translate from or into Dutch -- I just recognize when something is patently inaccurate.

There are literally hundreds of thousands of native-English translators with that language pair throughout the English-speaking world (and, indeed, the Netherlands and the Dutch Caribbean). Canada alone has thousands. Do you assume they're all just pretending?



Wow, where to start? Nice to meet you too, Mr/Mrs/Ms, XXX. Are you so sure there are 'literally hundreds of thousands of native-English translators with that language pair throughout the English-speaking world'? I seriously doubt that. That's about as categorical as my own 'patently inaccurate' tagline. I've been working in the Dutch into English market now for around 20 years, mostly in the European market, and in fact, the world I work in is quite cloistered. What my tagline is meant to indicate is a particular problem in my language pair where there are a ton of Dutch people offering their services as Dutch into English translators, whereas they really ought to stick to English into Dutch, because Dutch is obviously their native and stronger language. Almost every day I am asked to proofread something translated by one of these people into what they think is English, but is in fact Dunglish.



Also: "I translate solely from Dutch into English because focusing on a single language pair and direction allows me to deliver only the highest quality of work". Isn't that just a cop-out and a lack of ambition? I mean, you grew up speaking Dutch and English, and now, 30-odd years later, you translate from... Dutch into English. How very impressive. You'd think you could have at least picked up German over the past two decades, no?



It's not a cop out, it's just the way I work: I translate from Dutch into English, exclusively, because my Dutch isn't good enough, and I prefer focusing on doing one thing well. Also, 99% of the translators I have met who claim to translate both ways, probably shouldn't be doing so. They are almost never really as good in both directions.

As to whether I should have picked up another language along the way, in addition to (good) English and (rusty) Dutch, I actually speak pretty good Spanish, and German. However, I have never felt the desire to start translating out of either of them. There has been no need. I'd much rather learn something new and interesting such as coding (if I had the time), or focus on improving my skills as a patent translator, which is something I took up a few years ago and am now doing quite a lot of. Or, spend time with my family...



And no one lists Flemish as a separate language from Dutch--the two are far too similar. It's like someone who translates from the German also listing 'Austrian German' and 'Swiss German' as one of their languages.
It's bogus! If you state you are proficient in Dutch, you're going to be assumed to also be proficient in Flemish.



Yes, I am fully aware that the distinction is artificial. However, if you knew anything about my language pair, and the particular market I work in, you would know that there is actually a VERY big difference between 'Dutch Dutch', and Belgian Dutch. I list 'Flemish' because the type of clients I work for do care about this, and have quite a few Flemish documents they would like to have translated, but by someone who is fully aware of all the differences, as I am. Not that I'm even great at it yet as I am still learning all the weird and wonderful things te Belgians like to to to Dutch.



Just because someone has mastered several Romance languages and translates from French, Spanish, and Portuguese into English, this doesn't prevent them from delivering "only the highest quality of work" in any of these language pairs. In fact, experience in one language will help them elevate their level in the others.

You are simply skeptical because it's something YOU have never mastered.



Perhaps. However, my problem is not so much with people who translate e.g 'from French, Spanish, and Portuguese into English', but rather with people who translate 'from French, Spanish, and Portuguese into English, and vice versa'. Unless you're some kind of genius, you just aren't going to be as good in all directions.



Oh, and profile pictures of you posing with your toddler look very unprofessional on what is supposed to be a professional website.



Really? I think a picture of a translator with their kid, or dog, or parrot, looks perfectly professional. Apart from your lovely email this afternoon, I have never heard anything other than, 'Oh, what a lovely daughter you have, you must be a very happy father', so I will merrily continue posting funny pictures of myself with my daughter, wife, dog, or even one of my two goofy cats. Who knows, I might even use one of those silly cartoon pictures some day. In case you hadn't noticed, translators are a funny bunch, and it is perfectly acceptable for us not to pretend to be corporate and slick. Some of the best translators I know have ridiculous profile pictures and extremely goofy websites. It's part of what makes our profession so great: the freedom to be yourself.

Nice to meet you, whoever you are.

Michael




[Edited at 2018-08-02 22:33 GMT]

[Edited at 2018-08-03 10:04 GMT]
Hilary McGrath

France
Local time:

15:05




Member


French to English
+ ...

IrinaN
United States
Local time:

08:05


English to Russian
+ ...

| | |
| --- | --- |
| Soon I'll be next on the list of the emailer:-) | Aug 2 |
Dear Michael,

I am in the process of restoring my old nick and profile, and purchasing the membership afterwards. My picture will represent one of my beloved cats, a different one since my darling Kuzya, whose most handsome red and white face represented me here for years, has been walking the rainbow for many years now.

People who are worried about losing a job to a picture of a child or a cat must be really insecure or just unhappy. Let them sit next to me and do a real-time simo on an unexpected (of course) loss of one of the ground antennas during the first 5 seconds of the space flight, through the RF noise and at a speed of a TV anchor, and then we'll talk about cat pictures... Just like you, I might replace it once in a while with my own in steel-tow boots and a hard hat on the launch pad, but cats are so much more fun. All three of them.

Dear haters, what's in your wallet?
Tom in London
United Kingdom
Local time:

14:05




Member (2008)


Italian to English

Kevin Fulton

United States
Local time:

09:05


German to English

| | |
| --- | --- |
| Tone seems familiar | Aug 2 |
About 20 years ago there was a translator who would send unprovoked missives similar to the one you posted. Over time, due to his antisocial behavior, he was banned from a number of translators' sites, including this one. Some people just like to pick fights for unfathomable reasons.
Michael Beijer

United Kingdom
Local time:

14:05




Member (2009)


Dutch to English
+ ...


TOPIC STARTER
Catherine Howard
United States
Local time:

09:05


Portuguese to English
+ ...

Wow, have you got class, Michael! I doubt I would've given the time of day to this troll, but if I did, I don't know if I could be as civil as you.

You clearly understand, as the troll does not, that languages are more than just a collection of words; they are also identities. It matters to many people what their language is called. Even with the same terminology, two different labels may be applied to a language for cultural, historical, political, and ethnic reasons. Flemish and Dutch are just one of many examples.

Keep on doing exactly what you're doing and pay no attention to those who, as we used to say, got up on the wrong side of the bed this morning.
Daryo
United Kingdom
Local time:

14:05


Serbian to English
+ ...

| | |
| --- | --- |
| Possibly an alumni of the | Aug 2 |
Trump University training in how to make friends?

I usually don't bother replying to that kind of emails, so no point in sending the next "love letter" to me ....

@ Michael Beijer

I personally wouldn't put any picture, but whatever picture you want to put, it's your choice, I can't see any valid reason for such hysterical reaction.

That email is not even particularly well written, nowhere the same level as say

"I never forget a face, but I will make an exception for you"

so there is not even entertainment value in it ... will never make it to an anthology of insults, just low-level nuisance to be ignored.
Michael Beijer

United Kingdom
Local time:

14:05




Member (2009)


Dutch to English
+ ...


TOPIC STARTER
Tina Vonhof
Canada
Local time:

07:05




Member (2006)


Dutch to English
+ ...

Michael Beijer wrote:

Tom in London wrote:

Was that email from a Proz member?

I tried searching for his name here on the site, then tried Googling it + "proz.com", but no luck. He did say sth about living in Canada.

Michael



Thousands in Canada, eh? If the writer had checked, he would have found that there are about half a dozen Dutch to English translators registered in all of Canada. There may be a few more non-registered ones but not many. And I'm sure the same applies to the rest of his fake information.

How sad, that someone has nothing better to do than attacking other people for doing what they themselves can't. In my experience, when people lash out at you like that, it's almost always due to jealousy. Kudoz to your restrained response, Michael!
Angus Stewart

United Kingdom
Local time:

14:05




Member (2011)


French to English
+ ...

| | |
| --- | --- |
| Just let it wash over you | Aug 3 |
This obnoxious person is not worth bothering about. They clearly have too much time on their hands that they choose to get worked up in a lather over other people's marketing, when any sensible person who did not like what they read would simply move on.

The comments they make indicate to me that it is someone who knows very little about how translation and languages in general work. I am very aware of just how rare the Dutch - English combination is, since at one time it was my aim to break into that market. When I did finally get myself a place at University to study Dutch the course got scrapped at the last minute. The reason given by the University was that there were too few students to justify running it!

If it is any consolation to you, I am currently having my own spat with an irritating uninvited e-mail correspondent. Unlike your person who is now giving you radio silence, this person has got the bit between their teeth and just won't give up, despite my having asked them repeatedly to stop contacting me and to delete all record of my e-mail address. However, they have seriously slipped up, because I now know their (business) identity and as they have committed a breach of GDPR they are getting slapped with a complaint to the Information Commissioner. What did we ever do wrong to merit the attention of such people?

Finally, I can assure you that you give the impression of being a very professional person on proz, picture or no picture. Just ignore what this ignorant person has said and try to forget about it.





[Edited at 2018-08-03 23:08 GMT]

Kay Denney

France
Local time:

15:05




Member (Apr 2018)


French to English

Having had to "proofread" many Dunglish texts, I'm right with you. The Dutch generally have a very good level of English, however they fall short of being able to produce polished marketing texts, as do the vast majority of foreigners. I remember proofreading a brochure. The boss had called on a PR firm to write the blurb in Dutch for him, but then translated it himself... and he was upset to see the extent of my corrections!

I too speak several different languages but only translate from French. When I spend ages untangling very subtle prose, I know it would be presumptious to translate from any of the other languages I speak, in that I am only aware of the subtleties because of living and breathing the language. Working as an in-house proofreader, I often had to correct stuff by translators living elsewhere than France who just didn't speak the language well enough to pick up certain nuances.
I remember at university, we had to have a minimum of 14/20 if we only had one source language, and those with more than one source language only had to achieve 12/20. I no longer worked as a PM by that point but if I had, I would have hired only translators with a single source language from then on.

So your tagline may come across as arrogant but if you're prepared to take up the challenge when clients expect work of "native" standard, that's entirely on you.
Just recently a client commented on mine ("creative flair in translation"), saying basically that it was an ambitious thing to promise. He sent me a beautifully written text that definitely needed creative input in translation and I made sure to do the file justice.

As a woman I wouldn't use a pic of me with my children, but for a man it's great, it means he has a very obvious source of motivation to earn a decent amount of money without burning out!

Pity the poor person who has nothing better to do in life than send such sad missives out to people they obviously don't even know.
Fiona Grace Peterson

Italy
Local time:

15:05




Member


Italian to English

Sorry you had to receive an email like that - the person who wrote it clearly has serious issues. Not to mention that last time I checked, translators were free to market themselves any way they choose.

I remember getting an email a while back from a female Proz member living in Canada (not sure if she's still on this site but quite frankly can't be bothered to check) saying "You do know that the red "P" on your profile doesn't mean anything, right? Just sayin'." I didn't even bother to reply.

Take it as a compliment - people are quite obviously envious of your skills!
Michael Newton

United States
Local time:

09:05




Member (2003)


Japanese to English
+ ...

Jennifer Forbes

Local time:

14:05




Member (2006)


French to English
+ ...

Pages in topic: [1 2] >
To report site rules violations or get help, contact a site moderator:
You can also contact site staff by
submitting a support request »
Obnoxious email of the year?
Protemos translation business management system
Create your account in minutes, and start working! 3-month trial for agencies, and free for freelancers!

The system lets you keep client/vendor database, with contacts and rates, manage projects and assign jobs to vendors, issue invoices, track payments, store and manage project files, generate business reports on turnover profit per client/manager etc.

More info »
SDL Trados Studio 2019 Freelance
The leading translation software used by over 250,000 translators.

SDL Trados Studio 2019 has evolved to bring translators a brand new experience. Designed with user experience at its core, Studio 2019 transforms how new users get up and running and helps experienced users make the most of the powerful features.

More info »