TextMaker
Thread poster: Samuel Murray

Samuel Murray


Netherlands
Local time:

06:44




Member (2006)


English to Afrikaans
+ ...


SITE LOCALIZER
[Following on from the thread "Which Mircrosoft Package should I get?".]



Samuel Murray wrote:

[Ashampoo Office is] essentially a rebranded version of

TextMaker

from the German company SoftMaker, and TextMaker is free.



Well, one thing that endears me to TextMaker is that when you install it, you get to choose between ribbon interface and menu/toolbar interface: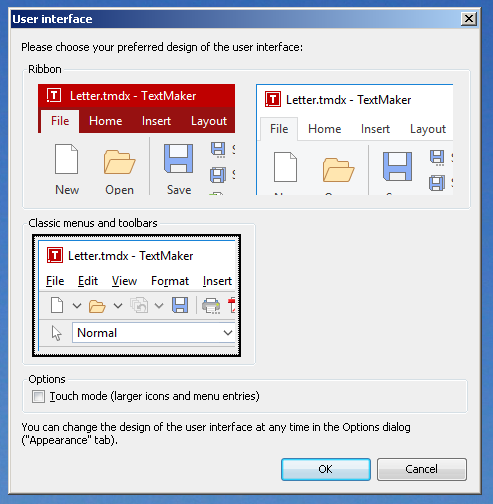 ...and the menu/toolbar interface does allow for customising the toolbars, just like in Word 2003. I haven't tested it extensively, but it looks like a comprehensive program.

The file format is TMDX, which is a zipped format and uses the Microsoft Office 2010 schema, and although a TMDX file isn't a "Word 2010" file, it may be that CAT tools that can handle DOCX can also handle TMDX. The earlier file format, TMD (a binary format), was used in TextMaker 2006 to 2016. Although TextMaker can open both DOC and DOCX files, it can only save it as DOCX (2016) and not as DOC. When I open a TextMaker generated DOCX file in Word 2003, it identifies it as "Word 2007" and not as "Word 2010" or "Word 2016" (which it is capable of doing), so this may indicate that TextMaker's DOCX files are Word 2007-compatible.

Does anyone here use TextMaker or know of colleagues that use it?
To report site rules violations or get help, contact a site moderator:
You can also contact site staff by
submitting a support request »