Problem with xml files
shinken
Brazil

Didier Briel

France
Local time:

22:20



Member (2007)


English to French
+ ...

| | |
| --- | --- |
| Filter used? | Jul 11, 2016 |
shinken wrote:
I'm having a problem with all the xml files I export from OmegaT - I can't open them. They show the following error message when I try to import them back to Infix: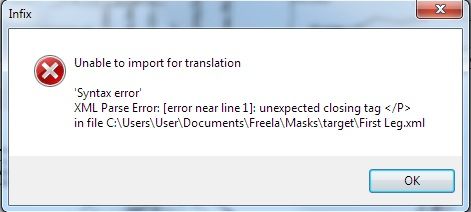 Anyone ever had the same problem?


No such issue has been reported so far.



Any help here?


Are you using the Infix filter in OmegaT?
(And not some unrelated filter using the .xml extension.)

I just tested with version 5.28 and 6.50, and it works fine with both.

Didier

[Edited at 2016-07-11 08:28 GMT]
There is no moderator assigned specifically to this forum.
To report site rules violations or get help, please contact
site staff »