OmegaT not displaying source segments in bilingual XLIFF file
Thread poster: Gregory Lassale
Gregory Lassale


United States
Local time:

04:06


English to French

I am trying to open a SDLXLIFF file from a client to do a revision of a document already translated, however OmegaT is only showing the target segments, and is using displaying as source. The actual source segments are nowhere to be found.

Am I missing something? I've never tried OmegaT for a revision before.

Thanks

Samuel Murray


Netherlands
Local time:

11:06




Member (2006)


English to Afrikaans
+ ...

Gregory Lassale wrote:
OmegaT is only showing the target segments, and is using displaying as source.



I'm not sure if it is wise to use OmegaT for revision of an SDLXLIFF file, but: what you describe is what happens if you're using OmegaT's built-in XLIFF filter instead of the Okapi plugin's filter. OmegaT's own XLIFF filter is a monolingual filter (it works only if your XLIFF file conforms to certain specifications).

You need to:
1. Install the Okapi filters.
2. In OmegaT, go to Options > File Filters > disable "XLIFF" (near the top), and make sure "SDL-XLIFF files (Okapi)" is enabled (near the bottom). Also, select the filter and click the "Options" button to see what options you have: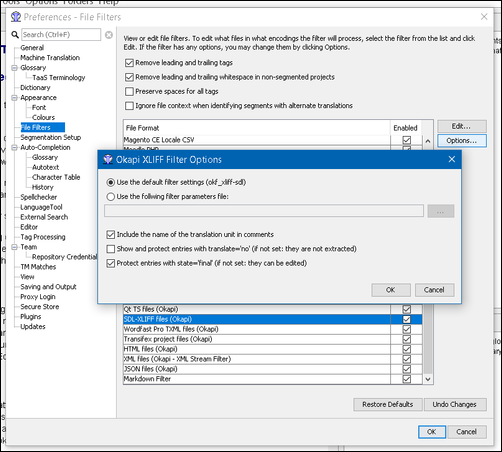 The Okapi filters are here:
https://okapiframework.org/wiki/index.php/Okapi_Filters_Plugin_for_OmegaT (page)
https://bintray.com/okapi/Distribution/OmegaT_Plugin (download page)
https://bintray.com/okapi/Distribution/download_file?file_path=okapiFiltersForOmegaT-1.5-m36-dist.zip (download link)

Installing plugins in OmegaT is tricky: you have to copy the .jar file into the C:\Program Files\OmegaT\plugins folder (or similar), and you may have trouble doing this if your computer's security settings want to prevent you from doing so.


[Edited at 2019-07-29 07:01 GMT]
Gregory Lassale


United States
Local time:

04:06


English to French


TOPIC STARTER
There is no moderator assigned specifically to this forum.
To report site rules violations or get help, please contact
site staff »
OmegaT not displaying source segments in bilingual XLIFF file
PerfectIt consistency checker
Faster Checking, Greater Accuracy

PerfectIt helps deliver error-free documents. It improves consistency, ensures quality and helps to enforce style guides. It's a powerful tool for pro users, and comes with the assurance of a 30-day money back guarantee.

More info »
Wordfast Pro
Translation Memory Software for Any Platform

Exclusive discount for ProZ.com users! Save over 13% when purchasing Wordfast Pro through ProZ.com. Wordfast is the world's #1 provider of platform-independent Translation Memory software. Consistently ranked the most user-friendly and highest value

More info »