Pages in topic: [1 2] >
Poll: Do you have a backup plan for power or internet outages?
Thread poster: ProZ.com Staff
ProZ.com Staff
Local time:

21:59


SITE STAFF
This forum topic is for the discussion of the poll question "Do you have a backup plan for power or internet outages?".

View the poll results »



Teresa Borges
Portugal
Local time:

05:59




Member (2007)


English to Portuguese
+ ...

As one of my daughters lives three blocks away my backup plan is to continue working "chez elle". Anyway, I haven't had a power outage for a long time and the very few times it happened it was just for a few minutes. Purely by coincidence, yesterday morning I had an Internet problem, but then a phone call solved it. I'm quite sure that my clients would understand this kind of situation as I'm known to deliver quite often ahead of the deadline.

Nikki Scott-Despaigne


Local time:

06:59


French to English

When I lived in the countryside, both could occur. We were at the end of the line, surrounded by trees and a little too much wind or bad weather generally could cause either or both to fail. My back-up plan was to call one of my friends with a business in an urban or near-urban centre, where both are more reliable and a priority if something goes down.
I finally rented an office in a near-urban area and I was much less often concerned by this sort of problem.

I am now based in a town centre and neither is ever really a problem any more.

Chris S


United Kingdom
Swedish to English
+ ...


neilmac


Spain
Local time:

06:59


Spanish to English
+ ...

These things happen so often around here that we are used to it. I have a UPS (Uninterrupted Power Supply) on my main PC which ensures about 10 to 15 minutes of autonomy in the event of power cuts. I also got (a slightly cheaper) one for one of my backup PCs, which is usually running in the background playing BBC radio, but it doesn't seem to keep the PC going when the power is cut off, although so far the surges haven't fried the PC, so perhaps it's doing something. I should really find out more about it, but I just don't have the time amongst everything else I have to do, and it's not that high on my list of priorities.

Sometimes the Internet connection goes down - the provider usually let you know if it's for routine maintenance, but not always. When it crashes, I call them up and they usually get on the case and try to fix it right away. It's never usually down for more than twenty-four hours at a time, so if I need Internet I can go to any of the bars and cafes reasonably nearby with Wi-Fi, or visit a friend or colleague.

BTW, this poll has just reminded me that I haven't backed up my working files for a while, I'd better do it soon... (I gave up on cloud storage after trying out Dropbox, found it too fiddly and intrusive, so prefer old-school hardware backup).


[Edited at 2017-04-11 09:09 GMT]

Jennifer Forbes


Local time:

05:59




Member (2006)


French to English
+ ...

In theory, in the case of a power cut I could ask my son to help me out. He lives very nearby and is also a translator (different language pair), but in practice he'd probably be experiencing the same power cut as me.
Fortunately, power cuts here are rare and usually brief - occasional thunderstorms, street contractors accidentally severing a power line, gale force winds, etc.
However I fear that, because of the growing instability of the world situation at present, power cuts and other inconveniences may become more frequent in currently cosy north-western Europe, affecting all computerised and electronic systems such as the online banking and taxation systems at present so vigorously promoted.
The Doomsayer of Cornwall.
Mary Worby


United Kingdom
Local time:

05:59




Member


German to English
+ ...

| | |
| --- | --- |
| We have it covered .... | Apr 11, 2017 |
As countryside dwellers, outages are not infrequent. We have UPS systems covering minor blips which will power down the servers if the power stays out for too long. We also have a generator.

In terms of internet outages, we have a backup server and a mobile 3G router!

DianeGM


Local time:

07:59




Member (2006)


Dutch to English
+ ...

not exactly in the middle of nowhere, but I have an excellent view of it from here.
I often experience power cuts, usually very short ones, but even a one second power cut can be enough.
I have everything plugged into a alternative power supply that kicks in when the regular supply drops out.
It holds enough power for me to safely save everything, so at least no work is lost.

Christine Andersen


Denmark
Local time:

06:59




Member (2003)


Danish to English
+ ...

Reminds me, I must set my laptop to pick up the latest updates.

I have an UPS (Uninterrupted Power Supply) connected to my desktop computer, which gives me about 15 minutes to save and transfer what I am actually working on, after the power has gone.
It howls like a banshee at intervals - waste of good power, but the quieter one broke down.

Then I can work on my laptop, assuming it can pick up the wireless Internet, or that I can work with my paper dictionaries, for a couple of hours or until the battery runs out.

Normally the power is back before I have done all that and got the laptop up and running...

Ana Vozone


Local time:

05:59




Member (2010)


English to Portuguese
+ ...

Like some colleagues have mentioned today, I also have an UPS which gives around 30 minutes of autonomy, plenty of time to save my work and more important files in one of the two external storage devices that I have: an external hard disk and several flash drives where I regularly save my most important TM's. My laptop is also (usually) fully charged, so I could in theory continue any job that I am working on on the laptop. I usually save active files on a flash drive anyway. So this covers power outages.

As for equipment failures, like I said, apart from my desktop computer, my laptop is ready, with Studio 2015, and I have a further (old) laptop with my beloved Trados 7.

As for Internet outages, I have a SIM card on my iPad from an ISP that is different from the one I use with my desktop computer, so in fact I have two ISP's always available.

I think this works pretty well.

PS: The UPS unit cost me 29 euros a few months ago. The decision to buy one is really a no-brainer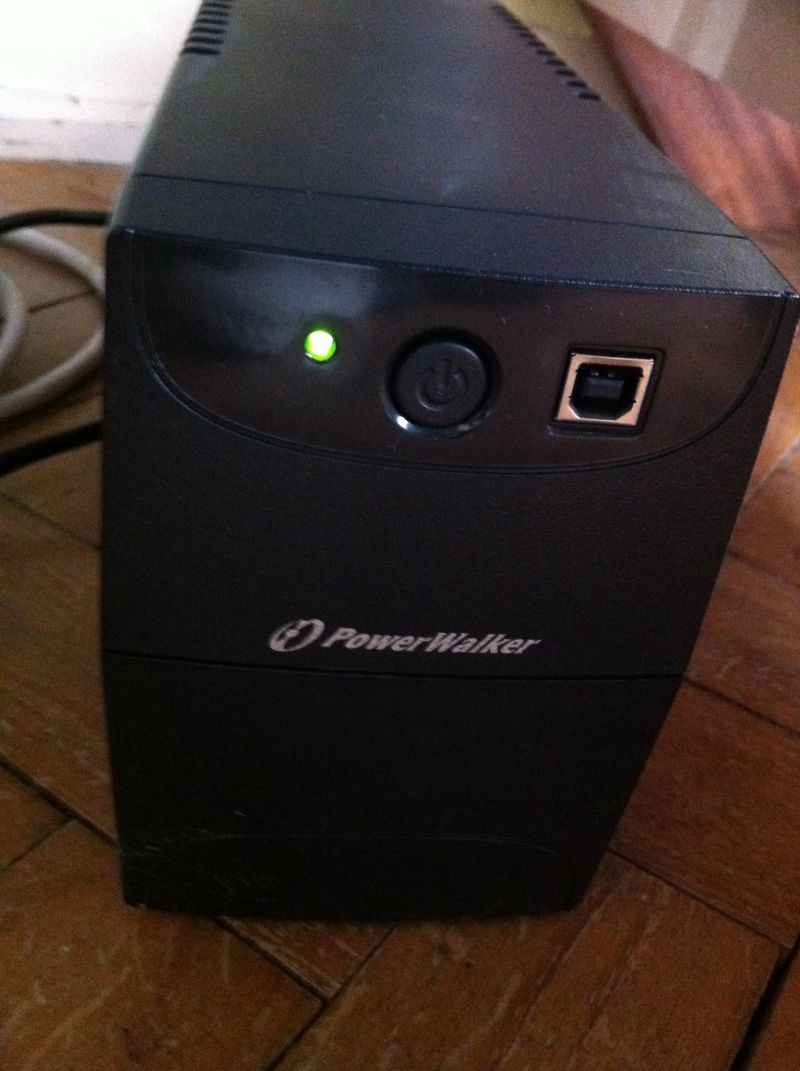 Yetta J Bogarde


Denmark
Local time:

06:59




Member (2012)


English to Danish
+ ...

Anna Herbst


Australia
Local time:

16:59




Member (2008)


English to Swedish
+ ...





MODERATOR
We lose power quite frequently up here where I live surrounded by forests in a beautiful national park - trees over powerlines the most common reason. After severe storms we may go without electricity for several days (I blame privatisation), so I take my laptop to one of the local libraries and work from there. Council buildings always have some sort of backup or are among the first to be restored. Some of my neighbours have backup generators, but so far I have managed without one.

Nilton Junior


Brazil
Local time:

03:59




Member (2009)


English to Portuguese
+ ...

I have three high-speed connections at home. Of course they used to become useless whenever I lost power, so I got a portable battery that manages to keep one of the modems running for a while.

Even though I use a desktop for work, I also have several laptops that are usually fully charged. When I lose power, they save my life.

Linda Ildevert


United Kingdom
Local time:

05:59


French to English


M. Anna Kańduła


United Kingdom
Local time:

05:59


English to Polish

Pages in topic: [1 2] >
To report site rules violations or get help, contact a site moderator:
You can also contact site staff by
submitting a support request »
Poll: Do you have a backup plan for power or internet outages?
Anycount & Translation Office 3000
Translation Office 3000

Translation Office 3000 is an advanced accounting tool for freelance translators and small agencies. TO3000 easily and seamlessly integrates with the business life of professional freelance translators.

More info »
Wordfast Pro
Translation Memory Software for Any Platform

Exclusive discount for ProZ.com users! Save over 13% when purchasing Wordfast Pro through ProZ.com. Wordfast is the world's #1 provider of platform-independent Translation Memory software. Consistently ranked the most user-friendly and highest value

More info »