Poll: Have you tried binaural beats to see if it helps you in your work?
Thread poster: ProZ.com Staff
ProZ.com Staff
Local time:

12:08


SITE STAFF
This forum topic is for the discussion of the poll question "Have you tried binaural beats to see if it helps you in your work?".

View the poll results »



neilmac


Spain
Local time:

21:08


Spanish to English
+ ...


Alexandra Speirs


Local time:

21:08


Italian to English
+ ...


Teresa Borges
Portugal
Local time:

20:08




Member (2007)


English to Portuguese
+ ...


Christine Andersen


Denmark
Local time:

21:08




Member (2003)


Danish to English
+ ...

| | |
| --- | --- |
| No idea what they are | Mar 25 |
… but I dislike practically any kind of background noise when I am working. Birdsong in the garden and my husband coming and going, happily muttering to himself, are sort of soothing.

I may be from the beat generation, but I am not musical. I tolerate beat, I don't like it. I had to at school, when I could not get away from it, and I put up with it as canned music, or on the radio my husband listens to on long car journeys. I choose classics, but not opera!

A quick google convinced me that binaural beat would probably be my idea of torture... Thanks, but no thanks!

Ricki Farn
Germany
Local time:

21:08




Member (2005)


English to German

Manuel Bas y Mansilla


Netherlands


Member (Mar 2019)


English to Spanish


Maxi Schwarz


Local time:

14:08


German to English
+ ...

Angie Garbarino




Member (2003)


French to Italian
+ ...

Maria Gisella Gamez


Argentina
Local time:

16:08




Member (2009)


English to Italian
+ ...

| | |
| --- | --- |
| For me works as a short walk, a cup of coffee or a nap | Mar 25 |
I have tried using this kind of sounds for the first time a couple of years ago and my exprerience is that this boosts my productivity.
If you are familiar with meditation you will get what I mean. If you are familiar even if not quite experienced in meditation, please have a try and you may notice that these sounds help you maintain a relaxed state at a deep level of the mind while keeping all your translation skills at stake. It has been often referred by neuroscientists that the brain of translator at work is like an orchestral conductor, coordinating activity across many regions to produce complex behaviours; in this sense, using binaural aid helps you have yourself engaged in translation in 2 different ways simultaneously - producing the music and comfortably having a seat at the theater to enjoy the concert.
I would be delighted to share resources and tips related with these techniques.

Stephanie Busch


Germany
Local time:

21:08




Member (2010)


English to German
+ ...

| | |
| --- | --- |
| The intended use isn't entertainment, but (brainwave) entrainment | Mar 25 |
I've been using binaural beats for years, with positive results.

I first heard about them in one of Konstantin Kisin's webinars here on ProZ, where he talked about using a mind machine in order to increase the effectiveness of breaks.

I went ahead and bought one of these, and for me it worked well. It came with a set of glasses (eyeset) and a set of headphones.

https://mindalive.com/default/assets/File/Delight%20Manual%20[v2r7].pdf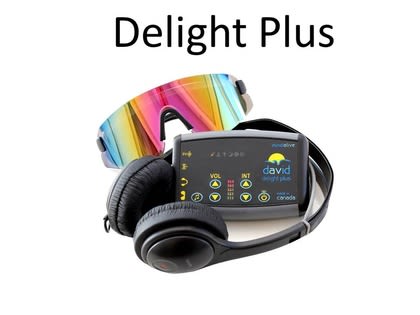 So far I have only used the device during breaks, but there are also see-through (viewhole) eysets available, so it can be used during various activities.

I can confirm that for me it greatly enhances the effectiveness of breaks, and up to a point can even compensate for lack of sleep.

With the device I have, it is possible to connect a CD player, and the beats/light will sync to the music.

It is true that binaural beats on their own don't sound like music, but then they aren't intended to. They are used for entrainment purposes. MindAlive lists ADD/ADHD, Sports Performance, Sleep and various other applications.

Dr. Jeffrey Thompson explains about brainwave entrainment (alpha/beta/delta/theta frequencies) here:

https://scientificsounds.com/index.php/library/resource-library

For anyone interested, there is also a German webinar that offers detailed explanations and application examples:

https://bit.ly/dm-webinarlink
Gibril Koroma


Canada
Local time:

15:08


French to English
+ ...






Noura Tawil


Syria
Local time:

22:08




Member (2013)


English to Arabic
+ ...

I have been using binaural beats for a couple of years now. Paired with the Pomodoro Technique (work 25 minutes and rest 5 minutes, for 2 hours), it does help me focus and raise my productivity. And yes, I do sometimes need additional help to focus when my mind is trying to multitask against my conscious will (the mom brain!).
I couldn't tolerate the plain versions, though. But a mix of the basic waves and instrumental music did the trick for me, something like this track that I'm using: https://www.youtube.com/watch?v=bQ49dw59M7U

It's downloaded and saved on my work computer. I usually play it when I feel particularly distracted or extremely pressed with time.

P.S. You NEED good headphones to achieve any benefit from binaural beats, because -according to my understanding- each side plays a different wave length.

Mario Freitas


Brazil
Local time:

16:08




Member (2014)


English to Portuguese
+ ...

| | |
| --- | --- |
| The current trend to swallow everything | Mar 27 |
It is a current trend to download and install a whole bunch of useless stuff in your computer and mobile. People don't seem to resist. In my case, however, it's something I strongly avoid. Plus, I have real music playing all the time. No need for psychopathic stuff made for those who "swallow" it all.