Plus Features: Announcing an Enhanced Profile Visitors Feature
Thread poster: devalexwhite

devalexwhite
United States
Local time:

19:12


English to Chinese

The ProZ.com team is proud to announce the release of a new and improved Profile Visitors screen for our Plus package subscribers! ProZ.com has focused on making it easier for our Plus package subscribers to see who's visiting and interacting with their ProZ.com profile.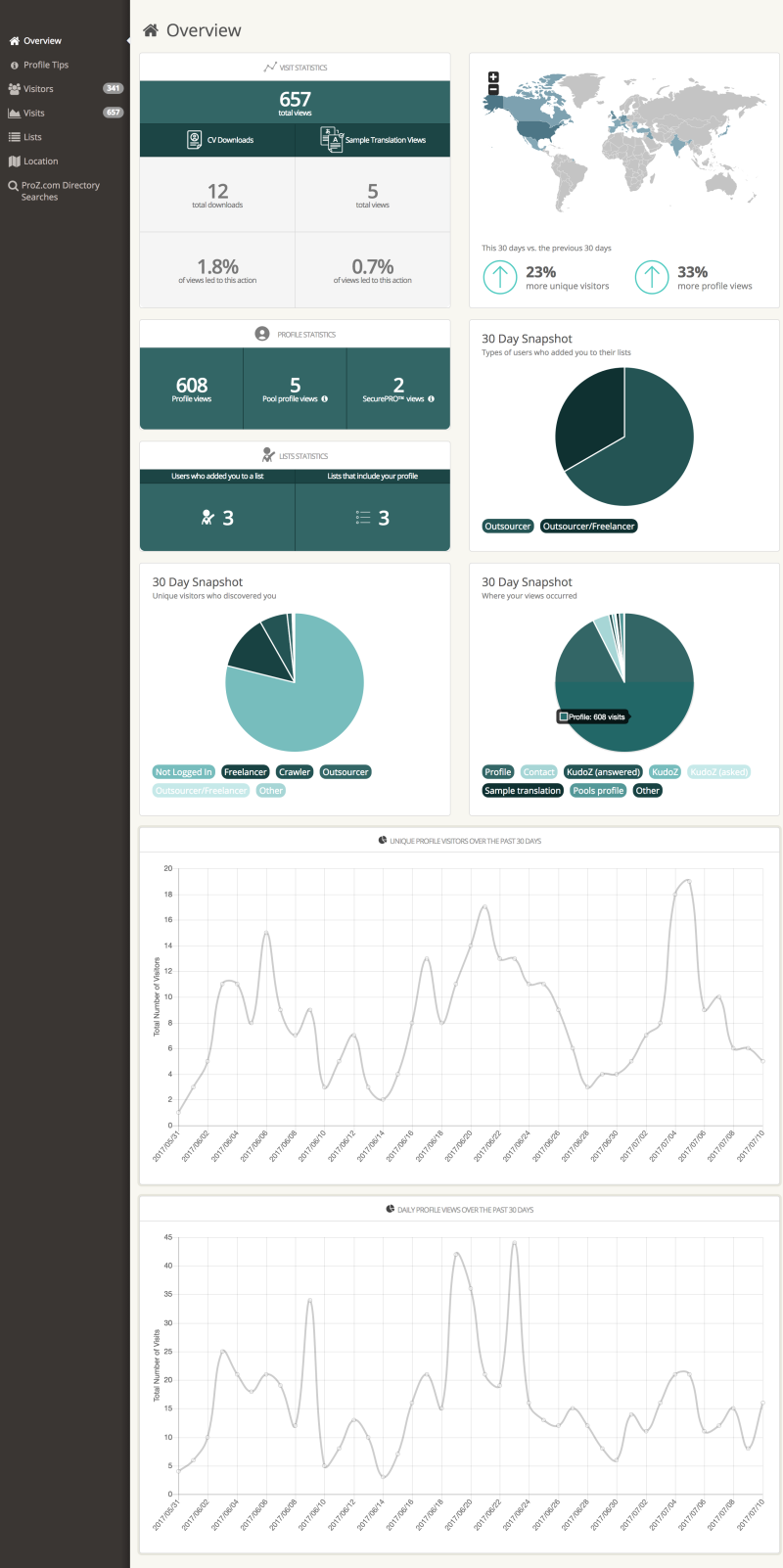 Tracking visits and visitors is imperative for our members to gauge interest in their services and the marketability of their ProZ.com profile. That's why ProZ.com is now displaying more data regarding profile interactions by visitors. In addition to seeing who has viewed their profile, Plus package subscribers can now tell who has downloaded their CV and who has viewed their sample translations. Furthermore, Plus package subscribers can view data on their appearance in ProZ.com Directory searches and their inclusion in other users' lists.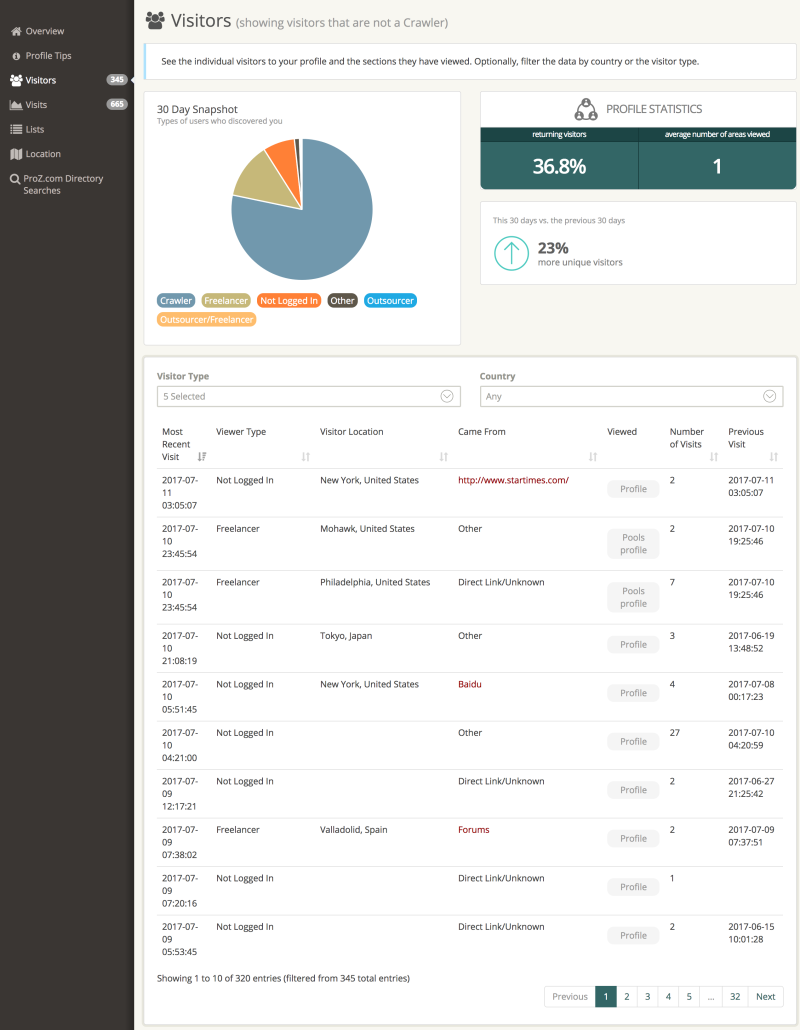 To make it easier for Plus package subscribers to analyze their profile analytics, the user interface of the Profile Visitors screen has been redesigned. With a cleaner design, it's now faster for Plus package subscribers to find the information they're looking for. The addition of detailed graphs, pie chart overviews, and interactive tables makes it easier focus on the data that matters most. A new world map allows Plus package subscribers to quickly see where visitors to their profile are geographically located.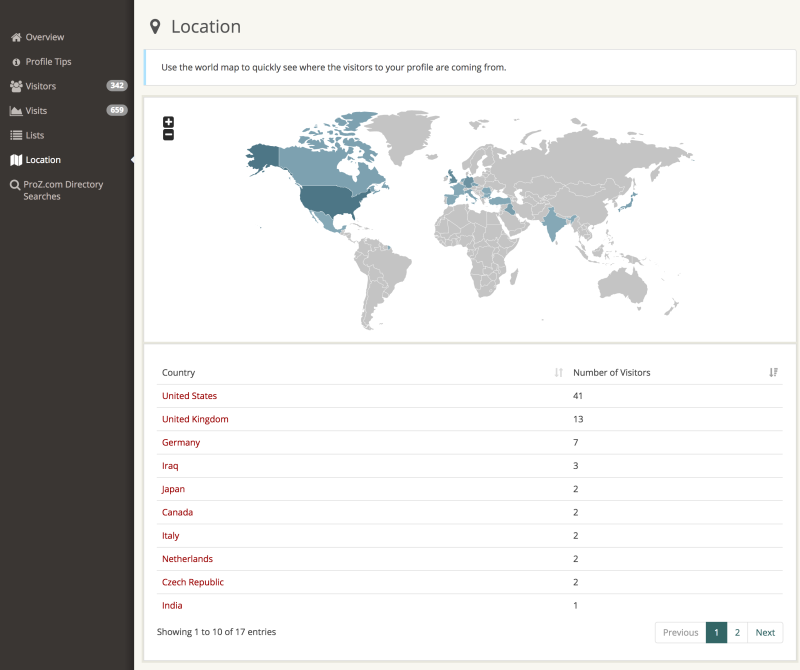 Alongside new ways to view and interact with profile analytics data, the Profile Visitors screen provides Plus Package subscribers with tips to enhance the marketability of their profile. By utilizing analytics data and important profile tips, Plus Package subscribers will be able to fine-tune their profile and attract a greater number of visitors.



View enhanced analytics on your ProZ.com profile here >

If you have any questions or ideas related to the enhanced Profile Visitors feature please let us know so ProZ.com can make this feature as useful as possible for our community!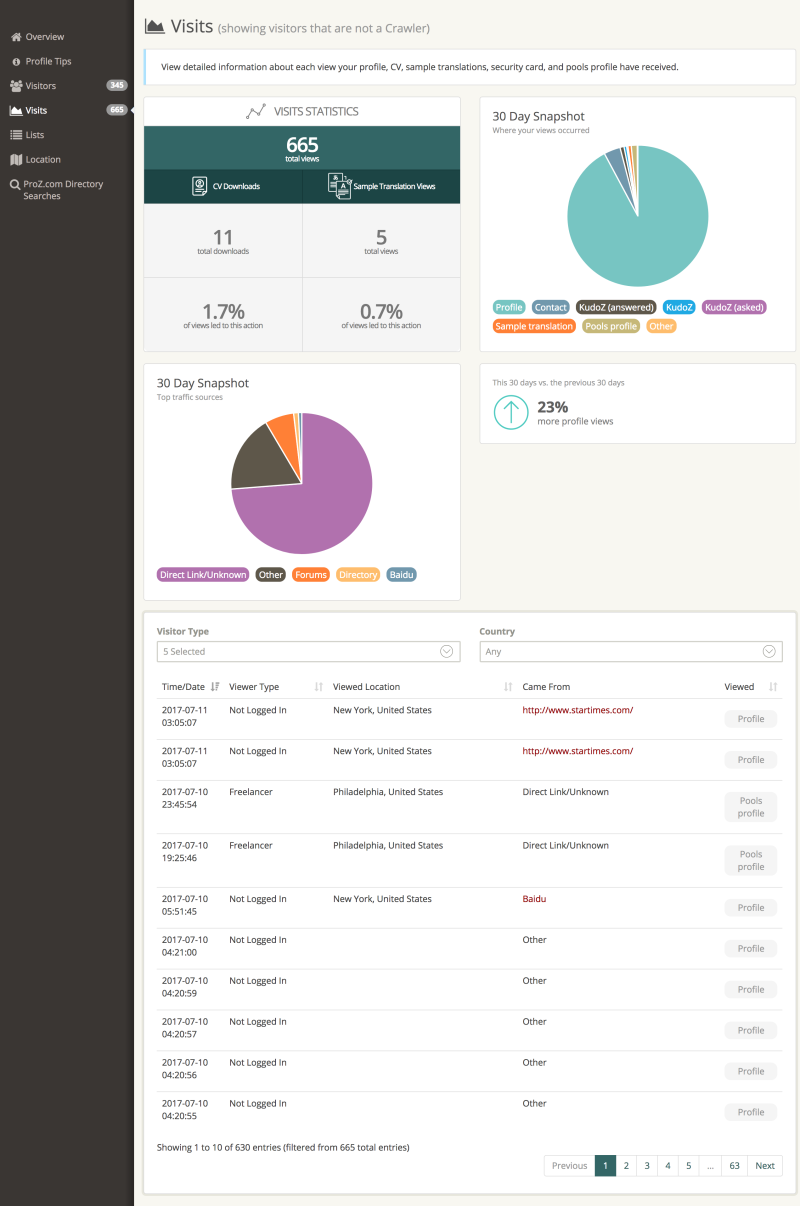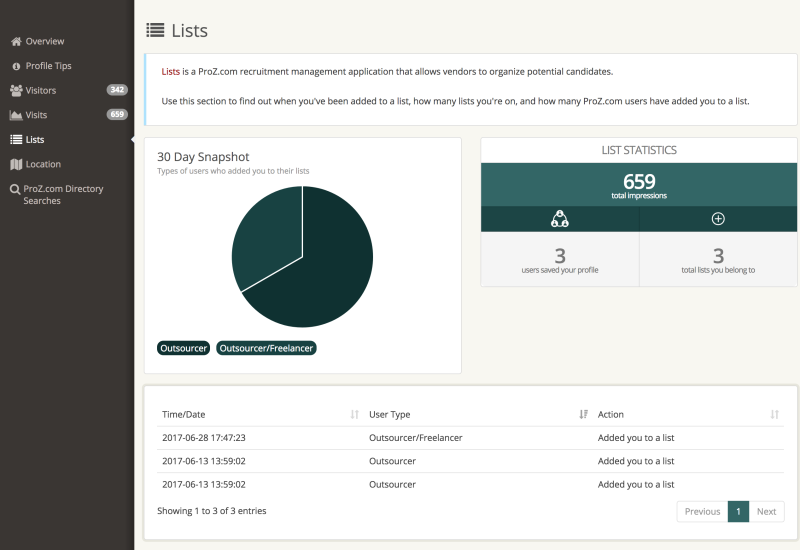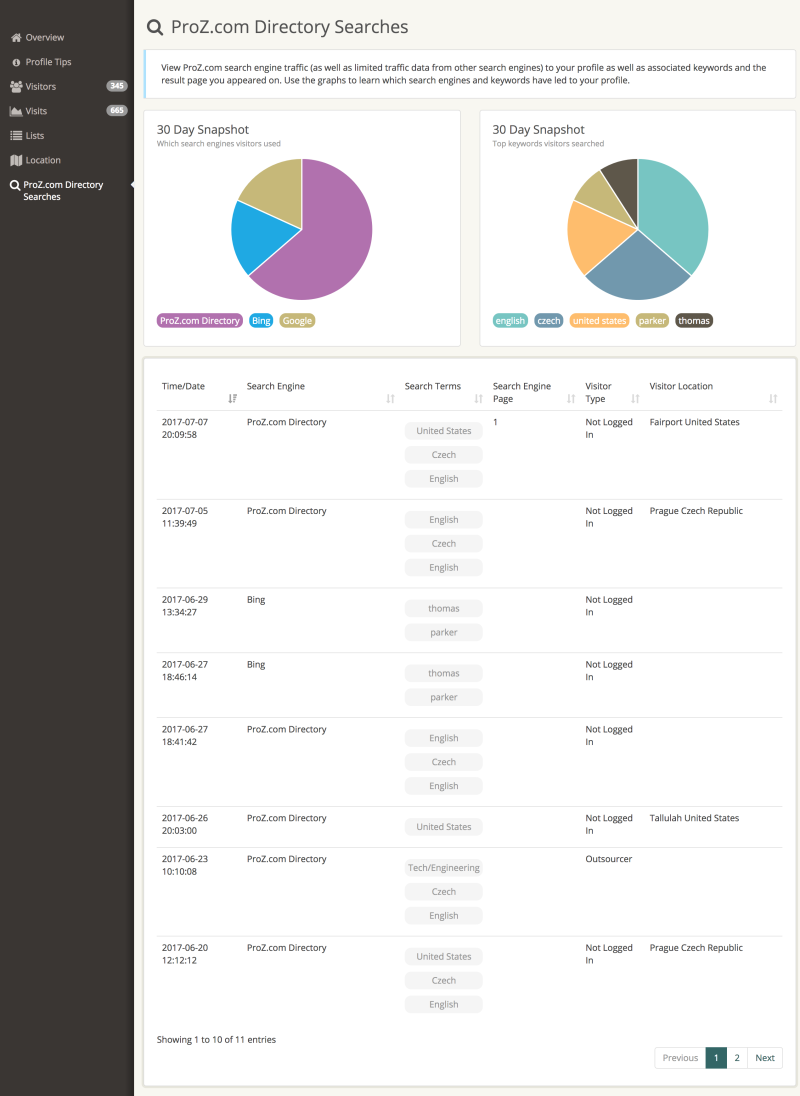 Maija Cirule


Latvia
Local time:

02:12




Member (2014)


German to English
+ ...

Ahmed ALEM
Algeria


Member (2014)


Arabic to English
+ ...


Sheila Wilson


Spain
Local time:

00:12




Member (2007)


English
+ ...

| | |
| --- | --- |
| Very useful, thanks | Aug 1, 2017 |
I never bothered with the visitors tab before as it didn't seem at all useful. Now I can see what types of people are visiting my profile, where they came from, and what they did. Now all I need are some names

. I'll visit it regularly in future. I doubt that it will allow me to tweak anything much, but we'll see.
To report site rules violations or get help, contact a site moderator:
You can also contact site staff by
submitting a support request »
Plus Features: Announcing an Enhanced Profile Visitors Feature
Across Translator Edition and Across Language Server v7
Meet our brand new version and speed up your translation processes!

Deliver high-quality translations with our fast and secure solutions. You can also integrate machine translation and other third-party systems. The Across Translator Basic Edition is free for freelancers. Start now and discover new business opportuniti

More info »
SDL MultiTerm 2019
Guarantee a unified, consistent and high-quality translation with terminology software by the industry leaders.

SDL MultiTerm 2019 allows translators to create one central location to store and manage multilingual terminology, and with SDL MultiTerm Extract 2019 you can automatically create term lists from your existing documentation to save time.

More info »